My journey through the land of Quake started late one night with some crazy looking brushwork doodles and eventually finished with my favourite map to date, The Horde of Zendar. I have always thought of Quake as a treasured favourite from my past and I remember when it first came out, I was blown away by the game having true 3D levels that I could walk around. Even thou that sounds crazy by today's game standards, at the time it was ground breaking!
Quake is an unique experience, there really is not much else like it, the game is dripping in blood soaked pixels, full of nightmarish monsters and has very aggressive game play mechanics. The environmental styles range from typical tech style base designs to surreal elder world castles soaked in black shadows. Unfortunately the monsters were as dumb as bricks and they would often run straight at you, guns a blazing, swords a swinging and claws a tearing.
The game had its own kind of intensity, there were no rooms full of enemies like in Doom, but instead the monsters were setup in ambushes. They could be high up on ledges raining down grenades or silently drifting in the darkness waiting to surprise you with a hiss and acid spit and if you are not careful leaping at you with teeth and claws at the ready. The game was driven by terror and surprise, panic and dread and the fear of what lies around the next corner.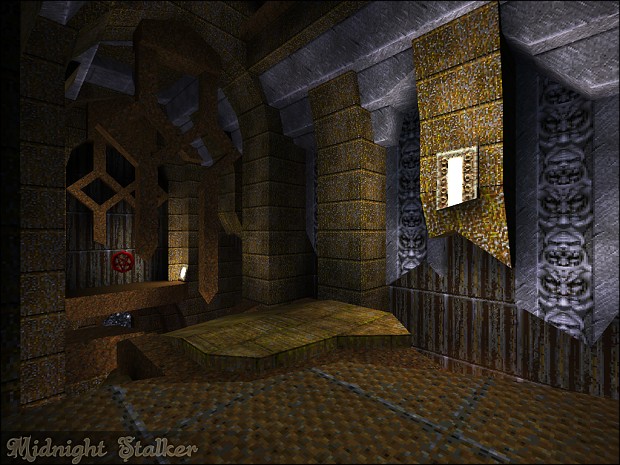 Midnight Stalker was inspired by vivid dreams of blue elder worlds and warped brushwork, a twisted metal underground lair of monsters and contraptions waiting for some unwelcome fool to wander into.
The environment was designed to slide apart like giant pieces of a puzzle, to change as the player progresses and the monsters were placed in positions of strength. This is a map full of environmental hazards, unusual monster ambushes and traps for both the player and monster to be caught out by.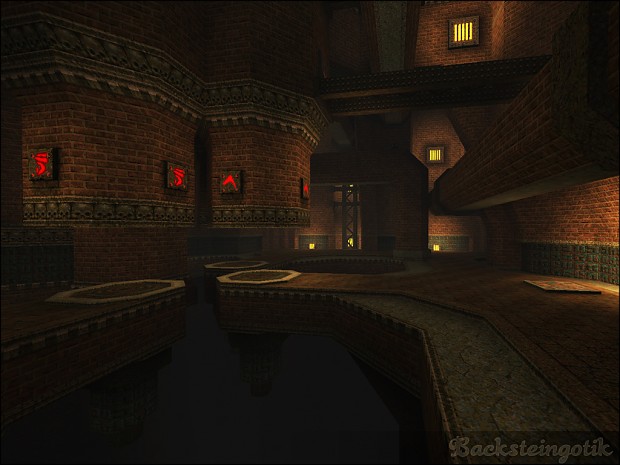 Backsteingotik was a towering monolith of bricks stretching upwards into darkness. There are no fancy archways, fine details, or environmental set pieces, just a mountain of bricks. The map is based on a central hub system where the player unlocks various parts of the map over time while returning to one point for multiple encounters.
The game play is a mixture of ambushes and special arenas where the player can operate crushers to inflict upon unsuspecting monsters. Many of the areas are revisited several times from different heights and there are plenty of secret areas to unlock and explore.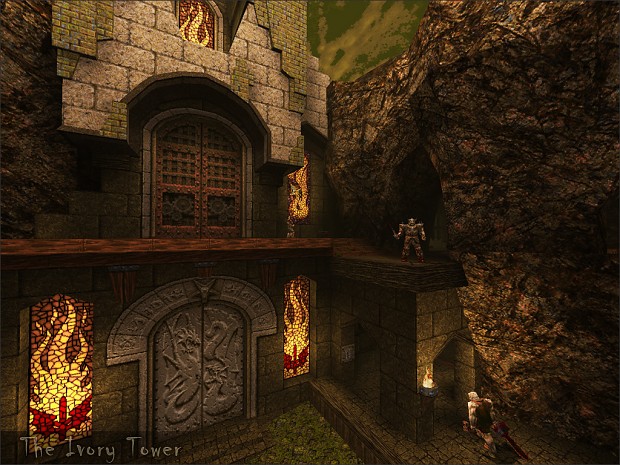 The Ivory Tower is based on a story, a world full of details stacked up over time, a place where each corner is designed with a purpose. The player will experience brightly lit chapels, large underground caves stitched together by elevator shafts and will be unconsciously led by rusty tracks laden with carts full of gold.
The game play is different, there are plenty of empty encounter spaces, opportunities to look around and explore. There are many locations presented from multiple directions to give the player the sense of space and show where they are going to be next.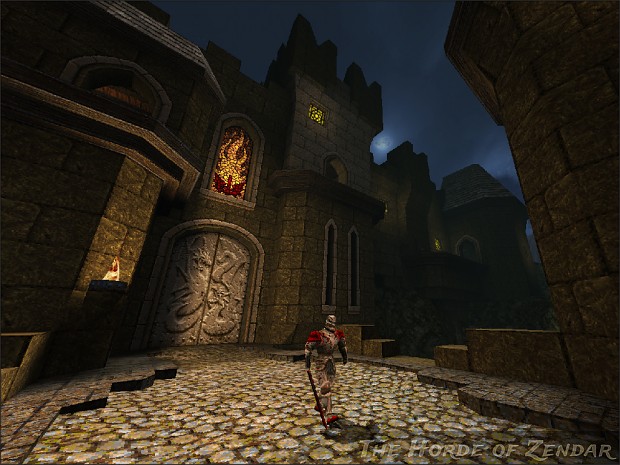 The Horde of Zendar is designed to be played forward or backwards and still make sense. The map is about player choices, multiple routes and plenty of secret areas waiting to be unlocked via multiple silver keys. The objective is simple, escape the city, but there are so many secret places to explore as well.
The game play is classic ambushes tailored to each area of the map with plenty of vertical situations to keep the player looking up. The central hub is visited on many occasions and the climax to the story is when the final battle is over the floor is littered with the fallen bodies of the Horde of Zendar while the player escapes to tell the tale.