After comparing screenshots between Half Life 2 and Killzone 2, I saw similarities in the styles portrayed in both games: a gritty, urban atmosphere in a land ruled by totalitarian soldiers clad in full uniform and body armor and all. Furthermore, said adversaries bear stylistic similarities in the sense that (1) they are both "beyond human" and (2) their uniforms are notably similar (gas mask, full padding, etc). From these notations gave me something I myself could probably put into motion: Why not make a Source mod based on Killzone?
Maybe call it "Killzone: Source" or something within that sort. I could do the mapping, as well as give the modelers some idea as to what might fit well into the mod. Also, I was hoping to make some of the weapons based on those of the 2007 E3 beta for Killzone 2, and not necessarily those of the final game that got released in stores...chiefly, because of the secondary fire being utilized (like in the first Killzone) while maintaining the aesthetic appeal of the final game itself.
Imagine, how cool might the Killzone world be in the Source engine?...Okay, fine, not as cool as it would in PS3 graphics, but it certainly wouldn't be too shabby an idea in my book.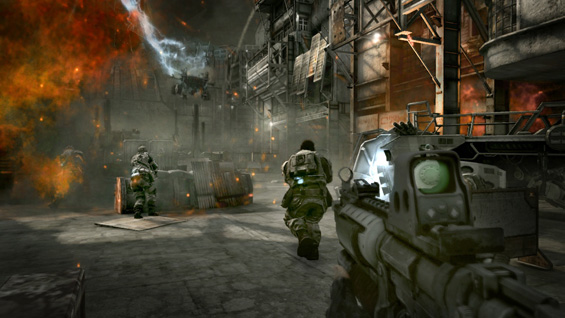 (Imagine things of this scale in the Source engine...holy crap!)
That aside, I am being dead serious: If there are any modders (code writers, modelers, etc) willing to enact my idea, I will SERIOUSLY make maps for this thing. I am somewhat well-versed in using the Source SDK for mapping, and I do have experience making maps for Counter Strike: Source (see below for the only example I've put on the internet).
Gamebanana.com
(NOTE: This is not the greatest I can do, but it does show I can do atleast something.)