Upd.02.2022: Gamepad configs now in Steam. Browse 'Community' configs for "Marksmanko" ones. Made for Dualshock 4, press 'Show other controller types' if using a different model. Launch Steam as admin.
Uploaded for titles: S.T.A.L.K.E.R.: Shadow of Chernobyl, S.T.A.L.K.E.R.: Clear Sky, S.T.A.L.K.E.R.: Call of Pripyat, Stalker-CoC, Dead Air, AnomalyLauncher, Lost Alpha DC. Tip: you can rename anything in your Steam library to one of these names to access its configs. For example add Misery mod as a "non-Steam game", rename it into S.T.A.L.K.E.R.: Call of Pripyat and play with its config. This should work for GOG or CD versions of the game as well.
Tip: for better aiming go to Steam settings > Controller > General controller settings > Detected controllers > click on your gamepad name > Calibrate. Make the right stick deadzone as small as possible before it stars drifting. Also, disable mouse acceleration!
___________________
📜 Here's a little guide on how to play Stalker on PC with a gamepad (Old).
📥 First, install a program called AntiMicro, it's free, small and open source. Github.com
🎮 Set up your controller in the program if not recognized automatically (Options tab => Game Controller Mapping). Before starting the game load a corresponding profile in AntiMicro. Profiles contain key bindings, they are saved as files with .amgp extension. Download: Drive.google.com
⚙️ The bindings were made using xbox 360 controller, Dualshocks and other models should work fine as well, certainly reduce thumb-stick dead zone (in AntiMicro) if you use one of those gamepads.
⚠️⛶ For better aiming disable mouse acceleration in Windows. It's called Enhance Pointer Precision in mouse options.
Launch AntiMicro as admin.
---
Controls: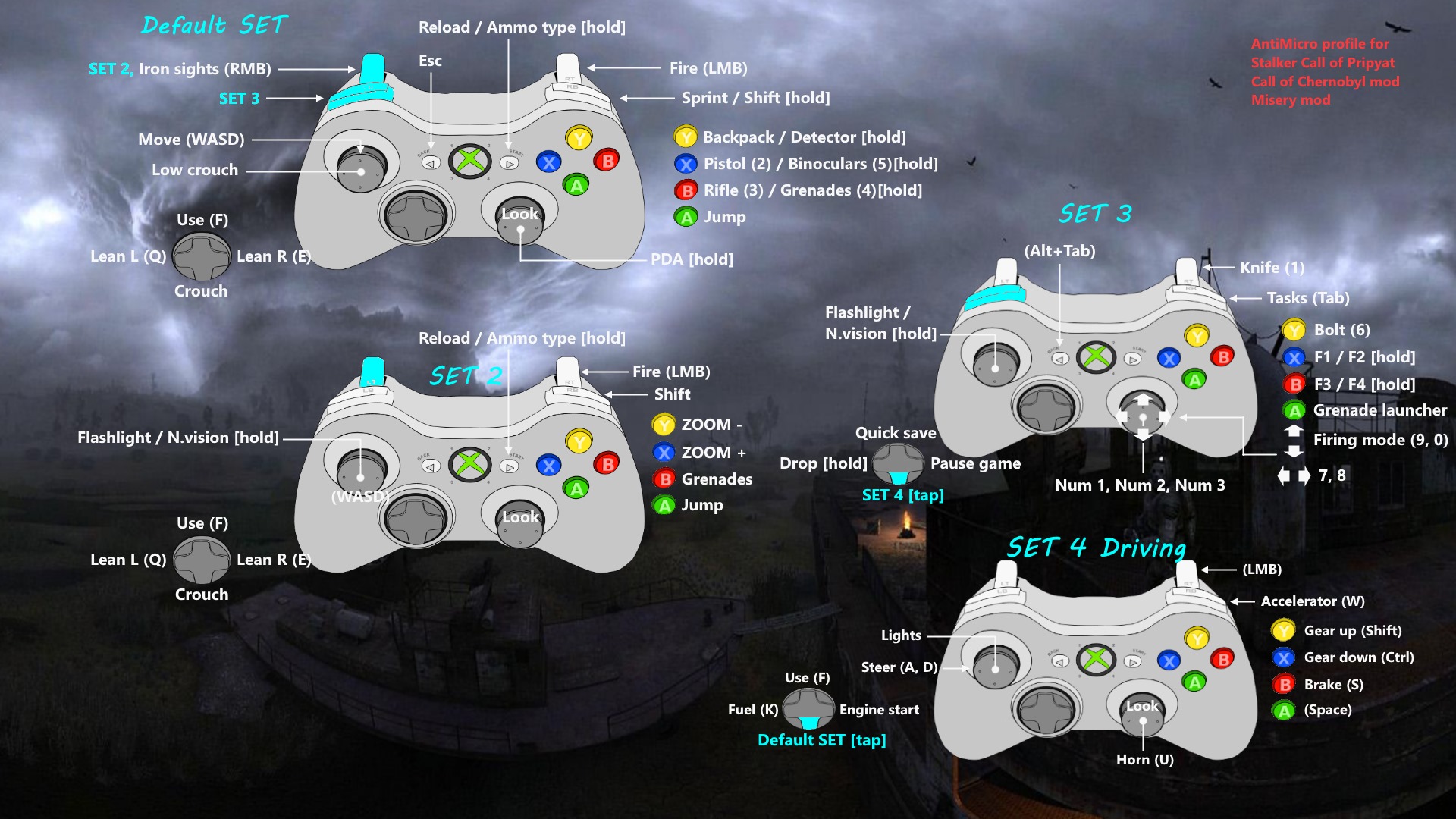 This is a profile for Call of Pripyat, Call of Chernobyl mod, Misery mod and similar mods: Drive.google.com
In settings:
Select crouch/stand mode on
For Call of Chernobyl bind:
1st person view - to Num 1
3rd person view(1) - to Num 2
3rd person view(2) - to Num 3
For Misery:
First person cam - to Num 1
Third person cam - to Num 2
Free cam - to Num 3
"Set 4 Driving" is for mods that have vehicles.
---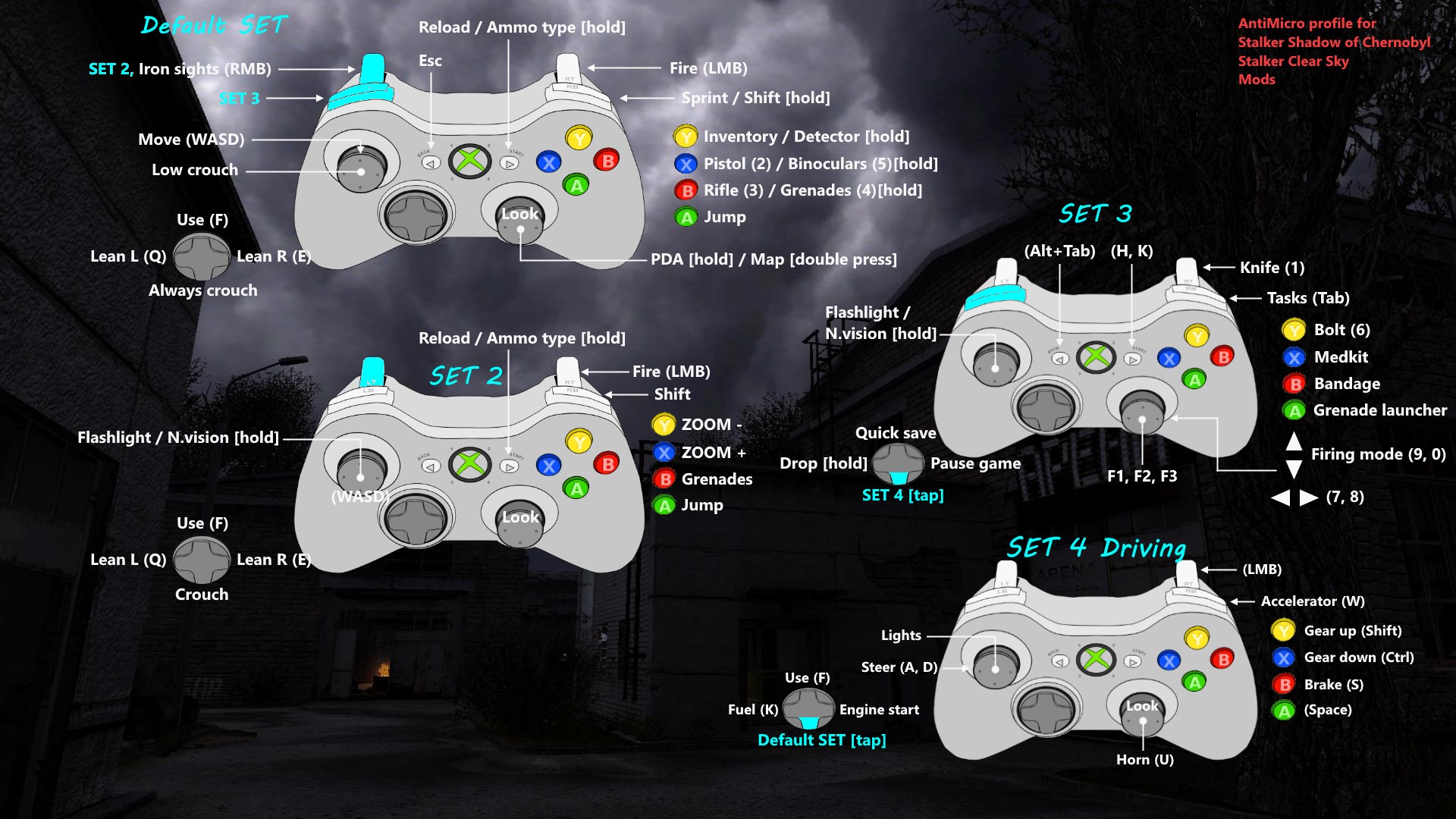 This is a profile for Shadow of Chernobyl, Clear Sky and mods: Drive.google.com
Change in game controls:
Always crouch - to Right Ctrl
For Clear Sky also: Quick medkit and bandage - to [ and ] keys. Lower mouse sensitivity.
"Set 4 Driving" is for mods that have vehicles.