What is Spunky?
​The objective is to move quickly, dodge deadly obstacles, and get to the end before the timer runs out. If you collide with a red object, you will reset to the beginning of the level and the timer continues to count down.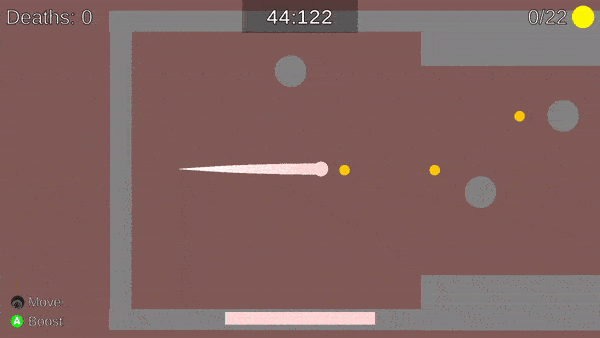 Mastering Movement
​In the beginning, my focus was on developing a character movement that must be mastered. I wanted the game to be hard, but I wanted the controls to feel good.

At first, the controls were drifty and frustrating. The character would accelerate and decelerate slowly. This created a drify experience where I found myself sliding into the death zones constantly. Also, you couldn't change directions very easily. Once you were moving in a direction, it was very hard to stop moving.

It was not fun at all.

After many code rewrites and play tests, I found a way to have acceleration, drift, and responsive controls all in one. The trick to my development was building obstacles that were difficult to move through, then refining the controls until they were fun to move through. Instead of making the controls difficult to move, I made the obstacles challenging to move through. Spunky moves quickly, but you are also able to stop quickly. I intentionally design portions of the level to come out of nowhere, or have tight corridors to move through.

Instead of being frustrated with movement, I found myself trying to master movement. It was easy to control Spunky, but I had to master dodging objects.
Next Time
In the next post on Spunky, I will talk about the timer and how I leverage this to create more objectives.
Follow Us