You might have noticed things are going a bit slow on the news front here on ModDB/IndieDB and Desura. There is a perfectly normal reason for that. I have destroyed my right ankle. For the past week I have been in hospital waiting for surgery to have metal plates, assorted screws and wires implanted in my destroyed foot in a hope that I will be able to use it again.
Right now I am sitting at home this is a few days after the surgery and I can honestly say, this is quite possibly the most painful thing I have ever done to myself. I would show you all pictures but it is very discusting. The best example would be something like this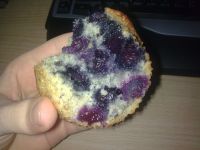 just not a muffin, but my leg.
I broke the ankle playing Baseball, sliding into second base my foot stopped and gripped onto the ground, my body kept moving, CRACK and then the rest is history. Word of advice don't break bones, it really limits you in so many ways.
Please stick with me while I sort out this mess that is my working life right now, it will get back to perfect sooner rather then later. You have my word.