When working on a project that takes so long that you're too scared to look at your watch, some questions are surfacing deep in the night. Have you ever asked yourself what really happens within the game engine when you erect buildings and place objects? While i worked on my project i finally figured out that there are some tiny and helpful creatures obeying your orders. Depending on the modders mood and disposition they may be evil Goblins or Imps, or even giggeling pixies and fairies. Ok, that may also depend on the level of mental health or intoxication, but who'd dare to call a dedicated modder to be sane?
In my case, i was goobling around the fairy net (amazing, but it's not listed on google for some reasons) and found a dedicated building brigade of dwarves who claimed to have enough experience with TES4 to help me building my project, if they'd be allowed to stay and live in that mod later on. I had some reservations but agreed, as they were the only ones accepting older game engines. The Pixies and Imps preferred the more snowy regions of Skyrim and claimed to be too noble to settle down in an old fashioned game. I'm not a big fan of Goblins, because they tend to smell like a wet dog, and so i signed the treaty with the dwarves. They turned out to be a very tough crew and never argued about hard work, although they need detailed instructions when placing objects and buildings. But they have unparallaled skills when it comes down to groundworks. Placing a river or flatten the shape of an entire mountain takes only some mouse moves in the editor since then. Every time i call up the landscape tab in the editor, i can visualize a horde of tiny dwraves hurrying around so fast, that i can't see them at all. I can assure you that they do not belong to the tribe of the carpet people, because they wear a lot of chainarmor.
Anyway, the leader of this brigade calls himself Grimmasch Steinbrecher, a personal friend of mine for some years now. He had helped me play through games as my Avatar, as long as dwarves were a valid race to play. That was the main reason why i signed the treaty at least. Since the completion of Fuhrmannsheim they now work in my editor and i'm quite satisfied with the results. Although, sometimes i spontaneaously start to swear and cursing. But most of the times i realise that it was my own fault or the lack of knowledge. To give you an impression what it looks like inside of the (my) editor when i start modding i'll provide a record of the first approaches to Grafenstadt.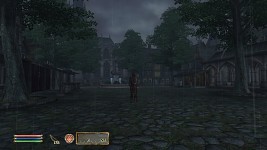 Here it is:
In the middle of nowhere...
Grimmasch: "MORNING LADS!"
Dwarves: "MORNING GRIMMASCH!"
Grimmasch: "Marvellous weather today, it's raining and everyone is in a gloomy mood. Perfect conditions for some heavy earthworks!"
Dwarves: *gruntling*
Grimmasch: "What? What did i just hear? I expect to see constant excitement as long as my astral body is present! If you're not satified by prolonged excavation tasks, you may be more enthusiastic if we do some orienteering with complete field pack! This direction, and don't you dare to stop until the glory shape of my body has vanished behind the horizon!"
Dwarves: *apologetically murmuring *
Grimmasch: "Very well. I know you'd come to your senses."
Brave Dwarf: "Can we carry the pillars with two dwarves today?"
Grimmasch: "WHAT?!? WHERE AM I? DID WE JUST ENDED UP IN THE PRESCHOOL? DO I LOOK LIKE THE 7 KINDERGARTNERS? If it'd would be like this, DO YOU EXPECT ME TO EVEN PERFORM SNOW WHITE FOR YOU? Perhaps i should tell a little fairy tale also, DO Y'ALL KNOW YE OLDE FAIRY TALE "JAWS, PART TWO"? No? The big river we dug yesterday is just a few hundred yards to the north, so after work that means SWIMMING LESSONS FOR ALL OF YOU!"
Brave Dwarf: *stands attention as stiff as a poker*
Grimmasch: *looks angrily around* "Ha, thought so."
Dwarves: *cautiously gruntling*
Grimmasch: "Because of the unanimously excitement we will erect the Neisbeck warehouse, complete with the inner courtyard. The storefront on the Praiosplatz has to be rebuild, the courtyard must be carpentered, the well needs to be dug, and the plants also haven't grown feet until today. There are no paint brushes for the ground textures today, i hope y'all have your tooth brushes ready."
Grimmasch: *walks up to the brave dwarf, placing himself directly in front of him*
Grimmasch: "What's your name, private?"
brave Dwarf: "Freidbert!"
Grimmasch: "You can use this name on the next Travia church congress day. What's your profession?"
Brave Dwarf: "Blacksmith!"
Grimmasch: "Ok, it's not your lucky day, lad. You're promoted to the rank of volonteer. I'll call you Cinderella. Cindy, if i'm in a hurry. Any chance you have some experience with earthworks?"
Brave Dwarf: "No"
Grimmasch: "As i said, not your lucky day today. Here'a shovel. This direction, three hundred yards, and don't stop digging until you hit groundwater."
Brave Dwarf: *Grabs the shovel and darts in the shown direction*
Grimmasch: "The rest of you will grab the parts from the editor and carry them over to the warehouse. Left half plants and roof, right half house and balcony. If somebody finds a Ulwine Neisbeck NPC inside the editor, he's allowed to leave his chainmail on while showering this evening. DISMISS!"
Because of the enthusiastic work of the dwarven building brigade, i was able to erect the complete Warehose this evening, even the courtyard as you can see here.