How to install and start ANY BF2142 mod (UNIVERSAL TUTORIAL WITH PICTURES)
This is a very basic and easy-to-follow tutorial to provide you with necessary knowledge related to BF2142 mods installation and launching. It also can be applied to BF2 as well. Before you start, it's highly recommended to have your BF2142 patched to 1.51 patch (you can find this out easily since maps "Molokai" and "Yellow Knife" come with this patch and you will have them somewhere on your map list.
Install any mod in BF2142 direction

The most common direction where humans often tend install BF2142 is usually located at:
C:\Games\Battlefield 2142\mods
This place is pretty much sacred as it contains all the files of our beloved legendary BF2142. In the image at the top you can see \mods direction with some mods already in it. That's how it should look like in order to work properly. You will always have folder named bf2142 in here since it's the base game and mods often use its contents to save resources.
Now just drag mods into mods folder! (Gif below shows it)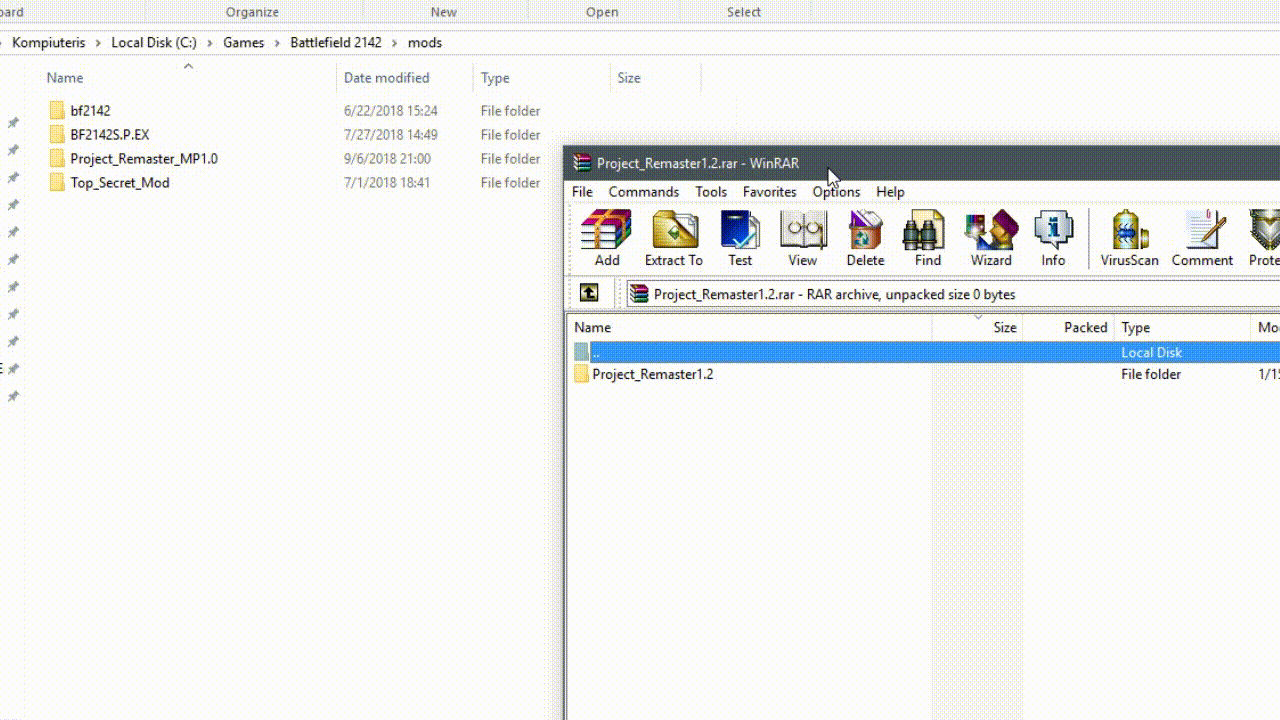 Start ANY mod with a custom shortcut
Navigate to folder where your BF2142.exe is and follow those steps.
BF2142.exe ⮕ Create shortcut
Now you can drag the shortcut wherever you want. You can put it on desktop or (if use windows 10 OS) pin to the start menu. Editing the shortcut is easy. Right click on it and you will see view like this: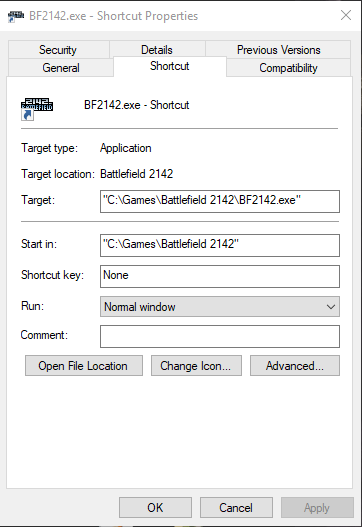 Step two: we'll be modifying Target line. At this example I'm planning to set up a shortcut for Project Remaster patched to v1.2.
"C:\Games\Battlefield 2142\BF2142.exe" ⮕ "C:\Games\Battlefield 2142\BF2142.exe" +menu 1 +fullscreen 1 +widescreen 1 +szx 1920 +szy 1080 +modPath mods/Project_Remaster1.2
What you must know:
+menu 1 +fullscreen 1 +widescreen 1 is used to start any mod in full screen and increases stability so game won't crash at menu startup. This part of code is highly recommended.
C:\Games\Battlefield 2142\BF2142.exe make sure it is linked to right direction where bf2142.exe is located. Let's say if you move your BF2142 and mods on ofher driver you either can create new shortcut or modifty its part where it shows location of exe. At this case don't forget to edit "Start in" line as well!
+szx 1920 +szy 1080 totally controls resolution. Here you can set any resolution supported by your monitor.
+modPath mods/Project_Remaster1.2 this line is responsible for starting a mod. It works pretty much the same as launching a mod via custom games in 2142 menu but it just skips the whole thing and starts the mod immediately. Stuff which goes after mods/ is a folder name of the mod. So if you want to start any mod, just navigate to your BF2142/mods and copy-paste the name of the mod in this line.

Let's say you've downloaded a FirstStrike mod. According to my downloaded version, the mod path will look like this: +modPath mods/FirstStrike_1_61022
Now you are good to go and ready to enhance your BF2142 experience.