Wow everyone. Wow. We are in San Fransico for the Game Developer Conference (also known as GDC or getting drunk constantly). We have been making the trip so far for 5 years now, and each year it get better. Let me start from the beginning.
---
Day Zero
The first day after the outbreak
---
The first real day of our trip was the longest day of our lives. I mean this emotionally and physically. We set off from Melbourne Australia at 8.30 am and finally arrived in San Francisco the same day just two hours later, however due to the time zones, the whole trip was only 16 hours or so. Yeah we time travelled.
After we had settled into our new lodgings and finally got to have a shower we had some time to spare before our first event for the trip. So what does any self respecting tourist do when in SF? Go to Alcertraz of course!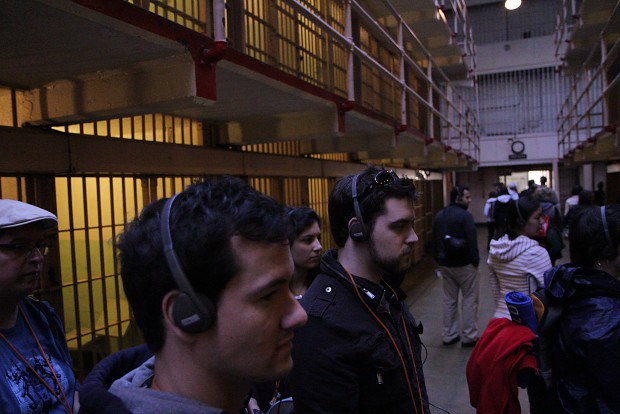 Scotty (INtense) and I exploring the prison!
After we finished there we headed on over to an IGN Press/Indie mixer where we saw a lot of old and new faces. A few of the Dejobaan guys where there as well as the Overgrowth dudes and who could forget the lovable Andy and Andy who are hard at work with Monaco. However the biggest suprise was Davey Wreden the brains behind last years hit mod release The Stanley Parable. More of this meeting will be apparent in the next few days.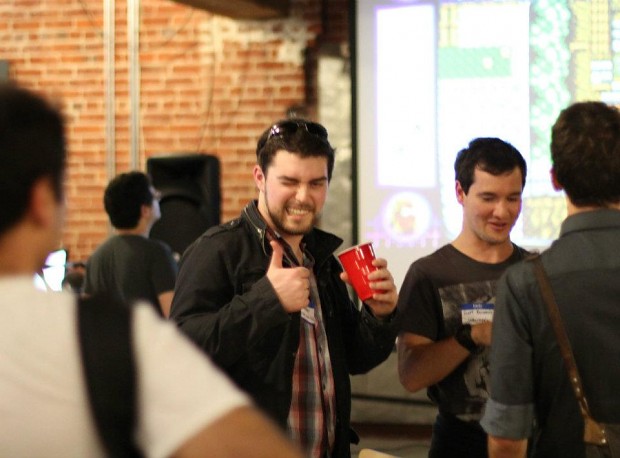 This is what I look like after a few beers...
After our exhausting day (basically two days), we were dead that night, the only thing that could wake us was the sound of the early morning curtsy call.
---
Day One
Monetize everything!
---
An early start today, I made my way into the press section of the GDC convention which was already swarming with people of all ages. Three floor up and hidden in a moderately sized room I saw a familiar face. Tom Killen from The Voxel Agents who we just happen to share an office space with back in Australia was working the door to the press room like a boss. You see he was volunteering to help run the GDC event, in return he got an all access pass and a free lunch every day. Normally something like that would set you back a few hundred dollars, its worth knowing if you ever plan to attend.
My first stop as always when attending any of our GDC events is the Indie Summit which for a fine gentleman as myself running the websites I do makes a lot of sense, and I always find what the selected developers speaking interesting and knowledge worth knowing. First up we had a post-mortem on QWOP and GRIP and where he got started. Next was a talk on folk/submersive games from one of the guys responsible from Johann Sebastian Joust. The talk was on mostly swapping the idea of new technology which makes better games. For example taking advantage of how everyone in the world (well most of us) own a smart phone and what that means for traditional games free from virtual worlds, aiming to bring back traditional folk/carnival games with the use of popular and already existing tech. Quite interesting.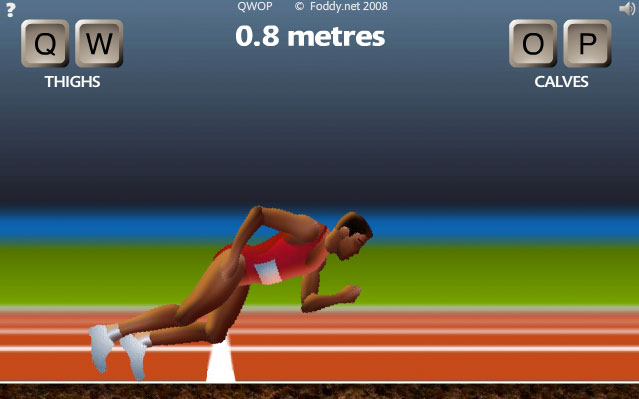 QWOP In a nutshell
After lunch it was a post mortem on Magical Ponycorns Adventure which is a point and click designed by a 5 year old girl and her father Ryan Henson. He also mentions how instead of being passive when trying to get people to notice him he struck out and made a big splash by stealing a heap of plastic coins and pouring it on himself in a room full of people. Interesting ideas where presented in this speech. Finally my last session for the day was on making awesome game trailers for your indie title and how to best approach it.
After a long meeting with our fellow Indie Royale owners it was time to see the long awaited Indie Game the Movie, which was outstanding. The best way to describe this would be if you have a member in your family who just does not "get" why you spend your time making games or mods show them this film and everything will make sense. IGTM gets deep into the subject matter of working with people, building a game, why artists do the things they do and the results of their labours. It shows respect developers at their breaking points and how they bounce back. If you get the chance to see this film I highly recommend you do.
Final word before I drift off to lala land. I have no idea why American Seagulls are so big. What on earth are you feeding the bloody things???