Hello IndieDBers! And Desuraers! Wow, up to 240 watchers! That's awesome! :D
Apologies for the lack of updates in March! Your trusty jolly corpses have been hard at work on Wyv and Keep over the weeks since Indie Royale, and there've been lots of changes and updates in that time. The current version 0.906 is our best yet, and features tons of additions, bug fixes, and tweaks. Here's a quick breakdown of some of the stuff that we've polished up!
Version number on Title Screen
Data now sent properly between players
Online menu bug fixes
Online music bug fixes
Online user list and buttons updated
Select difficulty and starting level in online
Hat shop clerk animated
Earn hats based on Platinum Medals
Fonts are now spaced properly
Word-wrapping for text
Smaller, more effective dialog bubbles
Cutscenes can be skipped through faster
Cartographer crashes fixed
Treasure animations and hovering
SFX updates and fixes
New door for end-of-world levels (x-9 levels)
New end-of-world sound effect
New music for end-of-world tallies
Proper level design and background for 2-0 cutscene
Fixed rotation mechanic in cutscenes
Updated various scenes in opening cutscene
Added "Replay" or "Continue" options to tally
Locked hats now show blacked-out and with a lock icon
Evil piranhas now inhabit some bodies of water
So that's why Wyv and Keep die in water!
Otherwise they could swim, right?
Fixed crashes related to missing player animations
Monkeys now occupy some trees
Additional player balancing animations
Sxill's Eiffel Tower Hat
Those of you who regular the Jolly Corpse forums also know that we've begun holding map contests! These once-every-three-weeks or monthly (we're still getting the hang of it) events are themed map design contests designed to start building a community of players around Wyv and Keep. We've had some great entries so far, and our first two winners have received free copies of Wyv and Keep to give to a friend, a featured spot on Wyvandkeep.com, and their own hat idea/design to be sprited by myself and inserted into the full game!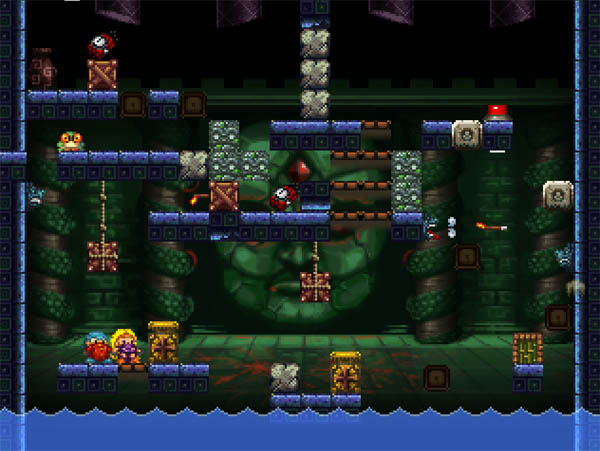 Our first winner Sxill demanded his motherland's famous Eiffel Tower be included in the game, and I happily obliged!

Our second April Fools themed contest was won by Kamdan. We liked the clever design and the "fool" which you can actually see here in this picture, but we won't tell you what it is! Kamdan'll receive his own hat design too, which should be included in the next update!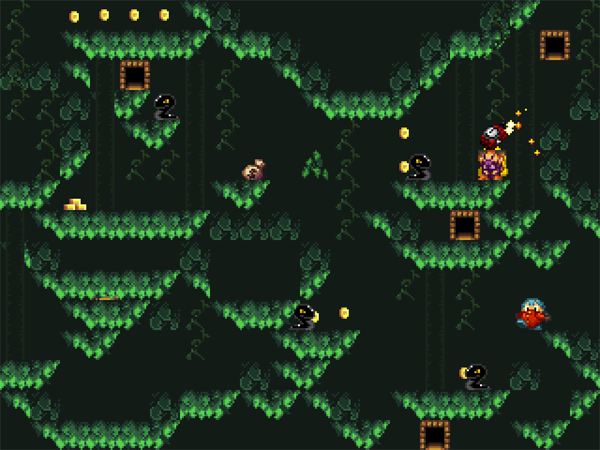 Big things are happening in other parts of the game too, and particularly exciting for yours truly was finally getting a few minor things taken care of in the opening sequence that have been bugging more for freaking eeeeveeeer. One of the adjusted scenes in the intro sheds light a bit more convincingly on where Wyv's lantern and rope might have run off to…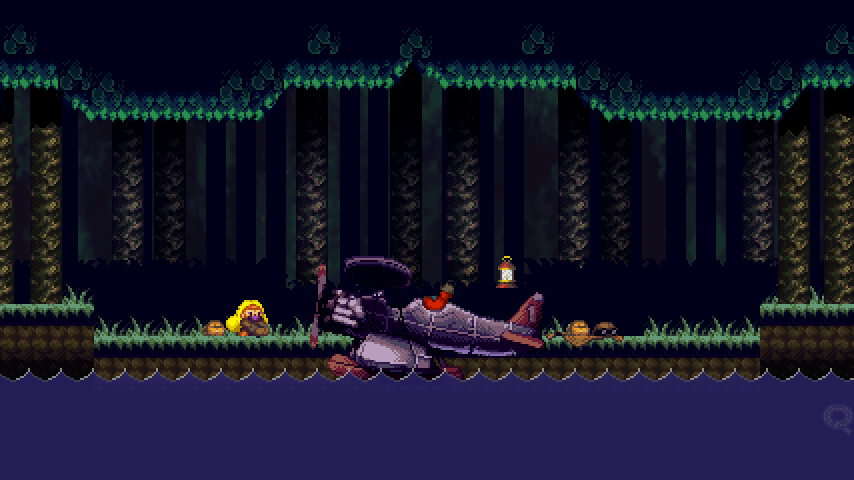 And those damn flickering birds finally fixed too!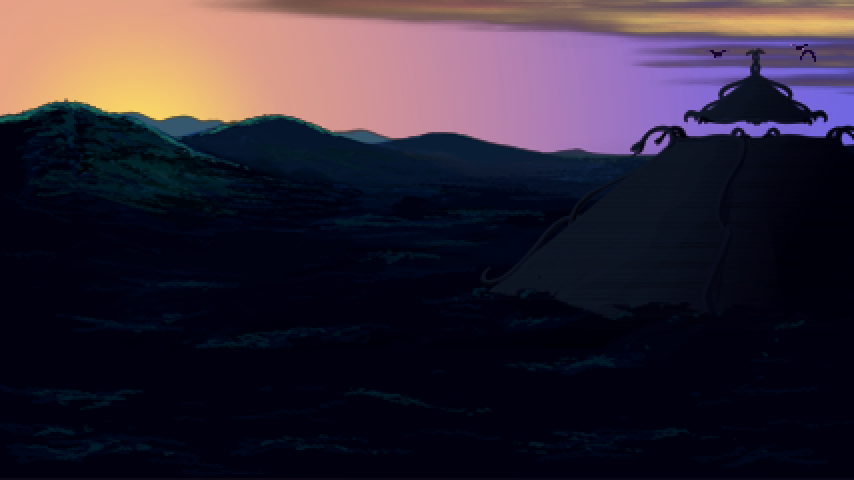 In other news, we've finally begun to make headway on the multiple endings and THE TEMPLE BOSS. Yes, that's right, Wyv and Keep will encounter something far bigger and more dangerous than cannibal pygmies in the ancient temple. Pictures will be upcoming, as we decide exactly what we want to give away, and what we want to keep secret… We're currently polishing up the Volcano for a big release soon as well, and though advancement in online play is slow (as always), we should see new features and modes of play being incorporated there as well!
Finally, since we know lots of you guys are waiting for ports, we have some good news! David's begun work on the Linux port and this is going well, and with some of the funds we earned with Indie Royale, we plan to get a Mac set up for porting to OSX as well! Difficult to say when these ports will be playable, but trust that we're working hard on it!
Until next time!