Howdy IndieDB and Desura! In order to commemorate our first 99 watchers (maybe 100 by the time I post this?) and all the many, many, many many new watchers to come, we're finally giving alpha funders more of the game! That's right, we've given you access to the first three worlds (and even a bit of the fourth!). Provided you can get to them, that is...
If you check Desura you'll find that your new version starts out like this:
Not bad, right? The intro has been a long time in the making, and at this point it's pretty much complete. There are still a few tweaks and touch-ups to be made, a few missing graphics, etc., but it's finally starting to look fairly decent. Luke's theme has really been a joy to work with, as it really just wrote the opening for me. The build-up, the instruments fading in, the drop-off and refrain, the swell before the final, climactic chorus. It was extremely easy for me to develop something cinematic to go along with it.
We've added a ton of new content along with the Beau's maps, including an easy mode for the slightly more timid of you, lots of new animations for Wyv and Keep, more animated backgrounds, and a good deal of updated graphics like the following:



In addition, with the incorporation of our dialogue engine, you'll also finally get to see Wyv and Keep talk! We still need to finish up the code that'll allow us to move 'em around and create the finished cutscenes between levels, but you'll still be able to enjoy their witty banter in the mean time. Here's just one of the silly scenes you'll get to see:
And as for online mode? We know you want it! And trust us, we want you to have it too. I assure you it is coming. Our UI has been planned and our programmer and netcoder are working hard at getting everything incorporated. We're planning to get a simple lobby, game creation and list system, and chat working first and then we'll unleash it upon you. Once that's been completed and tested, we hope to add different types of games, like custom map support, vs. races, and tournaments.
For now, all we can offer is a peek at the development: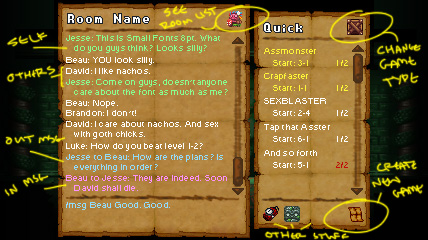 Look for more updates on online mode soon, and hopefully a playable version as soon as possible!
For now, you alpha funders enjoy your new levels - we're sure they'll keep you busy for quite a while. For those who haven't purchased the game yet, check out the newly free updated preview, and buy the game already! :D