Ultima Ratio Regum has now joined that illustrious collection of few roguelikes with a functioning z axis! Depending on your location, you will be shown where is higher, where is lower, and where is far higher (i.e. it must be climbed), and where far lower (you will take damage from falling). This all enables the construction of various things in time for the alpha (see below picture).
Note: the picture shows the world devoid of trees and other features, but simply because I've hacked them out to reprogram them in a much more efficient way.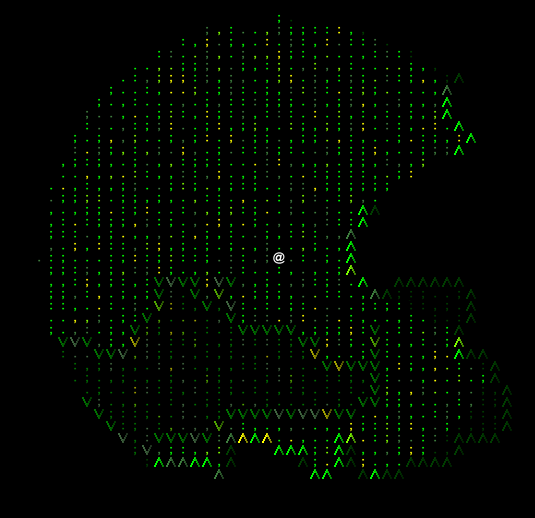 - Buildings! Many floors, different sizes, you can walk on the roof, head in the front door, go down into the basement, and other such excitements. For the alpha, ruins will likely be the only above-ground buildings, but towers, villages and even cities remain in the works. These should be destructible from siege weapons, too.
- Falling/climbing! If something is too high, you can climb it (if you have arms). If something is a long way down, you will fall, and take damage according to the distance, and what you hit (sand, grass, water, whatever).
- Creature height! Tall creatures can attack up multiple z levels; small creatures (like you) cannot. Horses and other mounts raise you up higher.
You can read more on my devblog, Facebook page, or Twitter feed. The devblog is updated weekly on Mondays, and the Twitter/FB roughly daily. Plus, those who follow will get updates first, and may gain access to the alpha (or particular facets of the alpha) before the general public. Stay tuned! : )