Every Tuesday and Thursday we get a group of mentors coming in from different origins in the industry to take a look at our progress and see how our games are going.
An interesting thing happened last night with one of the mentors who hadn't seen anything on our game since we pitched it over a month ago: he absolutely loved it!
Don't get me wrong, our game is awesome and it's no surprise that someone likes it, but it was what exactly he enjoyed about the game. Apparently, our game is a major trip. We didn't even notice it until he mentioned it, but it seriously is a trip. We have some extremely ridiculous set pieces in the game that are there just to make the walls contextual, but they really make no sense.
Here's an example scene: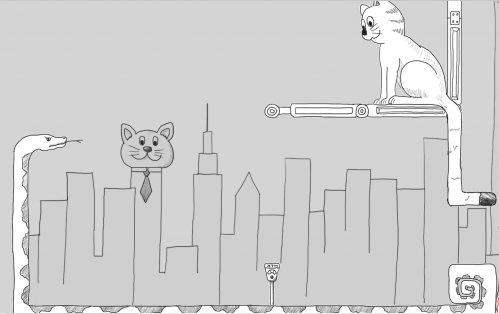 As your can see, there's a cat on the top right who's tail turns into a platform for the player to jump onto, right above the box made by the snake's tail. If you also haven't noticed, there's a skyscraper with a formal cat's head on top and wearing a tie. If you click on the picture you'll also notice that there's an ATM parking meter? Finally, notice how the cat is staring directly at the cat tower, tell me he's not checking that cat out.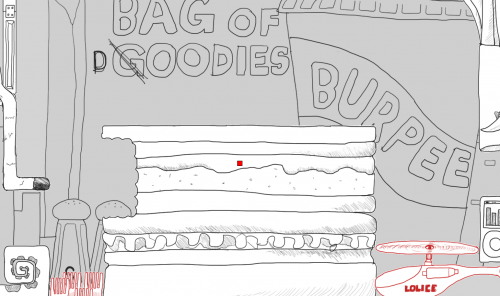 As you'll notice in this screenshot, there's a pack of murderous forks on the bottom left, right beside the perfectly flat burger in the middle of the screen. Also take note of the "Burpee" cup and the "Bag of Doodies." don't forget to notice the "Lolice" copter on the bottom right.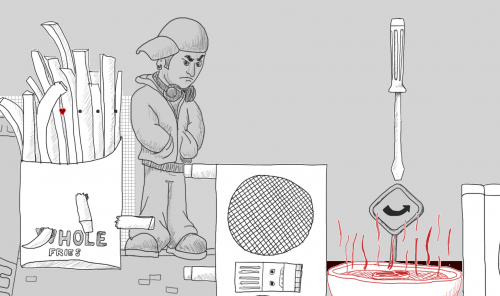 This image is a little more conservative. Notice the "Hole Fries" and the anti-social teen. To the right there's a screwdriver in mid-air over top of a steak on a grill, very conventional.
We definitely plan on embracing this style as we go into finalizing the art for the first few levels as we approach Milestone Two this friday. Look forward to some more images and screenshots to come soon as well as a video blog to hit by the end of the week!
All of these assets are the prized works of our very own Ankit Pathare.
Kramer (and Ankit), out.