As all of my games; i like to make custom framework and game engines.
This game is no different in that aspect.
What you will need to mod the game is
knowledge of how basic computer logic works
A copy of the Scratch 2.0 offline editor A copy of Adobe Air so the editor will work.
Some basic knowledge of how scratch works and how blocks connect to each other and how this comes into place in a computer logic sense.
A good idea of what you want to make / do with my engine; and what you will need to do; to do it.
now go into the *source* folder of the game and then *core data*
and find somthing like SCP:Terminal.sb2 . then open it via Scratch2.0
Ok now you may see that i am a long time veteran on Scatch. and the platform may look basic and colourful and simple... but the stuff that i do in it is very high level and you may get confused, completely mind fucked. and other things like that.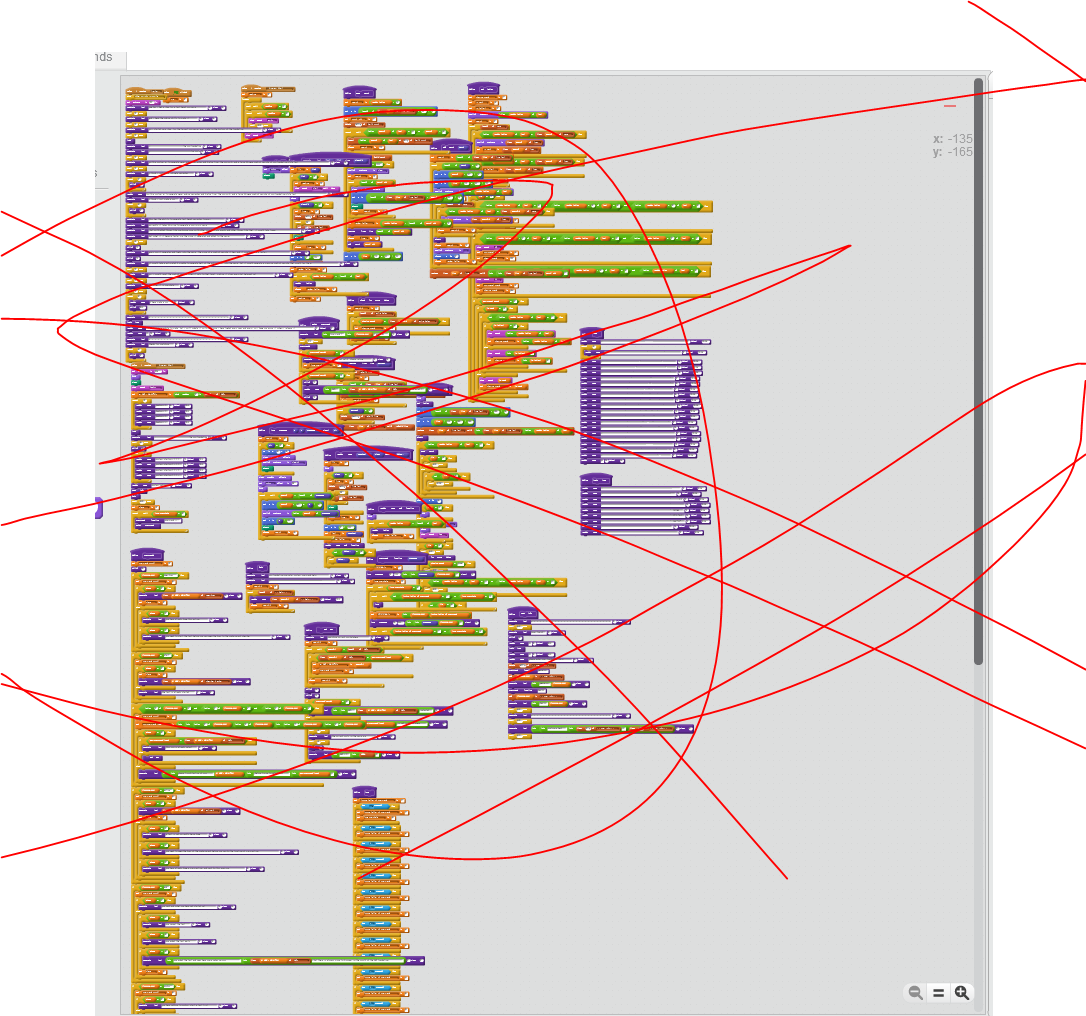 now you will want to select the *text* sprite.
and then go into scripts / code.
look for this script / bit of code.
everything in the blue is needed; and you should remove anything after it and repleace it with your own script / gameplay.
the __Program Start__ signal is the signal sent out after the intro / bootup animation.
after the animation, in the background it would have loaded the game up and also done all needed startup processes.

everything in yellow is cosmetic bull shit that is not needed. you can keep it.. but you can also remove it.
everything in black is gameplay.
like the user login menu, the game itself and the command inputs.
here is a example of how the blocks in my engine / framework ; work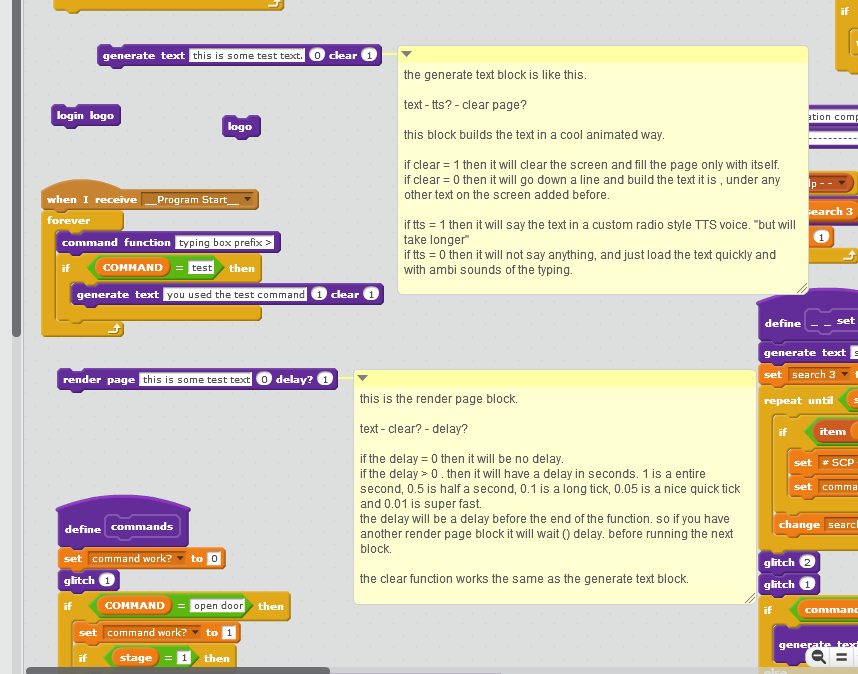 under the __Program Start__ signal block is a example of a simple command script you could use; to have your own custom command.
the login logo and logo blocks are remade logos you can load into your mod / program on this engine i have made. the "logo" block is for the large scp foundation logo, and the "login logo" is the secure, contain, protect logo you can find in the login screen.


here is a example of how the stage var could be used.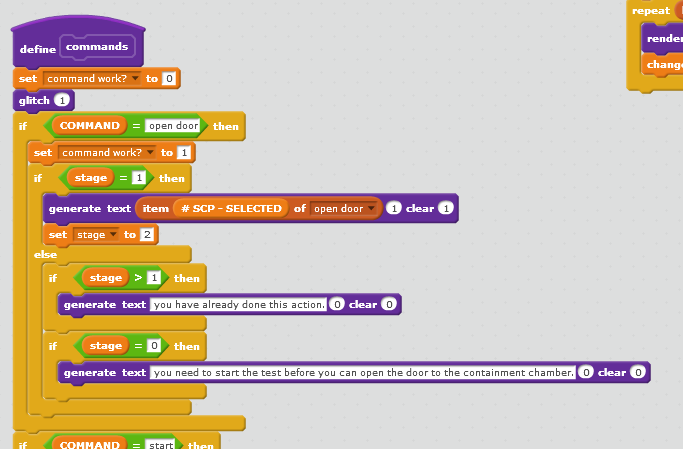 in this context.
stage 0 = not started test
stage 1 = test started
stage 2 = doors opend and in test
stage 3 = action done
stage 4 and over = all actions done.
use this to have stages in your commands. so you cant open Door B without opening Door A and getting key from Room A behind Door A and then going back into the main hall and opening Door B and entering Room B via Door B.

that would look like...
start [1] , door b (cant open without getting key) , door a [2] , door b (opens door for that stage = 2) [3] , end (ended game via it being stage 3).

its a bit complected but when you master the core computer logic behind it by doing stuff like this. it gets very easy and you can script epic stuff with my engine.
when you are done creating your mod. just save it to your desktop and save it as (Mod Name.sb2)
you can name it whatever you want.
then go into the *modding* folder of SCP: Terminal
and click and drag your mod into the folder.
run the *junebeetle SB2 - SWF compiler* tool.
select your sb2 file you just moved into the *modding* folder of SCP: Terminal
select the following options. / set to the following options.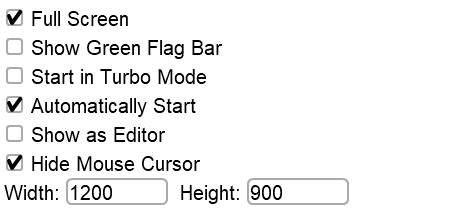 then save it as (Mod Name.swf) to the *modding* folder of SCP: Terminal.
then run the SWF to EXE / Executable converter . this can be found in the modding folder also.
after you have converted it into a EXE / Executable . check the output folder of the converter. then create a new folder on your desktop named whatever you want. and move the executable into that folder, then create a folder name *source* and then inside that a folder named *core data* and copy the sb2 file of your mod into that folder.
then copy the TXT file inside the *modding* folder of SCP: Terminal, and move it to the *core data* folder of your mod.

and BOOM you have made a mod / game on the SCP: Terminal engine! :D
i hope this was helpful.