Steam Demo: Store.steampowered.com
The demo places you in a skirmish game as a Shadow Knight versus another SK computer player at normal difficulty. The features are limited in order to simplify things, which is important since the campaign tutorial has not been implemented yet. You will definitely want to read the "help tips" image and it would be good to read the extended help window too.

Pursuit of Power® 2 will not be finished until around August 2018, so this is really just an early preview of it. There are some important gameplay features missing that will add a lot of depth to the game. Over the next few months, I will add an upgrade path for your leader, multiple fortress upgrades, epic bosses that spawn from special rifts, powerful zealot abilities, flying guardians, and more. The current version of the game should give a good idea of how it will play, but the final version will contain much more depth and have a lot more polish too.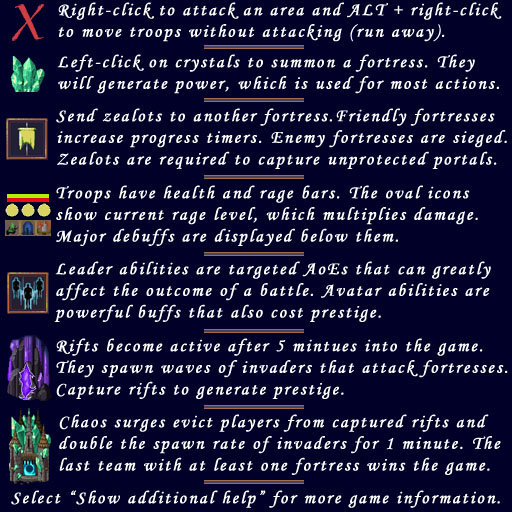 Features
Real-time strategy game with pixel art
Play a Shadow Knight, Stalker, or Mage as your leader class
Choose from a variety of upgrades as your leader gains levels
Command elite troops with strategic roles and a rage mechanic
Manage connections between fortresses in a unique way
Gain prestige by capturing rifts and performing heroic acts
Dynamic world events such as invaders that attack fortresses
Win by capturing all enemy fortresses or surviving the Apocalypse
Single-player campaign with a story and objectives
Single and multi-player skirmish (local or network)
Pursuit of Power® 2 is a real-time strategy game with a different focus than traditional RTS games. Players connect fortresses together in order to build, research technology, generate bonus resources, defend allies, and lay siege to enemies. Each player has a leader unit that summons structures and casts powerful abilities. Rifts dynamically spawn invaders and epic creatures that reward players with prestige when defeated. There is a priority system for enemy targets and a rage mechanic that affects combat in multiple ways.

Fight through a single-player campaign game with unique content and objectives for your leader. Play local and network skirmish games with up to 10 players. Join a team with allies that can come to your aid. Create new skirmish games using a map editor with a rich set of features.