OST in high quality as a pre-order bonus
We are very grateful to all of you, who pre-ordered Oil Rush, for support and have yet another bonus for you - effective immediately the official Oil Rush soundtrack by Paralyzah is available to you in high quality. Oil Rush OST consists of 18 amazing tracks - a unique mix of heavy industrial, breaks and ambient.
It will be out for sale separately once Oil Rush is released but you can enjoy it right away and free of charge (Desura pre-order users will get as soon as we understand how to attach a new package to the game here). Thanks again for your support!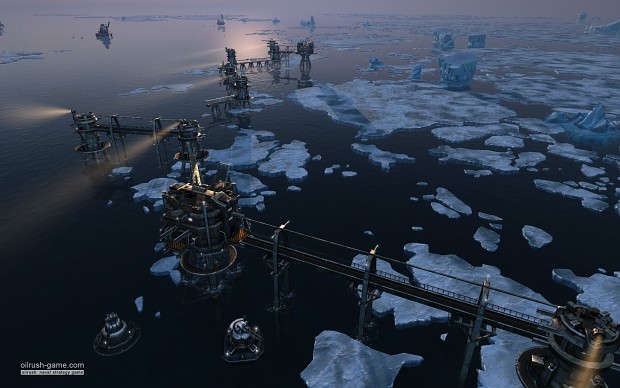 Changes from 0.81 to 0.82:
Maps:
* Added "Tutorial 3" mission with cut-scenes. Learn how to divide units by type and conquer your enemy!
* Added "Sabotage" map (1 vs 1)
* Added "Sunset" map (1 vs 1, a limited set of units, Zeppelin in action)
* Added "Circle" map (1 vs 1, an experimental labyrinth design)
Gameplay:
* Added "Napalm" skill (splashes of burning oil damage units and towers)
* Added "Repair ship" skill (a ship repairs units around it)
* Added "Mine field" skill (both ally and enemy units get damage when hitting mines)
Code:
* Mac OS X build now supports multiplayer
* Implemented Steam invitations support
* Improved aircraft movement
* Reduced "HeapChunk"-induced crashes
* Fixed several GUI bugs
* AI level is set to "Normal" by default in the "Quick Game" mode
* Fixed a bunch of minor bugs
Visuals:
* Optimized Barracuda and Mantaray models
* Added canyon environment
* Added a Zeppelin unit
* Fixed Seagull units
* Added the fade effect in the main menu
* Added Unigine logo on the start-up
* Improved units destruction
Music:
* Added a new battle music track
* Soundtrack is now available in high quality as a pre-order bonus