Hey everyone! It's been a long week.....recovering from the Superbowl and all(GO GIANTS).So if anyone has seen I released version 0.0.3 of the public beta. Haven't played it yet? Well go download it. get it at the official Maniak Gaming website---> Maniakgaming.com or just download it from indiedb---> Indiedb.com
I'll wait...
Okay, now that you've played it you may find it missing some things... like a bunch of things. Well don't worry I'm working hard to get the rest of the features in the game. Just recently I finished the minimap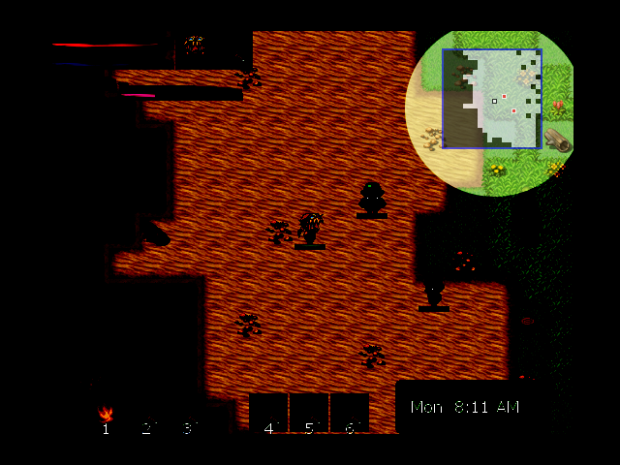 Okay let's inspect this pic real quick. I kind of darkened everything else out but look at the HUD.
I made slight changes to it to accommodate the minimap in a good position. Basically the only thing that moved is the time and now the minimap is where it used to be. Now this is an older pic of the minimap. It looks the same I just touched up the colors a bit.
Now along with the minimap I have added and am working on more features. So here's a little list of what else you will see in the next update for the Public Beta:
Again the minimap
Slight HUD changes
Possibly redesigned HUD and menu's
new store system(I find the current to be a hassle at times)
Equipment system(can only hold certain amount of stuff)
Item storage(you can store things you want to keep in your house)
More items and weapons
More shops
New shop(skill shop)
More skills
More quests
Some more areas
Teleportation system(you can travel to and from every main town once you've found it)
fullscreen!!!
attribute system(when you level up you get skill points that you can spend)
animation to play when you level up
and POSSIBLY...this is a big MAYBE but perhaps a dog companion to help you out in your adventures.
If it happens that I add the feature above......I MAY, and this is a very slight chance, add CO-OP to the game.
So get playing the Beta and get ready because this update is BIG. I will be out in a couple weeks I'm going for sometime next month possibly earlier.