At time of writing, there are approximately 64 hours left if you want to submit levels to the level design contest to win one of three T-shirts and pre-orders of Nikki and the Robots.
We received 23 user-made levels so far (get all of them here or here) and I took a look at how many robots, switches, batteries and objects in total are in them.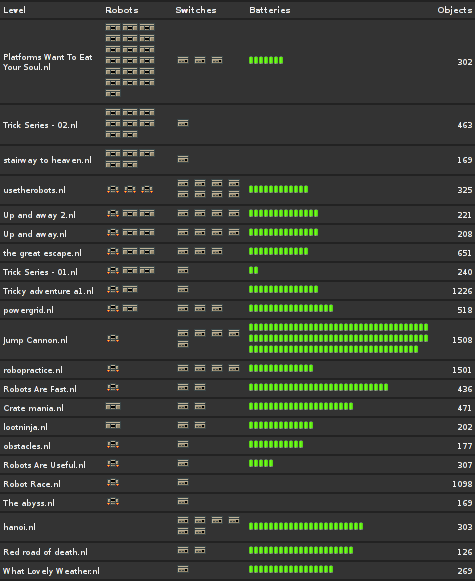 Contest Levels 2.5 - See as real table
here
My feeling was that robots were under-used in the contest. The statistics show that I'm wrong. What surprised me however is the average 530 objects per level (the current average object count in levels shipped with Nikki and the Robots is 170). Makes me feel lazy.

We have been tweaking physics and controls lately in preparation for the next release. (check out this horrible recording of horrible jetpack test physics

).
I'm curious if the last days of the contest will spawn many awesome levels. I guess I have to hope for bad weather..