Nikki and the Robots 0.3 is out! [get it here] Soon we will start a level contest which is why we gave this release the name "Edward".We decided to abandon batteries as energy source for robots to avoid slow pace and annoyingly repetitive gameplay. Instead Nikki's targets are:
1. Collect Batteries

(as many as possible)
2. Use Robots



(they do not require ⌁energy)
3. Press Switches*



(to complete levels)
Collecting battery cells will serve high-score lists and in the story mode it will allow for progression; a certain amount of batteries will be needed to enter the next part of the game. We will explain the meaning of switches another time..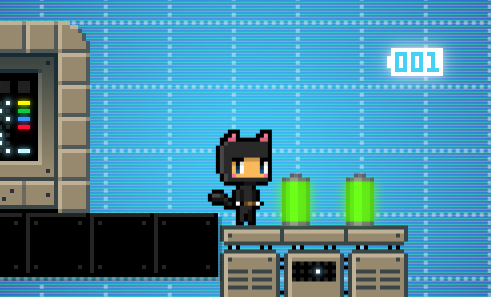 0.3 Changes include:
Battery counter and timer inside levels
High-score display in level selection and level-end screens.
Bugfixes! One of the most horrible ones prevented linking robots to terminals in the editor.
Player-configurable controls
Death zone (lower limit for levels)
The level competition will start soon and it will affect the future development of Nikki greatly, so please test-ride this release [again, get it here] as hard as you can! Bugs go to Launchpad or our IndieDB forum (did we tell you we got a forum?).
Level editor tutorials will be released (on indieDB) very soon as well!