After almost six months the full 0.25 beta release is here! For downloads click on the link:
Major new features:
*Optimized and defragged resource tree (thanks to ENIGMA). Should load comparatively faster than v0.2 Beta RC1.
*New Playable Character: Arthur of Ghosts 'n Goblins
*Roughly 301 enemy and boss breeds total now.
*14 new levels
*HP system for some of the less than Mario like stage. Can also be turned off by player choice.
*Coins are skinned depending on the world you are in.
*Separate key for using Guns ("C" key by default).
Known bugs:
*Collision detection issues.
*Mega Man Mario's sliding sprite frame may appear off the ground on certain computers.
*Bubble Man momentarily disappears during his introduction animation.
*Invisible platforms turn out to be Subcon enemies like Beezons in levels that contain them.
*The save system does not work for many PCs. Will likely have to be scrapped and rebuilt from scratch in later releases.
Screenshots: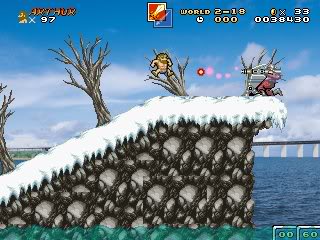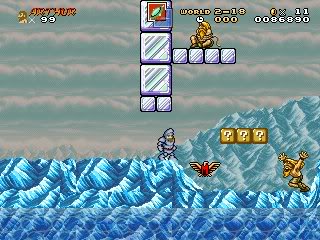 Latest YouTube video: