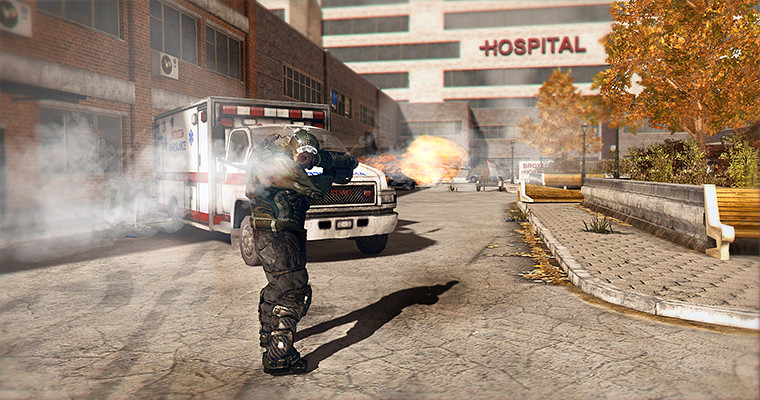 New map
Hospital entrance (PvP, PvE)
New shop interface
The shops have been fully redesigned. With this new design, the following new features were added:
• A fitting room for armor and paint*
• Item sorting by type
• Items are now sorted by level
• Displays an icon for the required class
• Separate tab for active items
• Rent for different times with one button
• Purchase several items with one click
• Discounts and temporary offers. From time to time individual items will be on sale. And the first discount – 30% off the rent of any top items!
*Using Ctrl+click on any appropriate item in the game, including items in the chat, will open a fitting room.
Weapons\Items
• New top premium jet launcher Rhino for level 12. Heightened mobility and accuracy. Available at the premium shop and rent shop.
• Missing weapons were added to be available for rent for 30 days.
• Renting prices of some items were changed.
• Items available at the premium shop for credit (books, upgrade tools) were moved (copied) to the regular shop.
• Punk drugs now cost five less Tags (15).
Balance
• Long-range assault rifles (M4A1, Vintorez) now have heightened accuracy for their Accurate Shot (70->75)
• Big-caliber pistols (M1911, Magnum, Desert Eagle) now have reduced minimal distance for aimed shot (8->6), increased damage, and reduced damage scatter.
• Desert Eagle: accuracy increased by 2
• Uzi and UMP45: mobility 93->92
• UMP45 now requires level 7 and a skill.
• Close combat skills now have increased damage 10%/20% -> 15%/30%
Unbind blue grade items at the expense of the buyer
A new feature has been added that lets you "unbind" items at the trade window for the other trader's money. We know that you had to send gold to another's character in order for that player to unbind the item and sell it, but now you don't have to transfer money to strangers anymore. You can move the bound item to the trade window and choose from there who's going to pay to unbind the item.
Global map progress
Now, for a new player, the global map will be covered with "fog of war". New parts will open with the player's quest progress and character level up.
PvE (NPC)
• Intellectual fixes were made to NPCs, so now they act appropriately in battle and do not sit in corners.
• Close-combat NPCs no longer stuck while being close to radars, mines, etc.
• AI turns freezing at some situations were hopefully fixed.
• Some contracts freezing when starting a battle at the "Pier" map were fixed.
Other changes
• Map selection before a match is disabled for tournament mode. The battle now begins instantly.
• The maximum allowable difference at a tournament match making has been changed from 500 to 300. (500->300)
• At the "Radio Jam" quest a hint-dialogue was added to Jack at the beginning, and Jack's pistol replaces any of the players weapons.
• Fixed a hitch when shooting close to a nearby character.
• Learning skills while in a battle has been disabled.
• Some active items have been disabled for trading.
• Adding an item to the trade window when the offer was already accepted by one of the traders now resets the accepted status.
• A boost for scroll buttons while adding polymers for crafting was added.
• An input window for the required number of polymers for crafting was added (opens by clicking on the image of the blue or green polymer).
• At the "Hunter" event BP reward is increased by 30% (will be displayed on the "personal factor" line)
• Reward for 10 duel wins has been changed from 500 to 1000 credits.
• The achievement "Everybody for himself" has been removed.
Other fixes
• 3d model for the weapon UMP45 is now fixed.
• The player search at the player list window (the icon that's next to the chat) now searches players nicknames correctly.
• At the "Ghost" raid, incorrect influence of a stun grenade over the ghost's copies has been fixed.
• Turn pass when using an active item with the skill "Fast hands" over the last AP has been fixed.
• Your turn now ends when you have 0 AP remaining after using the skill "Fast Hands".
• Using active items now correctly ends your turn.
• The situation of when a player was appearing at the fabric after a death, and couldn't pick up a box or a listing, is now fixed.
• Fixed some bugs in maps, where a character couldn't pass or enter a narrow place.