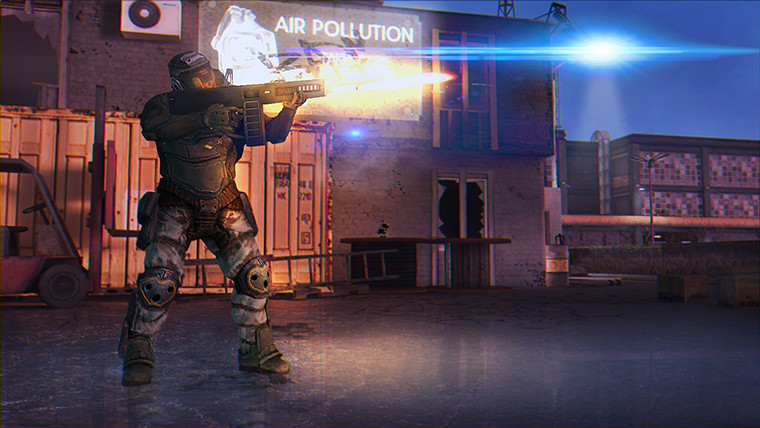 New map
· A new map "The Pier" is available in PvP and PvE modes from level 5 and up.
New Items
· AA-12 - A new rapid-fire shotgun with burst fire mode. Available through crafting, drops or by renting on the level 10.
· XM26 LSS - A new light shotgun available at level 8. Available to find via crafting, drops, or by renting.
· The "Defender" Helm - Available at level 7.
· New game booster-service "The Collector" - You collect all trophies, when you and your team manage to stay alive and won. You can buy it at John Smith's for gold.
· New game booster-service "Medical Insurance" - Helps to cure all soldiers automatically after finishing the battle. You can buy it at John Smith's for gold.
Music
Feel the atmosphere of Broxton city! A special music album was recorded so you can listen to the music playing in background during battles.
Quests
· The creation of the second campaign is initiated; it implicates performing PvP mode introductory missions and police contracts.
· Starting missions of the first campaign are redesigned. From now on players do not have to think over what to do next since one or several quests will always be active.
· New missions are added: to buy the second mercenary, to perform contracts, to find lieutenant Gatts.
· 6 new quests were designed to show new players PvP mode. After you pass the Police Department and reach level 4, you'll get simple missions to participate in PvP and instructions. These quests will be available for all players.
PvP
· New players are provided with the PvP section, closed from other players:
· One mercenary duel is available until level 7 since 1-on-1 duel is relevant for Recruit class only; class duels are intended for 2 or 3 mercenaries.
· Some arena modes have been removed but (e.g. the Survival mode), but they will be played in the form of Events, other modes do not open immediately:
- 2 mercenary duels and team battles with a partner - level 6.
- 3 mercenary duels and team battles of 6-8 players - level 8.
Player's levels are stated, not mercenary's. Open the mode with a player who has reached level 8, then you can take mercenaries with level 4 and higher.
· Survival mode is removed from regular PvP.
We know that a small duel is popular, but LS is based on group tactics. Balance is calculated upon team cooperation and a certain number of enemies. At this point battles with one character cannot be group battles. We believe that all players who love this mode will go for bigger duels (if they want to control their side completely) or TB (if they want to control just one character). Removal and successive opening of new modes is designed to concentrate players in less number of modes with faster and well-balanced connection.
Events
· A new location has been added to the territory capture mode: Industrial Zone.
· New version of the Event "Checkpoints", now it's 4-on-4 mode.
Balance
Skills
· "Berserker" needs more damage for activation (105 ->115)
· "Martyr" needs more damage for activation (150->200)
· "Martyr" gives no bonus to its carrier (only to other members of the team)
· 3rd level of "Perceptivity to recovery" 70% ->60%
· "Nanny" gives a huge protection bonus (5% -> 10%)
· Weighted armor 10% -> 15%
· "Support" increases accuracy 5->7
· "Drop off the ballast" is activated when the armor is below 40%
· "Team spirit" gives a bonus both to you and your teammates
· "Vendetta": damage bonus 10% -> 15%
· 2nd level of "Grenadier" (grenade slot) isn't available for Storm-trooper (for support only).
· Support can research "Pouch" and one of bonuses from using active items at the same time
· Support has a redesigned skill tree with the skill "Nanny" added
· "Shoot till the end" has been changed. Now this skill can be activated by pressing a button. Activation costs 1 action point (AP). The attack after activation will expend all AP left and have higher chances for a critical hit.
· "Blind defense" allows now to see 1 meter farther.
Weapons and Items
· The "Defender" and other similar helms are available from the level 7.
· VG Shotgun: damage 60-92 ->54 - 81, range 12->9, shells 2 ->1, clip size 12->3, ammo included 24 ->12
· Shark Shotgun: damage 69-102 ->60 - 90, range 12->9, shells 2 ->1, clip size 12->3, ammo included 24 ->12, reload 20->30
· Pancor Jackhammer: damage 57 - 75 ->55 - 74, range 9->12, reload 20 ->40
· Benelli M4: level 10->9
· Now "Antishock" has the side effect - the immunity to adrenal preparations, i.e. they are not efficient if antishock is activated.
· VG gun and M79 grenade launcher have been added to the basic shop.
· UAV requires "Professional Technologist" skill opened (support)
· Punk "Fury" and "Jig" has a reduced mobility fine.
· Punk "Mint" has an increased bonus of AP 45->50 and a fine of MP 15->20
· Light Rebis pills: AP 30 ->20
Battle rewards
· A new bonus for using active items has been added
· Reward window has been slightly changed
· Bonus for the battle length must be given out correctly
· BP rate has been slightly increased for 3 mercenaries duel against 2 mercenaries duel
· Multiplier of BP and experience for the number of players has been increased
· Team bonus has been reduced
· Tension bonus in PvP mode increases at the evenly balanced battle, not the crushing defeat
· Some reward rates have been slightly reduced.
· Bugs with displaying players who left the battle before it started have been retrieved.
Other updates
· Now items can be upgraded automatically (Upgrade Tool). The button "More" has been added, it opens new interface of automatic item upgrades.
· Lifetime of temporary matters (Molotov cocktail, rebis cloud, etc) is displayed now.
· Rank of the clan is displayed when entering the game (if a player is in the clan).
· Health bonus can be given again to the members of groups, but it is 30% to the usual one.
· While connecting a battle, a chat automatically switches into "Battle" instead of "Location"
· After you've got a prestige level, the experience you gained after the 15th level is taken into consideration again.
· Classes with the skill necessary for the use of an item are displayed in item descriptions.
· Item requirements (level\skill\class) are white if the mercenary's characteristics are appropriate, red - if not. In other places (shop, storehouse) they are still just red.
· Animation and sounds of misses in the close combat have been. The notice "Hit" doesn't appear when you miss.
· Reload animation of some weapons is returned.
· Lower information bar doesn't blink when you use active skills
· Shell cases have been returned.
· Active skills cannot be activated by right mouse button anymore.
· Subtitles and dialogs have been slightly redesigned.
· The message "Your Turn" has been redesigned to make it better visible.
· The value in the line "No more than" in the description of cells of active items cannot be greater than total number of cells
· A receptivity\immunity icon has been added to the effects above the health.
· The name of service, activating booster abilities, has been added.
· Quest objects are not indicated when you press SHIFT or take a simple aim.
· You need to confirm that you sell upgraded items of green and blue color.
· Experience boosters are put in one cell
· Short-range weapon becomes less effective when it's damaged
· You have to collect only for cans in the quest "Product Supplies".
· "Product supplies" have been added to diggers.
· Completely healed up characters can participate in the battles.
· Some mobs have been slightly changed (masks and leaders' hats).
· Some band icons have been changed.
Fixes
· The character doesn't fall through the stairs when climbing.
· The raid "Cops Killer" doesn't hang after you pick up a box
· The client works correctly after you activate a quest object (e.g. a dron) with the shield.
· Rewards are displayed correctly
· The bag which doesn't allow new players to receive 100 credits and an achievement for entering the factory is retrieved.
· No unnecessary objects at the radar.
· Effects in the low bar are displayed correctly.
· The bag, which made it possible to see an enemy out of the field of view has been retrieved.
· Player's level changes correctly, not after you relog in.
· Notes in the contact list save correctly.
· No crash after the intro screen
· The right to change the description of the clan must work in a proper way
· It's restricted to take a prestige during the battle.
· Items do not visually disappear after you put one of the items into the trash
· The distance of a signal flare has been corrected.
· The bag, allowing uncured characters to participate in the battle must be retrieved
· Location have been correct taking into account players remarks