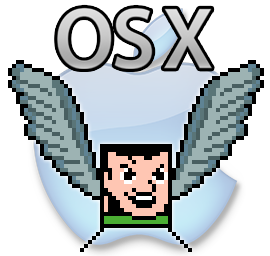 Some of what is new in this release:
Added full Mac OS X build of the game.
Added visual effect to indicate that someone is under the influence of a Tryptanade and vertical movement is no longer reversed.
Added the ability to draw tiles and objects/spawners at both sides of the map simultaneously by holding LCtrl while editing a map in the editor.
Added activation of win face (1 second) when a player gets a kill.
Changed so that the flood fill algorithm is much faster in the editor.
Changed so that the area outside of the map is shown in black when working with maps smaller than the screen size in the editor.
Fixed so that certain fragment shaders won't fail to compile on some video cards.
Fixed so that players can only be effected by Teleporbs while spawned.
Fixed so that players who teleport can't be climbing in mid-air when teleporting from ladders or ceilings.
Fixed so that stomp trail effects are properly destroyed when teleporting.
Fixed a bug where a Blobus that was stuck to the player could be attracted.
Please note that the OS X version is still very untested and you definitely should try it out before considering buying the game (of course this advice applies to the Windows version as well), in order to make sure that it runs acceptable on your machine.
Also, because of some issues with transfer of executable files, the OS X version does not come with the KFY Patcher at this time.
While seemingly more mild compared to on Windows, there are issues with the Intel GPUs on OS X too, so if you have one of those (get a GeForce or Radeon one already! :)) you will probably run into some issues with the graphics.