Since releasing Fizz Filler on Android last week there's been a few updates.
The latest (1.4.9) adds 2 new conveyor upgrades improvements to the UI.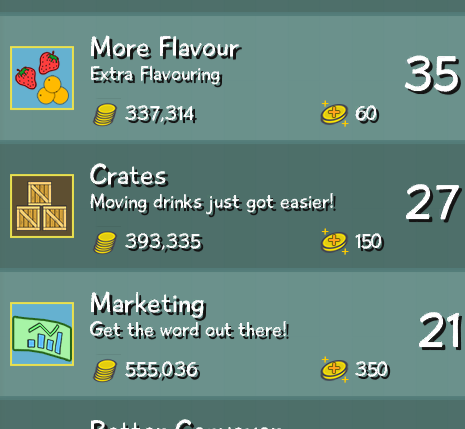 Here's the changelogs for the last few patches

1.4.9
2 new conveyor upgrades!
Re-balanced old upgrade costs
Better handling of older saves
UI Improvements
Fixed Sign-In issues
Android - Fixed settings not being saved

1.4.8
Fixed random crash after tapping advert and resuming

1.4.7
Fixed Incorrect version in crash reports
Reduced data usage of analytics when enabled
Fixed lag when playing offline

1.4.6
Fixed random crash when tapping an advert
WP8 Delays
The same version will be available on WP8 soon. Microsoft recently changed a few policies so certification was delayed after weekend.
If you haven't tried the game yet, now is the time to grab it on the Google Play store!