Greetings everyone, this week we are unlocking Ensign-1's in game level editor. You will be able to press F1 to go into editor mode at any time. I've made a short video to hopefully give a quick overview of how it works. I apologize for the jumpy camera, it was my second take after the first video didn't record correctly.
As you can see, all players will now have access to the same in game tools that were used to create Ensign-1. It is now possible to design your own ships, add them in game, and create entire interiors to walk around in inside your ships. Any model in the .OBJ file format can now be added to the game.
Although the level editor is fairly self explanatory, if anyone has any questions on how certain features work, please just ask and I'll try to explain them better, perhaps making more tutorial videos.
Seeking Level Designer
---
Along similar lines, we are currently looking to bring a new level designer aboard the team. If designing missions and levels inside Ensign-1 sounds like it might be your type of thing, and you would like to be a part of the main game, send me a private message and we'll put you to the test!
Ship Logs
---
In our last update, we sneakily added ship logs into the game. These are computer terminals scattered throughout levels which the player can access to read further into the game's story. These range from journal entries from individual employees to alerts broadcast to every ship in the human fleet. I can't praise Ariachiba's writing ability enough, and am very excited to have her creative input in our game's world.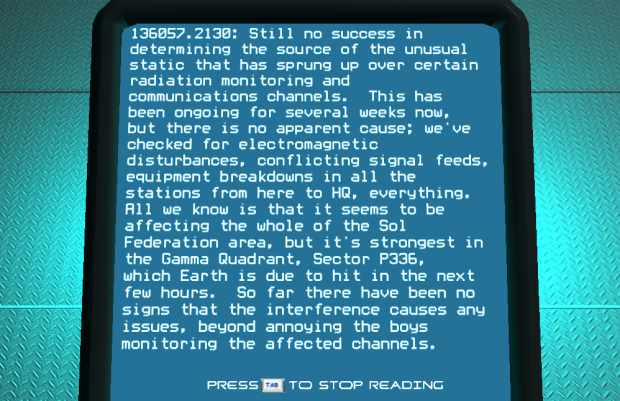 Community Stream
---
FuzzieBoy has made a livestream of our game, check it out! Also people, go look up the pronunciation to Ensign. It's a rank in the Navy, and almost all of you are getting it wrong!
Up Next:
---
A lot of the engine features are already in game for the single player portion of the game. Up next I'm hoping to be working more on the multiplayer portion of the game, starting with co-op, and eventually leading up to the deathmatch modes. So stay tuned!