For today's update I'll reveal more detail about the physics library, combat system and how they work together.
The physics library is a custom system I'm working on, tentatively named ImpPHYS. There are plenty of behind the scenes calculations that make it possible to dynamically alter objects without losing performance. Mass, center of mass, elasticity, durability and much more are calculated quickly as a ship gets blasted apart. For example, you could choose to construct a battering ram out of a strong, flexible aluminum alloy and crack the hull of your enemy's ship!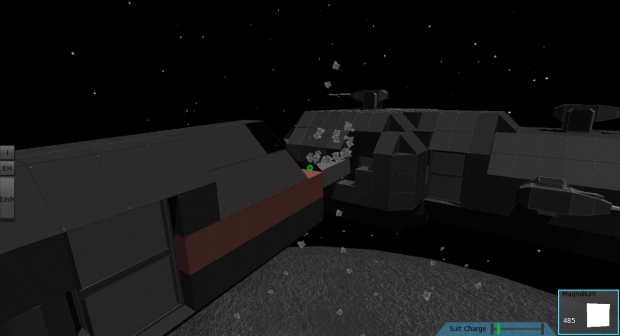 Another crucial feature is the system's ability to recognize when parts of the ship are separated. Without using much CPU time, the "color bleed" algorithm can remove those pesky floating pieces. It can just knock them off or create a new object to allow the space junk to float off. Below you can see a before and after shot showing the part of the ship that is chosen for removal. If your engines become separated, you may find your self spiraling towards a planet in a tin can. Of course, you can still recover with half a well-engineered ship.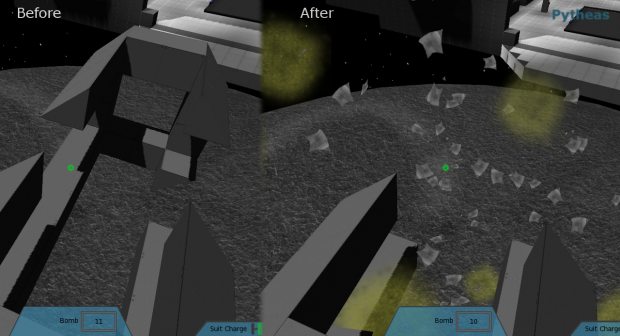 Combat in Pytheas can play out in many different ways. Damage depends on a ship's armaments, shields and how it is constructed. Shields come in three varieties and you can mix and match to fit your style:
Impact shields- These shields protect against physical collisions with projectiles and other objects. A crash on a rocky planet can be softened with enough energy and output. An explosive shell fired planet-side or a space torpedo will be detonated; a hull material resistant to the projectile payload will need to deal with the rest. Impact shields can be critical to preventing a piercing weapon, keeping the vital components of your ship from an incendiary warhead.
Energy deflection shields- Laser blasts, ionizing pulses, incendiary bursts, and all other radiation or plasma based attacks can be prevented with this shield. This does not stop interior explosions caused by small arms or projectiles that have pierced the hull.
Pressure shields- In space, air can become your worst enemy the moment it meets its old friends, a vacuum. This shields type mitigates hull breaches and allows you the time to patch up a hole.
Shields require a great deal of energy and should be chosen wisely for smaller craft. You will need a constant energy supply to maintain them. As your shields take hits, they will weaken. You can continuously pump energy into your shield generators to replenish the strength. Even when you're being relentlessly blasted, enough energy generation can keep your shields in a flickering state. For the smallest fighters, you can simply forgo any shields and rely on your speed and maneuverability if you desire. Of course, this will all depend on what your enemy is packing. Which brings me to the topic of weapons.
Weapons come in a variety of types and configurations. They can be fired from automatic hard points or as a direct fire weapon. Six major categories of weapons are currently designed: lasers, rockets, ionizing blasters, cannons, anti-personnel rounds and guided ordinance. Below is a picture of the newest weapon (which no space battle is truly complete without), the space torpedo!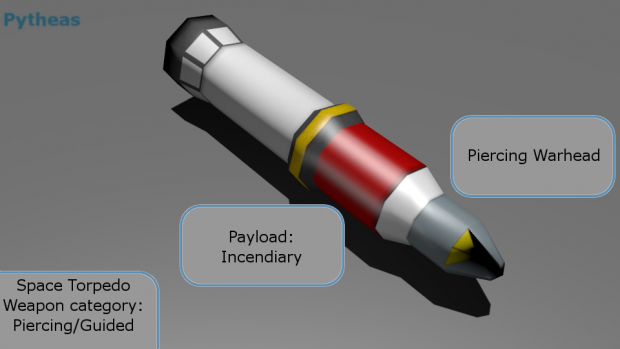 The space torpedo is constructed using two critical components, the piercing warhead and the payload. The piercing warhead can be constructed from high strength materials and high explosive compounds to increase its piercing power. The payload will detonate when the piercing warhead has destroyed itself. This allows you to place an explosion inside of a ship to wreak havoc on the systems inside. However, the strongest piercing warheads may simply pass through a lightly armored fighter without detonating the payload! The picture below shows the damage caused by a torpedo entering a ship and striking a door. A flexible bracing material could have easily prevented the hull from failing, but no such luck this time.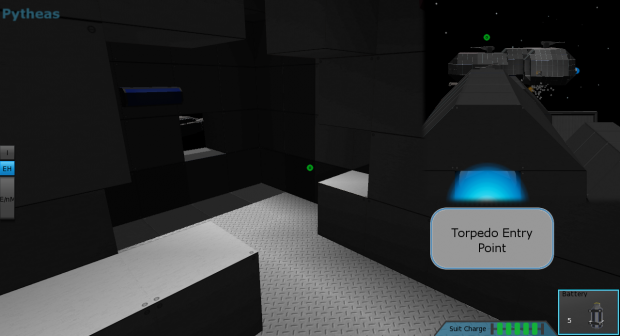 The picture doesn't really give you the full effect. When I get around to creating a video, you will be able to see the powerful punch the torpedo packs. On another note, you can attach guided ordinance for a single launch or load up a bunch in a launcher. The other types of weapons should not be overlooked though:
Rockets- Rockets require a pod to launch; they have no guidance and generally are not meant to physically pierce a hull.
Laser cannons- Lasers come in different varieties to choose from, depending on what your ship can output.
Ionizing blasts- The cannons output a burst of radiation above the UV range, knocking out systems temporarily. This can be useful to break a targeting system's lock or immobilize your enemy. Any nearby humans will also be harmed. Radiation is one of space's greatest dangers, luckily most materials in your ship have enough anti-static lining to keep you safe at a distance.
Traditional Cannons/Rail guns- Standard cannons can discharge explosive shells. These are primarily used for planet-side combat. However, rail guns can launch shells in any atmosphere.
Anti-personnel weapons- These weapons mostly take the form of anti-intruder turrets for ships. They may also be placed on the outside of a ship to attack personnel a planet surface.
I will go into detail about overcharging weapons, the specific items, physics and all sorts of other stuff in the developer's log I'm going to post in the forums. As far as the alpha goes, I'm going to narrow down a list of features it should include to give you a good feel for the game. I'll go ahead and polish those off before starting anything else.