Back in April, the HTC Vive launch materials teased a new spectator mode that would be making its way to DOTA 2 – a new mode built entirely around VR. Though you won't actually be playing a live DOTA 2 match yourself with the HTC Vive, you will be able to spectate streams and replays of competitive matches. The official FAQ has more:
"The Dota VR Hub is a set of experiences that lets you enjoy the world of Dota inside Virtual Reality. Watch live matches, replays, and streams in VR Theater with up to 15 of your friends; jump into the world itself to view the action life-sized; and browse through Dota's wide array of heroes to see all of your favorite items in full scale."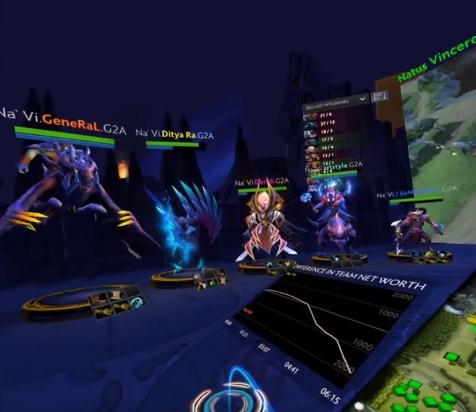 Within the hub itself are a wealth of live statistics that are presented as popups around each player's champion, represented as a living statue on each side of the hub. But that point about being able to jump into the world itself is easily one of the coolest aspects of this new DOTA VR Hub.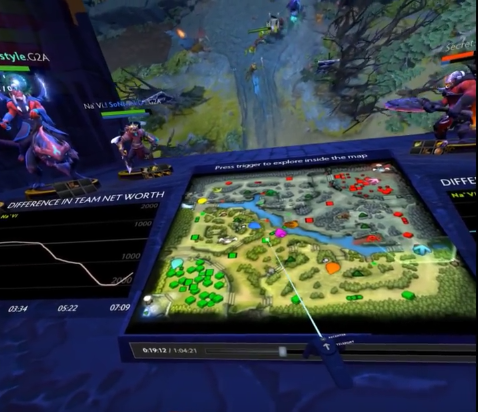 As seen in the footage from SadikiSenshiro above, the hub itself resembles a room with a screen and table that shows the live game view and minimap respectively. By using the HTC Vive motion-tracked controller to select a point on the map table, you can teleport into the actual DOTA 2 game world and view the match from a first-person perspective, retaining the ability to teleport around and choose different angles. Currently there's only support for the HTC Vive, but we wouldn't be surprised if Oculus Touch support is added once those controllers become available later this year.
Valve has timed the release of the DOTA 2 VR Hub perfectly for the beginning of The International 6, this year's championship DOTA 2 tournament, which will take place August 3 – August 13 in Seattle. The current prize pool for the tournament sits at a record US$18,000,000+. To further celebrate DOTA dipping its toes into VR, Valve has also released a DOTA 2-branded HTC Vive Special Edition. So now, the super-fans can watch DOTA 2 in VR while wearing their DOTA 2 VR headset.