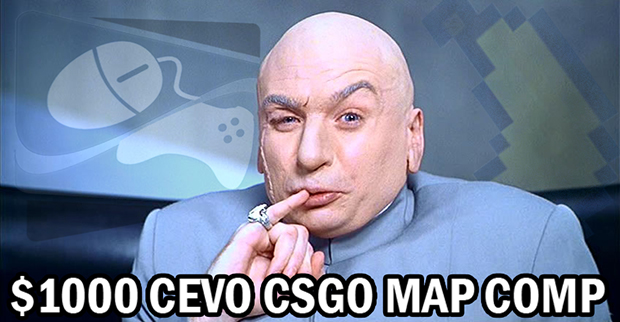 CEVO wrote:




"We are extremely excited to announce our second CSGO competitive map making contest in conjunction with GAMEBANANA.com. Partnering with GAMEBANANA is the perfect way to get in touch with the absolute best CSGO mappers in the world. Our previous joint contest in 2013 produced 76 amazing new maps, so we're extrmely excited to see the submissions this year." said Chris Pipher, General Manager of CEVO.com.

"After the runaway success of last year's competition, we at GameBanana are proud to once again be teaming up with the e-sports industry to deliver brand new, high quality maps for the competitive Counter-Strike gaming scene. Not only are there fantastic cash prizes again, but this contest also allows level designers a unique opportunity for their work to be played and critiqued by some of the world's best players " said Jon Higgins, VP Marketing & Research - GAMEBANANA.com.
Submissions will be accepted at Gamebanana.com on Monday, March 10th, 2014 until Monday, June 9th, 2014. After this date, each map will be reviewed by CEVO/GAMEBANANA and the top 10 maps will be selected by staff from the respective organizations. These top 10 maps will be showcased for public voting on CEVO's website from Monday, June 16th, 2014 until Monday, June 30th, 2014.The top three maps with the most community votes will split the $1,000 cash prize, with the winning map being used in the CEVO CS:GO Season 5 preseason. The complete prize breakdown is listed below:1st (50%) - $500.00 + map used in CEVO Season 5 preseason
2nd (35%) - $350.00
3rd (15%) - $150.00Map submissions should be original works and must not have been submitted to any other map making competitions. Maps should be created with competitive balance, CEVO competitive CS:GO rules ($800 startmoney, 2:00 roundtime, and 5v5 gameplay), and aesthetics in mind. In the next week, we'll be putting out an additional newspost with the specific criteria that maps will be judged with.We can't wait to check out our next batch of submissions, and would like to wish the best of luck to all competing map makers!