These last 2 months have been some of the busiest two months I've ever had to endure and for those that know me know that's quite an achievement. The same could be said for the rest of the team and it shows in our latest Contagion Alpha Game-play Video.
As I know the word "Alpha" may mean different things to viewers we'd like to describe what's being shown and what we've yet to reveal.
What you see-
New atmospheric shaders, lighting, and custom particle effects
New weapons and items in-game and some of their uses
Our multi-player in action with player controlled survivors and zombies as well as AI
and much more...
What you don't-
Our new rigging and animations
Updated AI
Weapon, Ammo, Item, and AI spawning system that can be influenced as the game is played
Each round on the same map is hardly the same
and much more...
We hope you keep this in mind as we have a lot going on we're not ready to show the public and this video does not represent the current state of the game. But we would very much like to share our new Contagion-Game.com site re-design. We're still working on it but it's ready for public view so check it out!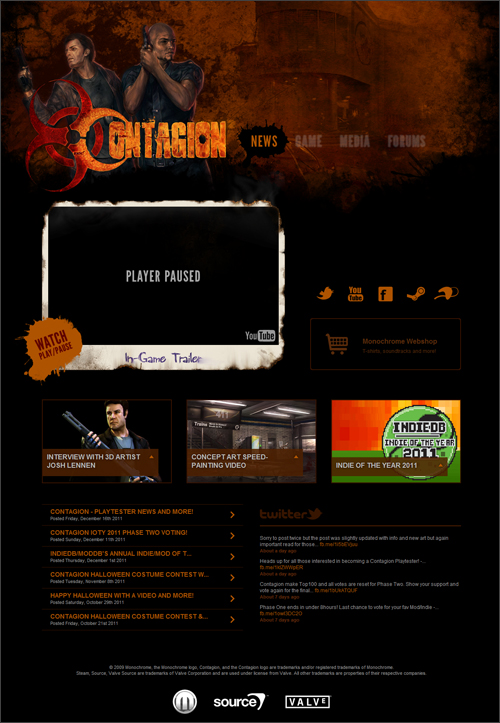 -Click here to visit our new site-
While there is much we wish to keep to ourselves for the moment there will be a few exceptions because as promised we are now accepting applications for our first round of play-testers!
For those of you interested in being a Contagion play-tester please visit the following thread for more information - Contagion - PT Application Thread
While we would have liked to have paid more attention to this years "Indie of the Year 2011 Awards", we had an important deadline to meet and our team is now enjoying their Holidays (when they're not sneaking back in to finish up a piece) but there are still 2 days left to vote for the final voting phase!
If you like us believe we're a strong contender and think we have a chance to catch up, support us by following these directions and voting for Contagion-
Click on the image below
Scroll down to Upcoming Games of 2011
Click on First Person Shooter
Like the red bordered Vote in the image just click on vote next to "Contagion" to cast it for Phase Two (Remember, if you've already voted in Phase One. Phase Two is a clean slate so please vote again)
We would also like to mention that we currently have an opening for Environmental Concept Artist. If interested in applying please visit our Jobs Page to apply for the position.
Finally we'd like to wish you all a happy holidays and a happy new year! And with MOTY nearly over don't forget to visit our friends at NMRiH and show them your support before the timer runs out!