The new modding capabilities now makes it possible to create new classes with the most common special powers such as summoning and mastery rituals. In the screenshot below you can see the Venom theme, a mod by Thalic that gives the game a more spidery look.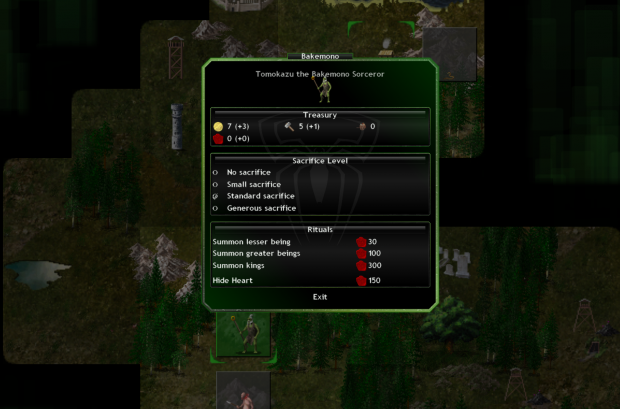 New features and bug fixes
More differentiation of different societies.
New random events.
Support for 1280x768 resolution.
Captain and scout offers were missing for Baron, fixed.
Bakemono General was missing from Bakemono's start units, fixed.
Shock aura did cold damage instead of shock damage, fixed.
Drop boulder did wrong type of damage, fixed.
Fire spell casters could not really burn forests after all, fixed.
Shift+B burns forest directly.
Some Iron Arcana spells had wrong stats, fixed.
Global trade bonus printed in income details.
switch: -m = no music
Mod banners are packed towards the top.
8 players with clustered start and tiny map could crash during world creation, fixed.
Revelry spawns slightly more monsters.
Modding
58 new commands for monster special abilites. That should cover most of what is possible to do with a monster in CoE3.
18 new commands to make moddable summoning/mastery commanders possible.
Added resource gathering abilities to enable e.g. a new kind of demonologist to gather sacrifices.
siegeweapon, assassinweapon, prebatweapon.
copystats.
goldbonus, ironbonus, tradebonus didn't work on classes that already had these advantages, fixed.
guibartex didn't take effect until restart, fixed.
Adding a sprite to a newmonster didn't work (ConvArmyNbr error) making the newmonster command useless, fixed.
newmonsters now start with sane default values to stats.
newclass could crash the game, fixed.
setclassname didn't work properly, fixed.
guiborderthintex only affected the terrain popup and not the other popups, fixed.
Selectmonster can take an offset to alter monsters with the same name.
Map Editing
Max event message length increased 127 -> 2047 characters.
Coordinates -4,-1 can be used for home position of player triggering the event.
Triggers ownsterrevent and hasmonevent with player -1 can now be used with events depending on player triggering the event.