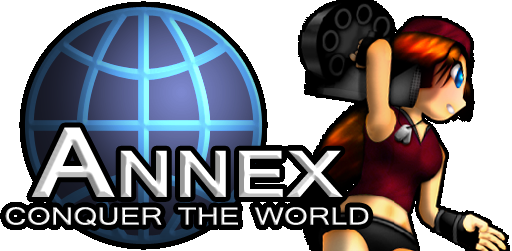 Whats your Input on Release 3?
It have been a few weeks since Annex Release 3 has been, well... released. What do you think of it?

My personal thoughts:
After some multiplayer testing I feel as though Shadow is very weak for most of the game. Mainly due to the very high cost of Scorpion tanks and Flame tanks. As such I am reducing cost and build times for both Scorpion and Flame Tanks. This should make things easier to get going with the shadow organization.
Also every multiplayer game (I've been in) revolves around Air Combat as its by far the most effective way to combat a Human player. As such I will be Greatly Increasing the effectiveness of Anti-Air Weapons, especially Ground to Air weapons.
Infantry are far to weak for my taste. Ive reached a point where I no longer produce infantry to save money for more powerful vehicles. So to combat this a bit I will increase infantry resistance to vehicles based weapons and increased damage of anti Vehicle Infantry. To give an example of new balancing: Just 3 RPG Troopers can take down a IFV (with 1-2 casualties) but 2 Grunts can easily take down 3 RPG Troopers.
Some News:
Annex is getting a home site thanks to an Annex fan who offered to help getting it together!
Quick question would anyone be interested in a Forum for Annex on home site?
He also is currently working on revising Annex sound fx and hopefully voice overs as well. He has contributed sound to many open source games such as Warzone 2100. The revised sound fx sounds great so far!
Also talking to someone about making new + better maps for Annex! If anyone else is interested in making maps for Annex, or would like to contribute something else to the project, please let me know. :)
Small news I've been doing a weekly "Annex: Tip of the Week" on my Twitter account @Delphadesign.
Get a copy of "Annex: Conquer the World Release 3" Here:
No need for Annex Beta 2 or Megaglest to run!
PS Mod DB Downloads may not be up to date!!!! Please get from locations below:
For Windows:
download:
Annex.megaglest.org
simply unzip "annex_release_3_win.zip" anywhere and run annex.exe in main folder
For Mac OSX:
download:
Annex.megaglest.org
unpack "annex_release_3_osx.app.zip" and run annex_release_3.app
For Linux 64 bit:
download:
Annex.megaglest.org
extract annex_release_3_linux_64.tar.xz to your home directory
run: ./annex -or- chmod +x ./annex ./annex.bin
./annex
For Linux 32 bit:
download:
Annex.megaglest.org
extract annex_release_3_linux_32.tar.xz to your home directory
run: ./annex -or- chmod +x ./annex ./annex.bin
./annex
Contacts:
Facebook: Facebook.com
Glest Forums: Glest.org
Find me on twitter: @Delphadesign