Our registered player count tripled from ~13k users to over 30k! In addition, I've added several new features this month:
New Playable Race: Zombies!
Are you ready to eat your friends' brains out? Then head into the shop and check out the new Races submenu. There's one entry so far, Zombie.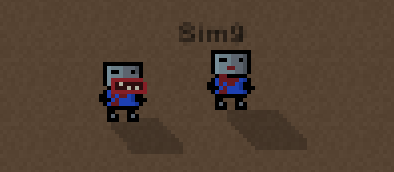 Select this to turn yourself into a Zombie! From there, you must seek out delicious (and nutritious!) brains. As normal, players in town are safe from attacks, but anyone in the wilderness is fair game (hehe, see what I did there?). Run on up to them and hit spacebar to nom on them. After you've eaten their delicious brain, they will be a zombie too! That will stave off your hunger... for a while. Once you die, or Respawn, you will turn back into a Human.

Your text will also be appropriately zombified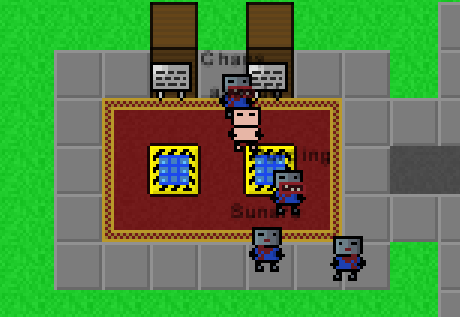 Careful hopping out of that teleporter...
Whisper Support
The much requested whisper / private message support is in! Read more about how to do it on the blog.
First Ranged Weapon: The Pixel Gun
One of the most frequently heard requests is for ranged weapons, and so I'm happy to announce completion of the first ranged weapon: the Pixel Gun.

Head on over to the shop to get your very own Pixel Gun - it's a gold item, so everyone can enjoy

Town Doors
Limit access to areas of your town to town citizens only with the Town Door:
MegaMap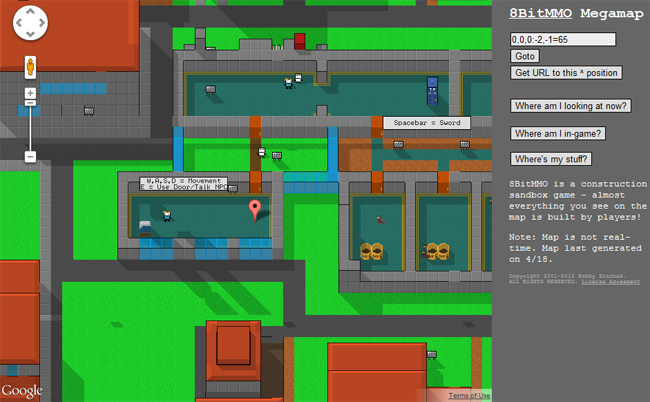 You can browse the map as a guest by heading over to 8BitMMO.net/megamap. Or even better, launch the map from in-game via Menu > Map to see a marker of where your character is.
The map has a number of nifty features, including finding your misplaced objects, and sharing direct links to your areas with friends.
For more details on the map, see this blog post.
Town Official System
With this update, town permissions have changed a bit. By default, town citizens are now only able to pick up their own blocks (though they can still place them anywhere)
If a mayor trusts a citizen a great deal, they can promote them to a Town Official. Officials have permission to take ANY block from the town. Mayors should be very careful who they add as an official.
To designate a town citizen as an official, the mayor can type /townoff in the chat window.
Thanks to everyone who submitted ideas about this!
Update - As of today, Town Officials also have the ability to issue the /townexpand command to help your town grow.
Inventory Return System
Now if a mayor/town official picks up someone's block, it is returned to original player's inventory.
Basic Inventory Sell Command
You can sell all items in your inventory with the command /sellallinv. For more details, see this post.
Play it Now
Well, that's it for this month (whew). As always, please follow along here on IndieDB, Twitter, or Facebook for the latest updates, and click here play the game!