new Version 0.93 now avaible at Desura or directly from the official Website from 26th of june !
find the changelist between version 0.891 to 0.93 down below.
---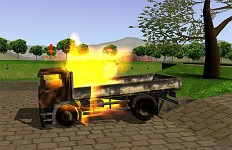 - Get the pre release of 3D Bridge Engineer now for a cheaper price than the final release. Help crowdfunding it this way by purchasing it.
- Steam key included once avaiable- Login for download and update area at official website once avaiable.
- The beta comes with 18 levels already, including a whole tutorial campaign.
- languages: English /Deutsch.
---
---
changelog 0.891-0.930
- Interface changes,
- new height scala display
- height display can be centered
- new big and small grid, simplifying the understanding of distances. Better overview and more tranparent.
- Distances from last position of 3d cursor now more exact and shown in different colors per axis. Also overworked distance display in different colors and shown at every camera distance.
- the truck get damaged now after crashing.
- rockets given by the leveleditor can now also be replaced within the standard gameeditor using the new edit /obj function. Hotkey controls can be set for every single rocket or control more rockets with one hotkey.
- knotpoints and girders can be set to be shown transparent or hidden automatically if in a setted distance from 3d cursor. By new button "dist" next to the credits display and its menu. Possible settings for automatic distance functions are:
- to hide knotpoints On or Off.
- set the distance when knotpoint to be hidden.
- to set girders to be showns as wireframes On or Off.
- set the distance when girder to be shown wireframe.
- new dist menu follows new -right button out of function- logic.
- different bugfixes. like new stress material, optimized camera clipping, "Camera Restore" button now also restores the grids to level setting. Changed rope settings. Rope lenght representation is now right in constructionseditor. Changed zoom speed depending to cameradistance.