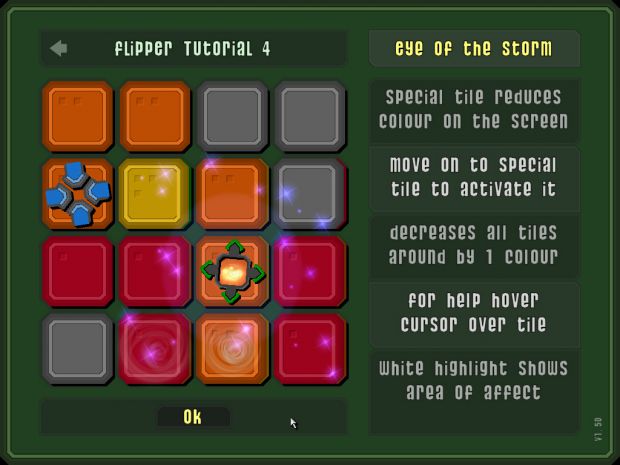 The next special tile is called the Vacuum and decreases all tile around itself by 1 colour. In order to use this tile the cursor must move into its grid space. If the player starts on top of this tile, it is shrunken down and not used.
The Vacuum tile was designed with a negative base colour and graphic layout which hopefully represents its function to implode on the tile grid.
The Vacuum tile (when used) will affect a 3 x 3 grid area centered around itself. If the mouse cursor is moved over this tile, the game will display a highlight showing what area it will affect when activated.
Special tiles when used, will only affect other tiles located inside of the grid area. Any special tile located next to a Vacuum will not be triggered by its use.
When moving on to a Vacuum tile the previous cursor location will be decreased by 2 colours. (if possible) Due to rapid removal of colour from the grid, this special tile can easily leave a player trapped at the center.
The Vacuum tile does not affect grey tiles and this can be used to an advantage. It often worthwhile to plans routes around a Vacuum tile so that the surrounding colours can be more useful.