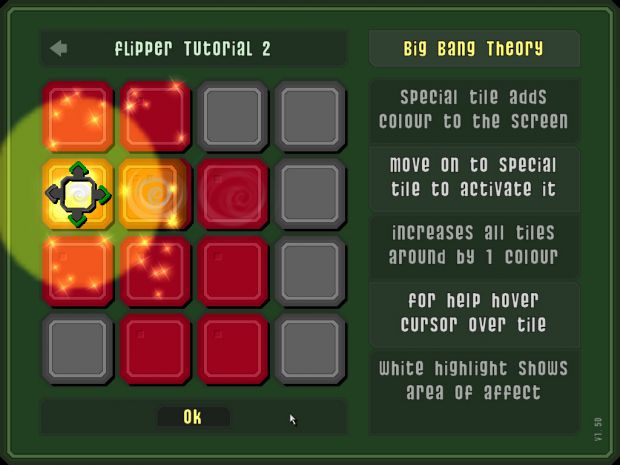 In order to take the game beyond flipping tiles, there is small collection of special tiles which float on top on the existing grid.
The first of these special tiles is called the Exploder which increases all tiles around itself by 1 colour. In order to use this tile the cursor must move into its grid space. If the player starts on top of an Exploder, the tile is shrunken down and not used.
The Exploder tile (when used) will affect a 3 x 3 grid area centered around itself. If the mouse cursor is moved over this special tile, the game will display a highlight showing what area it will affect when activated.
Special tiles when used, will only affect other tiles located inside of the grid area. Any special tile located next to an Exploder will not be triggered by its use.
When moving on to an Exploder tile the previous cursor location does not go down by 1 colour, it stays the same. The tile decrease associated with the movement of the cursor is negated by the increase of the Exploder tile.