Many 2d games feature moving platforms and things to interact with, Doom3 only offers 'stupid' movers and an interaction system based on GUIs, which cannot be used for a platform.
That's why we have added new entities in HQ2 which will help the mapper to save a lot of time: not a single line of script is now needed for the more common tasks.
Let's start from an empty boxy map.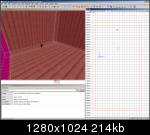 ---
1) Platforms moving along a path
You can easily define a path for a mover thanks to the target_mover_path entity.All you need to do is to place as many targets_mover_path you want and to connect each other to create a circular path.In this example I choose to place 3 of them: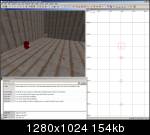 Than connect them to create a circular path like this: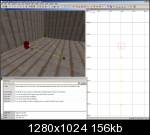 Now you can add the entity that will move along this path.
This entity is named func_mover_path, which is a func mover that can follow a path by itself. All we have to do is to link it with a target of the path.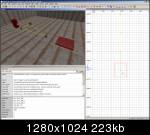 If we want it to start moving as soon as the map starts, we can set the key "start_off" "0" on it. Otherwise the mover will start moving when triggered.
Let's set "start_off" "1". We will trigger it in the next step.
Tip1: Paths can be as long and complex as you wish.
Tip2: The simpler and more common path is build by 2 targets_mover_path targeting each other.
Tip3: If a targets_mover_path has more than 1 target, than the mover will randomly choose one of them.
Tip4: Any target_mover_path allows you to specify node-specific settings for the mover, such as speed, acceleration, deceleration.
---
2) Triggers for interaction
What if we want to trigger something when the player presses the interact button?
We can use a trigger_interact_once or trigger_interact_multiple.
In this example we use a trigger_interact_once and we connect them to our func_mover_path.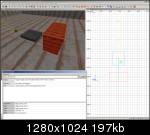 When the player will touch the trigger, the "interaction" icon will be shown and the trigger will be ready to use: if the player will press the interact button, than the trigger will trigger its targets. In our case, the mover will start moving.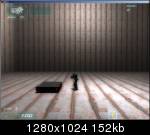 Tip: if you want to start/stop the mover each time you press the interact button, you can set "toggle" "1" on the mover and use a trigger_interact_multiple instead.
Compile and test the map.
---
3) func_plat_w_target
A func_plat_w_target i's just the usual func_plat, but you can use a target to define its destination position.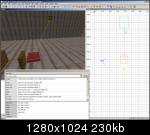 Note that in this example the platform has the key "no_touch" "1" and it's triggered by a trigger_interact_multiple. This means we can send it up/down simply interacting with the trigger.
---
4) func_plat_autorevert
Another interesting entity is the func_plat_autorevert. This platform moves towards its destination as long as the player is touching it. It comes back to its stating position as soon as it's left alone.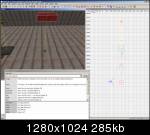 ---
5) Make your own tests!
You can find other examples in the "playground" map, which also includes vanilla D3 entities like func_pendulum, func_rotating and func_platform.