-We are truly sorry to those who have a 32 bit PC, this mod is insanely large and can only be handled by 64 bit PCs, please forgive us- If you do happens to be a 32 bit user, very sadly you won't be able to play this mod, however you will be able to play the original Full Invasion. You should consider playing Full Invasion 1 rather than 2. And sorry for all the troubles caused.
Here are the methods for fixing for Windows 7 (Possibly 8) Users: (not sure about other systems)
Before you do anything listed here, you must understand that this is the most demanding Warband mod out there, it is 4 times bigger than Floris mod in terms of items and textures. Even if you have a 64 bit PC, that does not mean you can play it because you will need a decent PC. If you have a very weak 64 bit PC expect to crash when joining a server with high population.
We do want it to be playable for 32 Bit Users, but the mod is extremely large right now, which is why the Single Player version is in progress. The Single Player will be playable for those with a 32 bit PC. We are truly sorry for those who have a 32 bit PC but wants to play the mod. This mod is just absurdly large. Sorry to say that it is extremely unfortunate and a huge loss to us creators for the loss of 32-bit players
Also check out the minimum requirement page:
Open up CMD : (In Other words, Open Up Command Prompt, type "bcdedit /set IncreaseUserVA 4096" then it will help reduce crashes for 64 bit users.
Go to Menu Start -> Programs -> Accessories, press RMB on Command Prompt and select "Run as Administrator"
Or just type cmd in search bar, then bring up the CMD, in Command Prompt type
"bcdedit /set IncreaseUserVA 4096" without quotes and press ENTER
then restart or reboot (Restart your PC by shutting it down)
If you type it correctly and it says access denied, that means you have to run CMD as admin, right click the cmd file (the cmd icon when you search it, go to properties, then run it as admin).
Look at this screenshot to see how i got it to work if you are still unsure: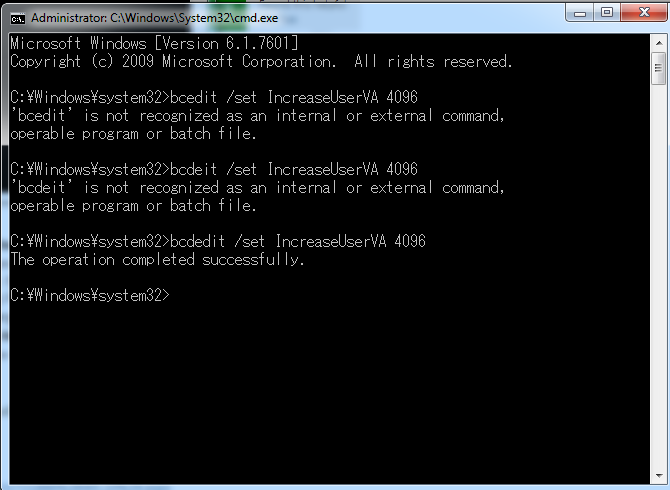 also, if Full Invasion 2 used to work, then it suddent doesn't anymore, try delete rgl_log in your warband folder in my documents or in Warband folder (Mnb Warband, in program files, then run it as admin)
Now the chance for the game to crash will largely reduced. (It will boost alot of fps, not just this mod, it will also boost performance in games like Rome 2 and others.

Some very important information when playing this mod-
- i have found out that i stuck at the loading screen on 80% without the cmd change running on max graphics. I installed mnb normally but not on steam and it loaded up fine. This shows how important the cmd changes are. everyone should do it or they will have forever loading time.
- tick pixel shader on, no edit mode, cheats enabled and tick load textures on demand. (MUST)
- if you have a 64 bit pc and you crashed when joining a server, the server may be outdated and still running older version. so this is not your fault.
-If you know you don't have the best PC, you must download the low res version, low res version is not the end of the world and the textures are still okay, but it will boost performance alot. High res have a much bigger chance to crash than Low Res! To change night time back to day simply copy the v0119 backup inside Full Invasion 2, but beware in day time chance to crash is alot
- apparently Lisa said that when playing in dx7 you will crash when map changed, so switching to dx9 will fix the problem. thats what she said.
- if you want further performance boost, please use the night time patch and make trees ugly patch inside v0118. Those will boost performance alot.
- You must tick 'Load Textures on Demand' in warband configure no matter how strong your pc are. There are over 8500+ textures in this mod so that is a must
- Consider Lowering corpses to 10 or below (0 for best performance) because this is a mod where you actually fight against hundreds of enemies, warband isn't a really optimized game like Skyrim so not many pc can handle that many invaders.
- If you know your PC can't handle that many invaders, please consider to join a server with low population, high population means more invaders, aka more lag and longer to respawn. in other words a low population server will give you best performance and less lag. Also Please conisder to put corpses to 10 or 0 for best performance.
-- Only very Beast PC will be able to run the mod on Max, my pc is score 4 out of 10 and yet I can run it on max but sometimes it will lag my game (Especially on 700 invaders). so beware.
-- If you are playing on some maps where there is alot of trees, consider lowering tree details and environment shadows.
- Some Invasion can cause lag than others, for example Farmers will probably have the best performance to fight against, while invasion like orks probably not.
-Make sure you join the right server and have the most updated version , for example if you have v0.10 and join a v0.11 game it will crash instantly. So make sure you have the latest version
- it is best to put Grass Density to 0, Tree Detail to low, no shadows on plants, Tree Degrade distance to 25%. And please please please if you notice the server has alot of players please consider lowering your graphics down.
- If you download any version or patches earlier make sure you got the latest one, the latest one is the overhaul textures patch (It optimized some textures in game and thus improve some textures into HD, it does not affect performance in your pc so there is no need to worry.
- Go to My Documents, E.G. Libraries/ Documents, then open Mount&Blade; Warband, then rgl_log.txt. Search for a line called buffer_size , change that value to 256 or above 100, before you do this make a backup first in case if something goes terribly wrong, as this will also affect other warband mods.
- Use the Dx7 mode instead of 9 (Massively Boost Performance and is a savior if you have a low-end 64 bit pc)
- Graphics Performance Fix-
code:
Before you modify game_variables.txt, make a copy of it so you have a backup (In FUll Invasion 2 folder), in case you make a mistake and you want to go back to the original.
code:
Open game_variables.txt. then deactivate the following lines:
code:
To deactivate the lines put a # in front of them:


#new_buffer_size_dx7_regular_ffp_static = 262144


#new_buffer_size_dx7_regular_ffp_dynamic = 262144


#new_buffer_size_regular_ffp_static = 32768


#new_buffer_size_regular_ffp_dynamic = 32768


#new_buffer_size_regular_static = 131072


#new_buffer_size_regular_dynamic = 65536


#new_buffer_size_skinning_static = 131072


#new_buffer_size_skinning_dynamic = 65536


#new_buffer_size_normal_map_static = 131072


#new_buffer_size_normal_map_dynamic = 65536


#new_buffer_size_normal_map_skinning_static = 131072


#new_buffer_size_normal_map_skinning_dynamic = 65536
- Right click on wb_warband.exe then go to compatibility tab, change it to windows 7 and selects runs it as administrators.
- Disable Music and Sounds
- Close down any background programs or anything that uses your CPU usage, E.G> Internet Explorer, Google Chrome, Steam, those can slow down your game alot , it will also increase the loading time.
- Do a disk clean up, defrag to clean up you pc a bit to make it faster.
- Make sure you have warband 1.158 installed. If you have 1.134 or something like that it will not work
- Download the night time patch if you have a low-end 64 bit pc or if you constantly crash when joining a server. (It will be 20:00 pm like in real life), it will massively boost performance but everything will be much darker
- Download Game Booster (It will give you around 5 more fps or 10 fps after boosting, it is free and is a excellent tool to use for gaming)
If you have problem with warband crash on startup or video intro not starting and just say warband stopped working, to fix this run steam and mb as admin