- Quick and Dirty - (aka TL;DR)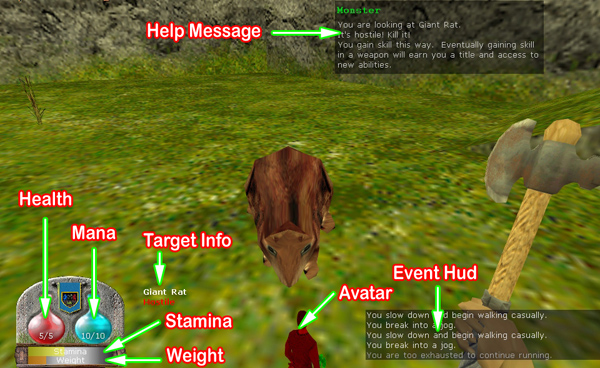 KEYS:
• W,A,S,D - Standard movement cluster. Double tap W to run.
• Left Mouse - Use item/weapon in left hand
• Right Mouse - Use item/weapon in right hand
• Middle Mouse or H - Switch Hands
• 1 - Cycle Weapons
• 2 - Cycle Memorized Spells
• 3 - Open Inventory
• C - Drop item in active hand or cancel spell
• X - Pick up item on ground or loot corpse
• Q - Wear or store item in active hand
• E - Use Object, Chest, Merchant, or NPC
• F - Interaction Menu (use this on Merchants when you want to talk, rather than bargain)
• P - Display Character Stats
• Y - Player Chat (global)
• U - NPC Chat (local)
• Home - Select Chat/HUD
• Pageup/Pagedown - Scroll Chat/HUD
• = - Toggle third person view
• F12 - Player Menu
• Tab - Player List
• R - Hold to charge weapon while attacking
• F1-F10 - Quick Slots - Hold a Quick Slot button to store your active weapon or item for later quick-draw. You can later quick-draw the stored item by tapping the Quick Slot key under which it was stored.
• Space - Jump
• Ctrl - Duck
Stamina: If you are low on Stamina, you cannot run. Swinging weapons, spell casting, and running all drain Stamina. Your Stamina and speed will increase as you level.
Weight: Affects how quickly Stamina drains. A higher Strength score provides a greater weight allowance. Axes and Blunt arms will train Strength the fastest.
Health: Affected by Strength and Fitness. Practicing Axes and Blunt arms will raise health the fastest.
Mana: Affected by Parry and Wisdom. Practicing Spell Casting will raise Mana the fastest.
Charging Weapons: Double click and hold to charge a weapon. If you have sufficient skill, you'll be able to use the weapon's secondary abilities. This can also be accomplished by holding R+Attack. Some magic double handed weapons can also activate abilities by right clicking.
Avatar: The avatar is simply a third person representation of your character. If you wish to turn it off, or are having slow graphics performance, you can remove it by setting the console command: ms_lildude 0
General Advice:
• Start in Edana, and read the signs.
• Train in as wide a range of weaponry as possible as quickly as possible, starting with rats and boars.
• Talk to NPC's for money making opportunities
• Once you reach 40-75hp, consider advanturing to the Thornlands, or Edana Sewers. Edrin can tell you where that is.

More Detailed info...
- Installation -
Installation should be fairly simple:
1. Download and install the full installer from The Official Downloads Site
2. Download and install the latest betapack from The Official Downloads Site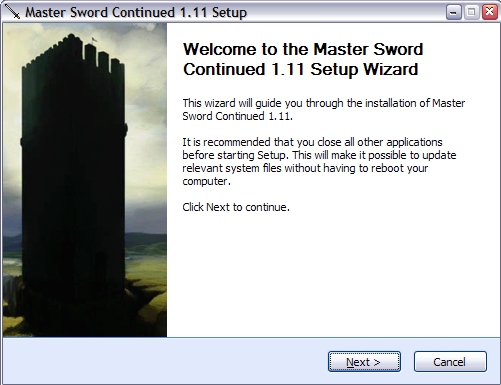 Assuming you already have Half-Life installed, follow the self-installer Wizard's instructions, and restart Steam.
- Getting Started -
Launch the Master Sword Continued from the Steam Games Menu. After a bit, you should see a title screen with a menu and some music playing.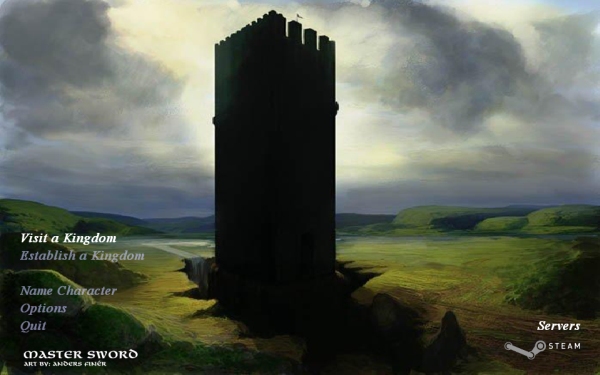 Click on "Visit a Kingdom", and a server list will pop up.
As a new player, try to find an Empty server with [FN] in the host's name. Preferably one on the map Edana.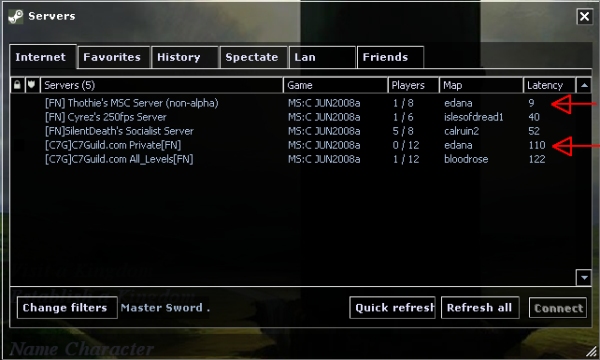 Servers with [FN] in their name are connected to Fuzznet, the central character database. You will be able to access your character on any [FN] server.
The Village of Edana is the starting map, it has special areas for new players to train in.
If you can't find a server on Edana - find an empty server, or nearly empty one, join it, and type "votemap edana" in console (~) or general chat (Y).
- Making a Character -
Your next screen will have three empty character slots, all labeled "Create New".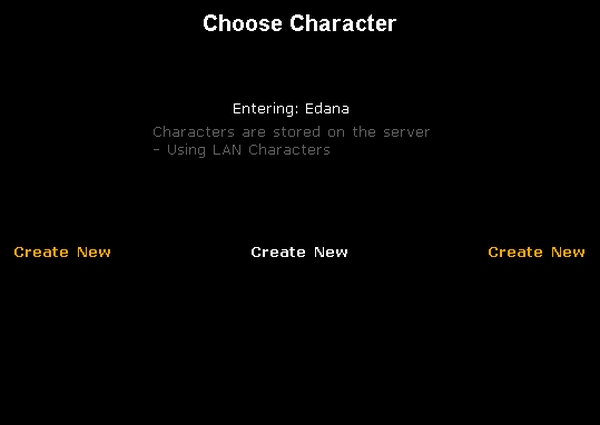 Click on one, and you'll get to input your character's name. Stick to alpha-numeric, with no accented characters, or you may find yourself running into technical difficulties later.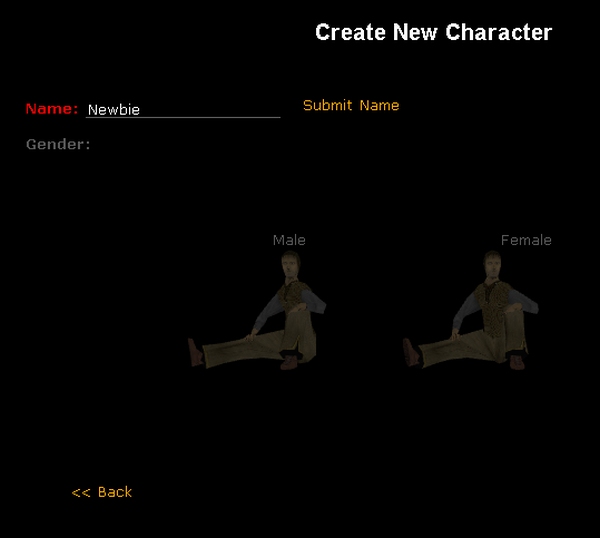 Then select a male or female character. You'll notice we're pretty unisex here at the moment. :)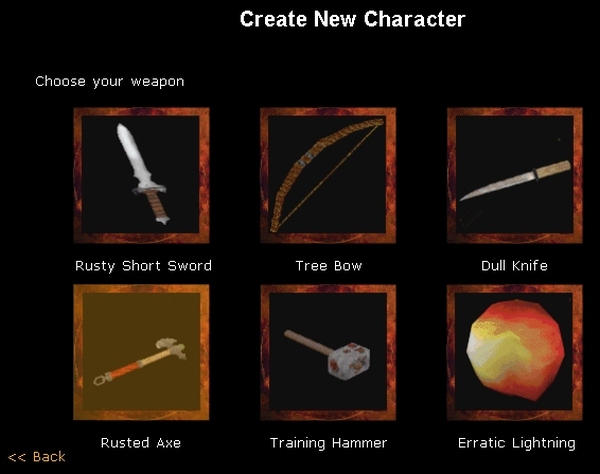 Select your starting weapon.
There are no "classes" in MSC, and regardless of which weapon you choose, you'll want to get another of a different type as soon as possible, as the best advice is to train in as large array of weapons as possible. "Learn everything you can" is the motto for fast leveling in MSC. Different varieties of weapon training affect your character in unique ways though - see the Skills section below for more detailed information on this.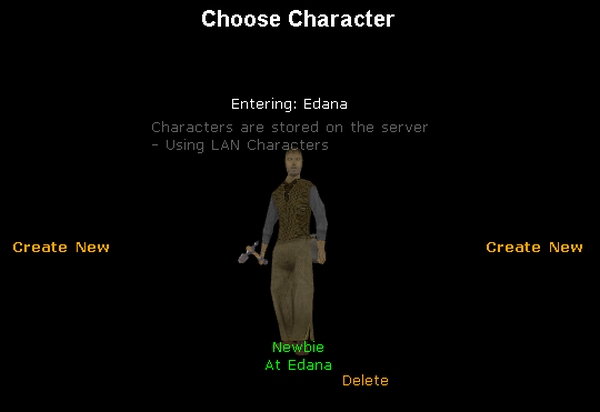 Now you're ready to begin your adventure... Click* on your new character to begin.
* Careful not to click twice - give it time to load. Clicking on a character twice before it loads can cause load issues.
- First Adventure -
First thing you should see, upon appearing in Edana, is the inside of the Temple of Urdual's grand chamber. There should also be a sign in front of you.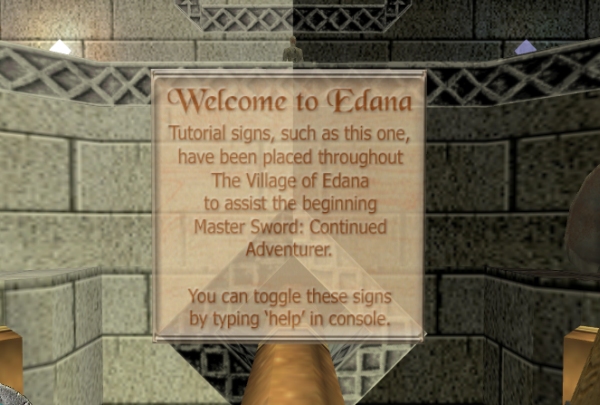 If you do not see this sign, type Help in Chat (default key: Y). It should then appear.
If you turn around, you'll see the Master Priest: Sembelbin. You can move towards him with the standard movement cluster (W,A,D,S). You may have to Jump over the pit edge to reach him though (Space).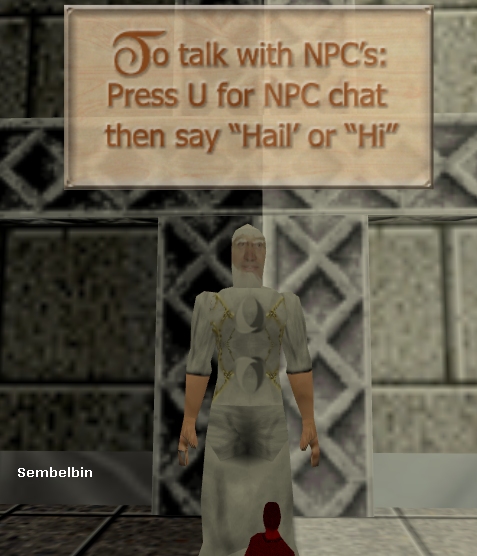 As the sign indicates, you can type Hail in local chat (U) to interact with him. You can also press Use (E) on him, and use the interaction menu.
Sembelbin has all sorts of advice to give and lore to spew. He's pretty blathery, really. You can get him to explain more on any subject he puts in [brackets] by typing the keyword in local chat (U). Once you're satisfied, run up the ramps on either side of the chamber to the surface. You can run by double-tapping forward (W). Stop to read the signs along the way.
At the temple mouth, you'll find a field with a couple of Giant Rats. These have been thoughtfully provided by the Urdualian priesthood for training.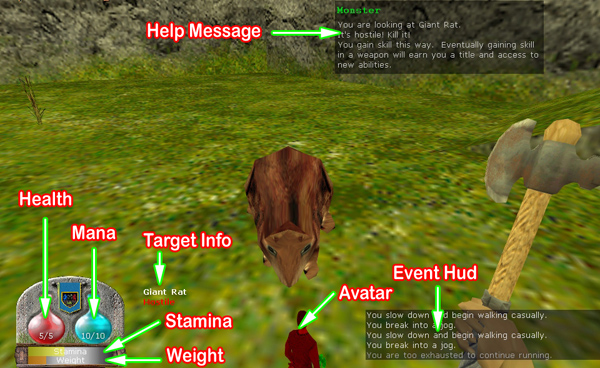 Feel free to beat them to death with your weapon of choice. When they die, sometimes you can take their skins. Maybe you can sell these in the village around the corner.
From here on, it's mostly a matter of killing rats, and the nearby boars - gathering skins, selling them, trading for new weapons, and talking to NPCs for information on other ways to make money.
Once you reach 30-50hp or so, you can consider wandering into the Thornlands or Edana's Sewers (you can ask Edrin of the city guard where the sewers are). Avoid the Thornland caves, however, until you're closer to 100hp. There's an entrance to an abandoned farm and chapel, somewhere within Edana's Sewers, that is also quite useful for training.
Once you've reached 100hp, you can begin to expand your wanderings. You can use this map as a partial reference to places you can safely visit, but new maps come in regularly, so keep an eye out on the forums and the betapack changelogs.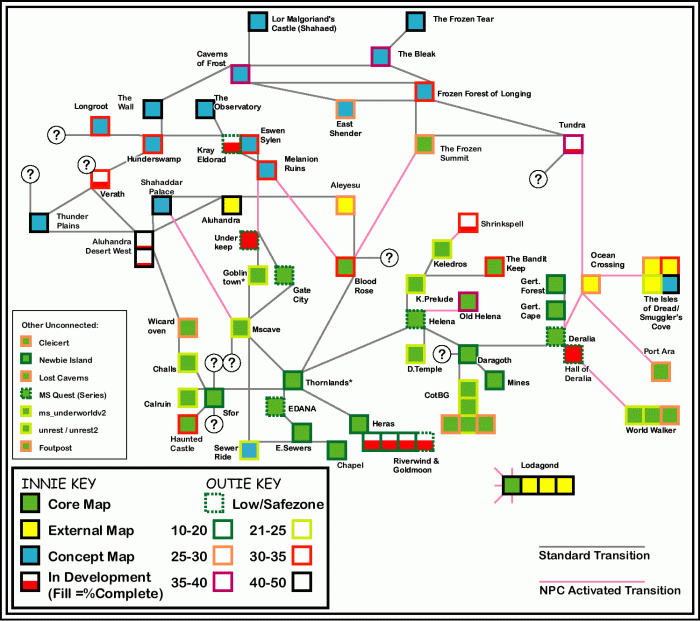 That should be more than enough to get you started. Maybe I'll make another advanced guide, to cover pets, summons, bosses, and the like. Meanwhile, talk to other players, they are the best sources for new information and assistance you can find, outside of the forums.

- Skills -
Axehandling: Small axes are swift, while large unwieldy axes are slow and inaccurate, but inflict devastating damage and have great reach. Practicing Axehandling trains Strength and raises Health quite quickly.
Bluntarms: Hammers and the like provide great amounts of damage and can later be used to stun opponents. Practicing Bluntarms trains Strength and raises Health quite quickly.
Smallarms: Knives and daggers have little reach, but are swift, and provide fair damage. Smallarms are poor for Strength and Health training, but help hone Awareness, which can be useful for deflecting blows and learning magic. Smallarms training also has a strong effect on Dexterity, which affects how fast you can move.
Swordsmanship: Swords come in a wide variety of shapes and sizes. Two handed swords can help you parry attacks, while one handed variants give you the flexibility to use a shield or other item. Practicing Swordsmanship trains Strength and Health moderately.
Marital Arts: Unarmed combat is weak, but can get you out of a pinch. With enough training you can learn to knock back and even stun your opponents. There are also various gauntlets to aid otherwise unarmed combatants. The Martial Arts train most Stats moderately.
Archery: The primary advantage to archery is that you can strike opponents several times before they can reach you. Standard arrows are provided in limitless supply, but special and magical arrows can be acquired at various shops and sometimes amongst loot. Bows affect accuracy and range, with some of the more powerful also affecting damage. Archery training provides ample Awareness, Dexterity, and Concentration.
All the above skills are broken into three subcategories:
Balance - Affects your accuracy with the weapon.
Proficiency - Affects what weapons you can use effectively.
Power - Affects how much damage you do with the weapon.
- Each of these are trained randomly each time you slay an opponent. The amount raised will vary with the type of opponent slain.
Spell Casting: Spell Casting begins very weak, and provides very little in terms of training Stats. However, magic is absolutely critical to learn, especially at the higher levels. It is difficult to survive without the ability to heal and shield ones self, as well as that to affect multiple opponents en mass. The only Stat Spell Casting affects strongly is Wisdom. Spell Casting has several sub-categories including: Fire, Ice, Lightning, Affliction, and Divination.
Parry: Parry is a special skill that trains itself. The better your Awareness, the more likely you are to block a blow, and thus train Parry. Shields further increase your chance of blocking. Parry affects Concentration, Awareness, and Wisdom. Unlike other skills, Parry has no sub-categories.
- Stats -
Strength: Affects your Health, and how much you can carry.
Dexterity: Affects your Speed.
Concentration: Affects the duration of your spells, and chance of spell failure when casting memorized spells.
Awareness: Affects your ability to parry blows.
Fitness: Affects your Stamina and Health.
Wisdom: Affects how much manna you have for casting spells and activating magical weapons.