Look also here:
MCG Darkest Hours Fullversion: Install notes

How to install & play
MechCommander Gold on
Windows 10, 8, 7, Vista, XP & 98
I Explain how you can start Mech Commander Gold with an example system running latest version of Windows 10 64-bit.Also look here:
Youtube-Tutorial by Sean Lang

Mechcommander Gold on Windows 10 (High Resolution and Original versions) by WhamyKaBlamy
---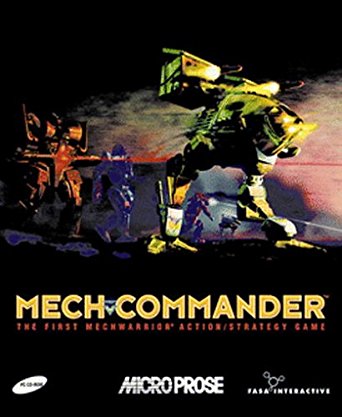 You will need these files to install Vanilla MCG-DM v1.8
--- Download Mech Commander Gold ISO (~700MB) ---
--- Download MCG Game folder: MCX_Original.7z ---
The steps how to install MCG on Windows are the same
for Windows Editions 10, 8, 7, Vista & XP (32&64bit)


---
Step 1
Mount the MCG *.ISO file as virtual drive - In my example all needed files are shown in an example standard "Download" folder each Windows Version has (with other menu design but all in all microsoft kept same graphical interface all the time.
---
Mounting the *.ISO file as virtual disk:You can see the three downloads above now. First right klick on the iso file. A subcontext menu on Windows 10/8/7 should appear offering mounting the iso on top as CD."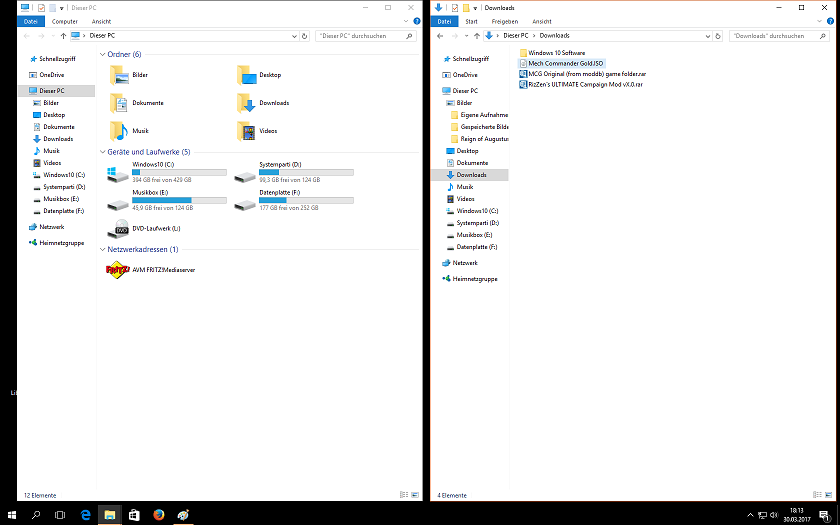 Select Mount
---
Step 4
Mounting it! (Right klick the *.iso and sh.. bricks)


---
---
Step 5
On the left explorer window you see a new virtual drive was added to your system. Now easy installing with CD? - Nope its not that easy. We need this mounted drive only to start and run the game via game exe file. We wont install it now regular way.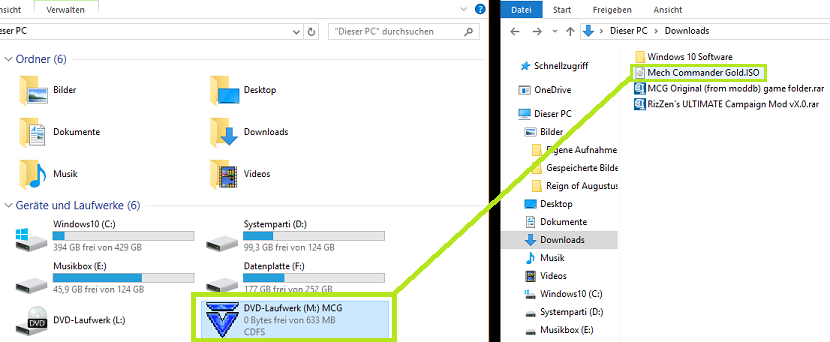 Mounted Image of MechCommander Gold
---
Now create the Mech Commander Basic Vanilla Game Folder Open MCG Original *.7z file (on pic its a *.rar file).

---
Win ZIP now makes trouble? F***peeep* it its a bad programme in my eyes. I use Winrar. It is a free available Extract Programm for compressed files used mostly via Internet. After installing winrar the subcontext menu changes.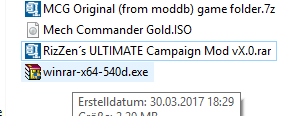 ---
Open file with Winrar same way via subcontext menu after right klicking now. A new window will appear winrar asks for purchase skip that after skipped starting window of winrar it shows the datas in Original.7z like this:

---
Now create your own MechCommander Gold Game Folder: WinRar shows you now the game folder like in regular explorer we are just working in.


Highlight the Original folder and Tell Winrar to extract these Files.
---
Step 10
Enter your path here:WinRAR asks for the adress to place your Mech Commander Gold Game folder on your hard-drive.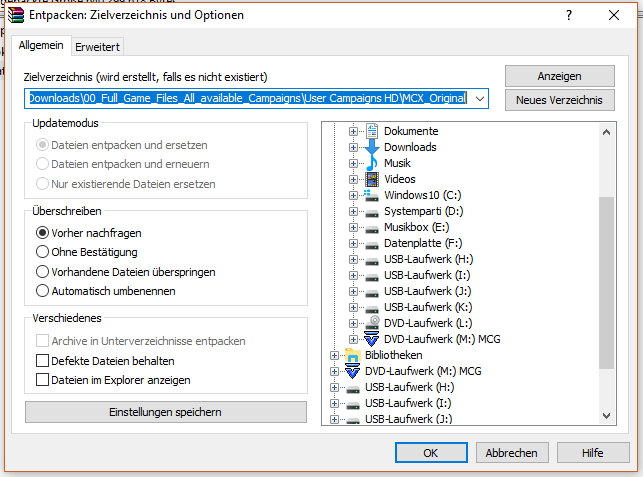 ---
---
Step 11
(optional)
Now you could install my MCG Darkest Hours Files, too. When you want to play biggest MCG content, potential & freedom for players ever delivered - open my version first with WinRAR so that its shown as regular folder. For detailed Install Information klick here!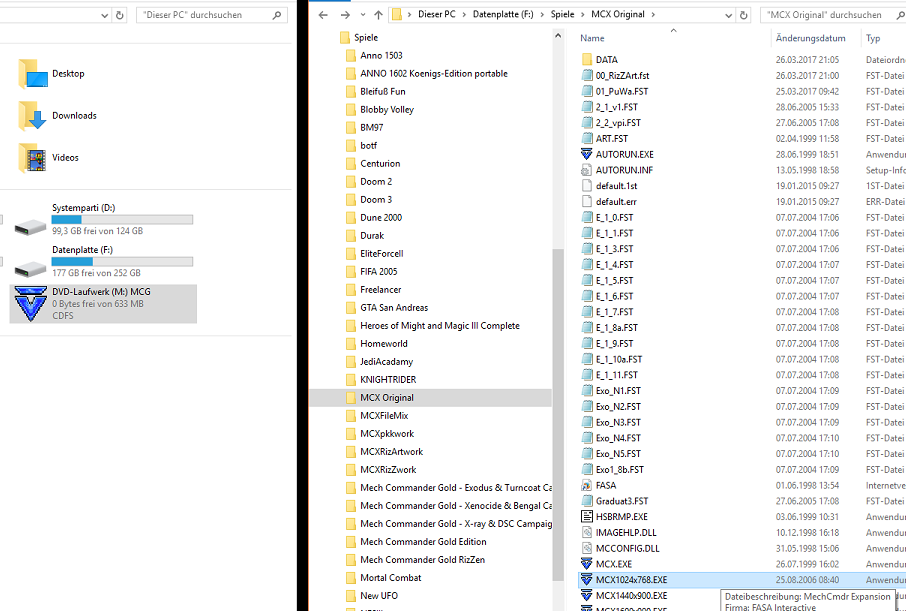 You see left side the Virtual Drive of Mech Commander Gold is still mounted. You can also take the original CD of the game then you dont need to use any *.ISO before, just start follow the MCG-DH-v4.0 Install-Guide.Start the game exe (on the right side) shown on screenshot, or choose the exe with the resolution you desire. Keep in mind that game can´t start with "bigger than Desktop" resolutions. On first start windows will install direct play if it wasn't before, now game starts and u only need to execute the "MCXResolution.exe" you desire next time u play (aslong disk is mounted). Keep in mind that the highest resolutions can cause game crashes during big missions. To workaround it start the same missions again in a lower resolution. The res I played through in test runs where 1024x768 & 1600x900. Bigger resolutions are crashing from time to time and the hud map display is shown wrong but game works with all resolutions. I recommend 1024X768. Better then original but still not to much so game can handle in all missions.
---
"Example in mission 1 of my campaign after starting on win10 with 1600x900 resolution. I recommend 1024x768 played with this through all missions without any crashes or problems." You can although download more resolutions and play widescreen.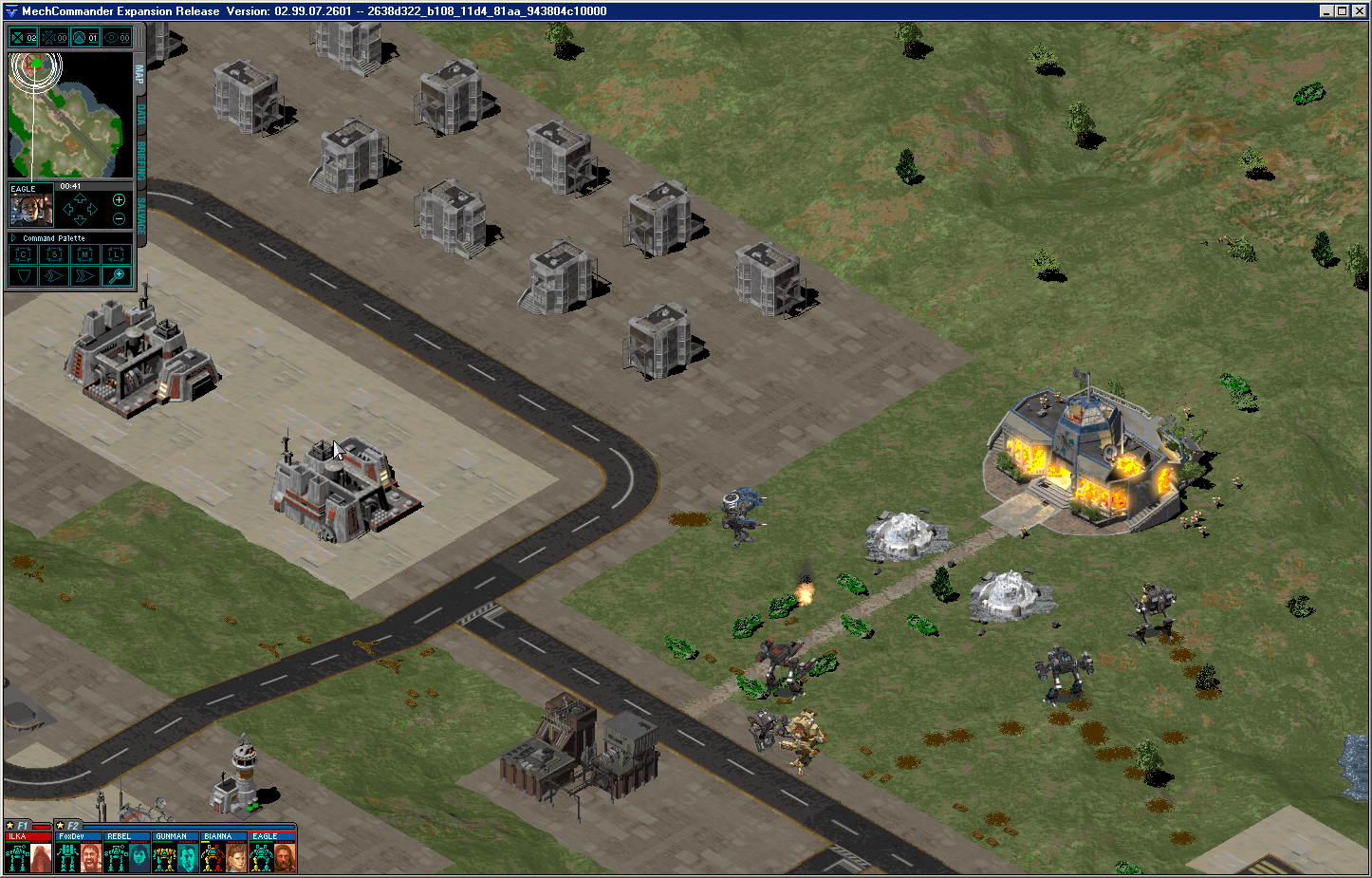 Windows 10 NOTICE!!! It is recommended to start MCG exe files with Windows XP SP2 / (98.) compability mode. Run MCXResolution.exe files with 256 colors and 8/(16)bit. For best technical performance & game stability.
---
My testing systems where three Windows XP computers, one Windows 98 SE and one system with Windows 10. Game works on all of them (64/32/16bit). But only on Win98 I could start installers & Editor and other software built around. On windows vista / xp u may need burning software or virtual clone drive in order to mount ISO. I hope this helps a lot people to find a way back to play one of the best existent retro-rts games which have been ever created. Mech Commander Gold takes place 83 in the list of the best computer games ever!

by RizZen (2017)
---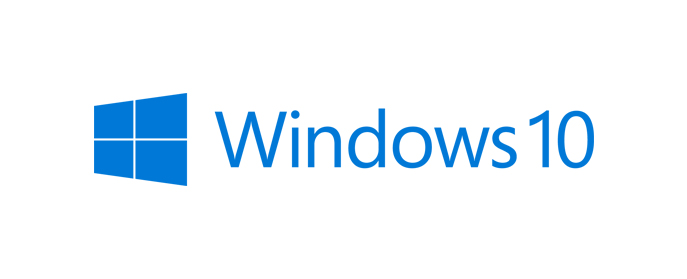 Short notes for Win10 users!

you need directplay installed by Microsoft (free)
start all exe files of mech commander with windows xp / windows 98 compatibility
start game with 8bit / 256 colors (16bit also works with some graphic cards (65535 colors then)
I could start game without these settings. I'm using a geforce nvidia graphic card on windows 10. But these settings also reduce errors and crashes to a very low level so game gets playable smooth and without many bugs. I recommend 1024x768 or 1280x768 (wide-screen resolution) played both complete walkthroughs without serious or unnormal problems.
Summoner says, that he played 1900x1080 to mission 20... I can't confirm that some work with high res here some not - if game crashes I choose lower resolution and walkover it.
---

Have fun, that's an order!
Regards RizZ
---
(c)by RizZen (2017) - overhauled (2020)