VISTA/WINDOWS 7
First go into your rogue squadron file in all programs.
Go to the Rogue Squadron exe file and right click, then go into properties.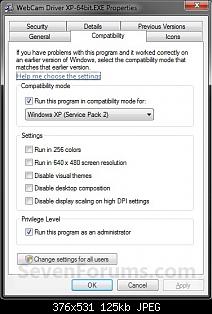 Go to Compatibility and click on run in 256 colors, run in 640x480 and disable visual themes.
the game should now work but if not use run program in compatibility mode for windows 2000 or xp. (note: the reason i say 2000 and xp is on my pc 95 & 98 caused the game to lag.)
the game should now work as normal but the screen size will be a little smaller, which is normal for old games on Windows 7 any way.
Windows XP


On xp all you have to do is go to rogue squadron exe, right click, go into properties and then compatibility and run in 256 colors, disable visual themes and run in 640x480. after this the game should work 100%.
Other notes:
The screen shots are not taken by me, as they would not paste onto this.
Sorry for spelling colour with out the U like americans.

And special thanks to LukA_YJK for helping me to get the game to
work on windows 7.
Update (26/05/2011):
If on a 64 bit pc make a folder in the programs files x86 called games and then install the game inot that (i dont know why but it makes the game work).
Also please note that some times old games not working is due to having no d3drm.dll file. To find one just type it into google and find one for download (i will see if i can upload one to moddb). once you get this file drag and drop it into the data folder of you game and if thats the problem it should then work.
Update (28/05/2011): if you are using a nvidia graphics card driver you have next to no hope of geting the game to work (just to let you know).