First of all, there are two main methods used in the community that I am aware of involving two separate folders on your computer. I will start with my method, since I consider it the easiest in the long term.
Step 1 (optional): Launch Axis & Allies if you have never played it before on your computer. This is so it will create a folder elsewhere on your computer, which holds your saved games, films, screenshots, and game settings. You do not have to do this, but it will tell you where your game is reading information from on your computer, and so I recommend it if you have never installed an A&A mod before.
Step 2: Close the game, and locate this folder on your computer: For me, it is always created in my Documents. The folder will be called "A&A". Below is a picture of my folder.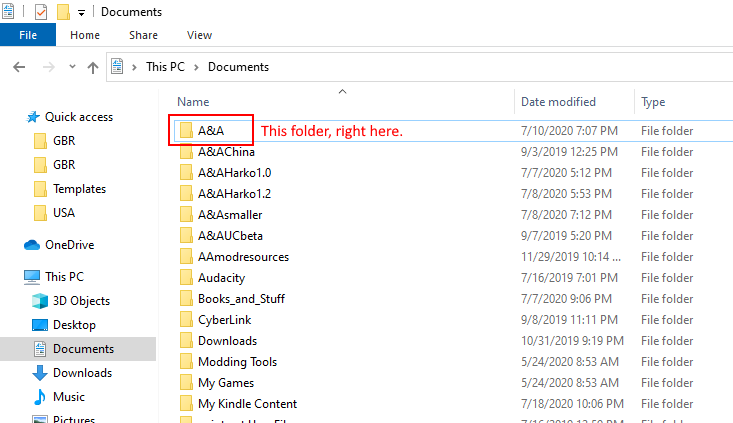 Step 3: Install the mod inside the A&A folder. The mod is correctly installed if its /data and /video, and whatever other main game file folders it has, are suboordinated directly under /A&A. Example: My PC/Documents/A&A/data
You will notice from my picture that I have several other A&A folders in my documents, named slightly differently from one another. This is how I can easily store all of my different mods! Your game will always read data from the folder titled "A&A", and so if you rename your modded A&A folder to something different when you are done playing with it, the game will just create a new one. In this same fashion, you can play other mods very easily by just naming the folder of whatever mod you want to play back to A&A, and as long as it is in the current directory, it will always play. If you want to simply play vanilla, just make sure none of your modded folders are called A&A anymore.
The second method is one that I have not used since I started modding because it is more difficult to switch mods or go back to playing vanilla A&A. In this method, you simply put the mod files directly where your Axis & Allies game is installed. Below is an example of this location, showing the .exe file and other game files created when it was originally installed.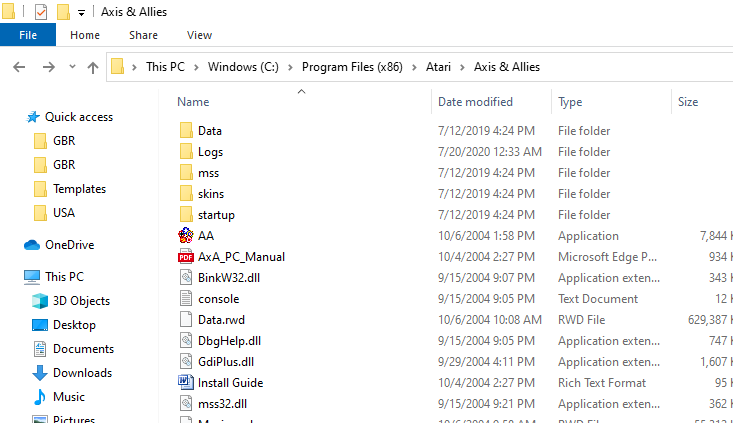 The way to make sure that your mod is installed correctly with this method is that your mod's data folder should be in the same place where you can see the vanilla game's data folder is. (That is to say that it is generally merged during installation.
This method makes it very difficult to uninstall mods or change mods between playing the game, and so I generally do not recommend it unless there is a specific mod you intend to stick with. To uninstall a mod with this method you would need to remove all of the modded files without removing the original game files included in this directory. For example, the vanilla /Data file likely contains some of the game's audio files, and you would have to be careful not to remove them when uninstalling your mod.
I hope this guide is helpful, and as a modder for this community I hope that it will encourage more players to try some of the excellent mods for this game. In the future, I may even make tutorials for modding, so that we can see more such mods in the future.