If you want to make something break to scare people or to release something just use these steps. This is extremely easy if you have some knowledge as to how to get everything together.
First of all, (for example purposes) make a small room.
Inside the room place a box with the trigger texture across the whole room so no matter what you do you will hit it. *Just type in trigger in the texture search box and it will appear* Now, click the toEntity button on the right side of hammer editor - unless your settings are different - or double-click the box and inside the Class: section, type in trigger_once and go down and push Apply.
Place a breakable object - in my case I used a wooden board - on one side of your map and on the other place an info_player_start entity. This is you.
Double click the breakable object and name it anything you want. I used board1. Now double-click the trigger box and click on the Outputs tab.
Go down and press the Add... button. In My output named scroll down to OnTrigger and click it.
On Targets entities named scroll down to the name of your object and click it.
On Via this input scroll down to Break and click it. Leave After a delay in seconds of alone unless you want the object to wait a certain amount of time to break after triggering.
Click the Fire once only button and click apply. Throw in a light or two and you are ready to go.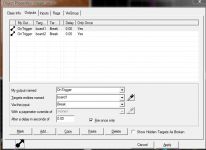 Go to File/Run map... and leave everything alone except for the Don't run the game after compiling. If you want it to play after you compile, deselect it. You don't have to though, you can just put your map in the half-life 2 map folder, load the game, and then in console type map *then the name of your map*
Thank You for reading my tutorial. I hope it helps.
Sample Map: Moddb.com