Field Intensity has a long development history. Initially it started as an Opposing Force based mod. Limited to Opposing Force features we wanted to use the game libraries to their full potential. And that's the reason why Field Intensity features both Half-Life and Opposing Force weapons. But is it worth having such a diverse arenal? Let's figure.
Desert Eagle and Colt Python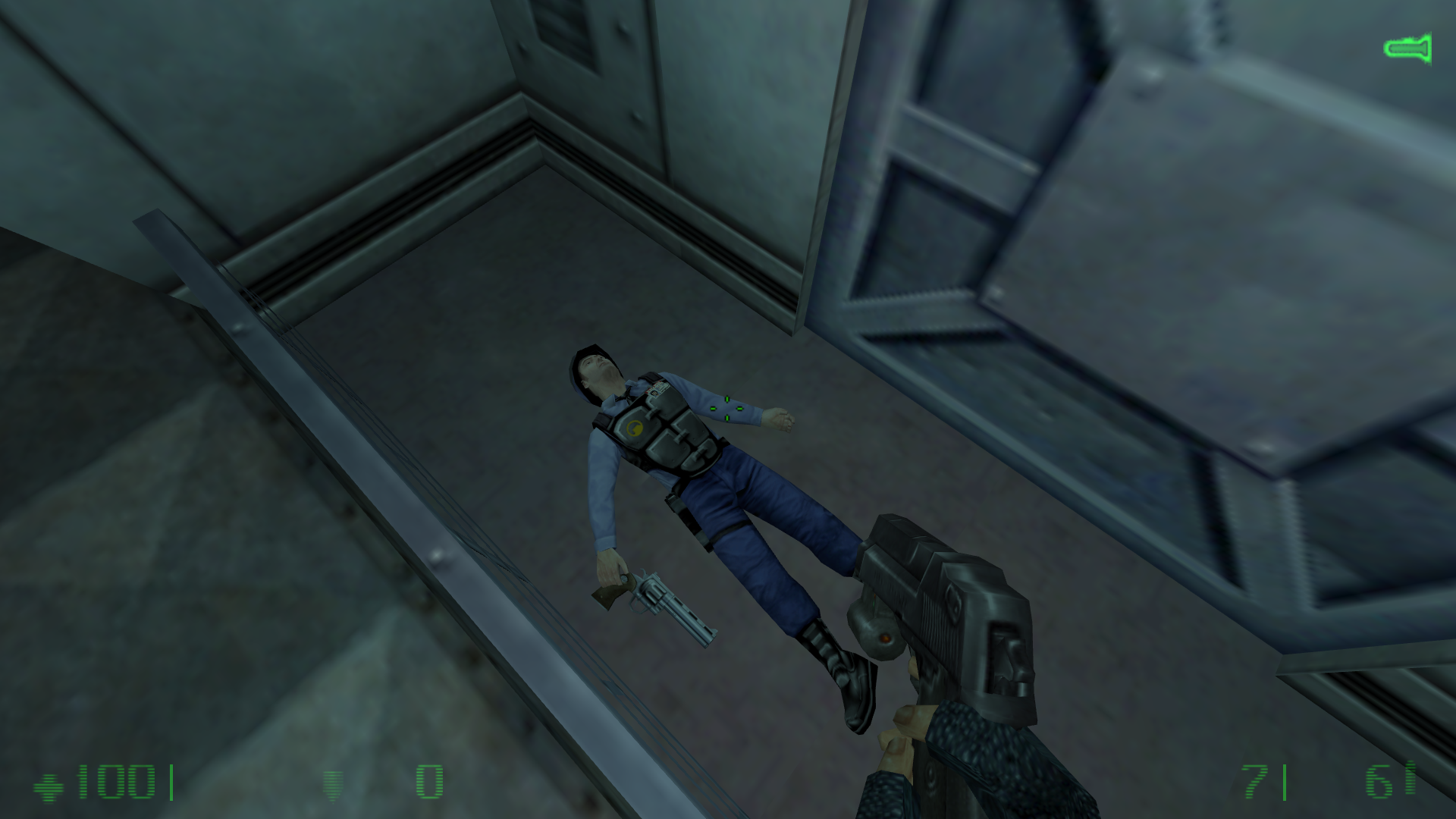 It turned out, some players feel frustrated about having two similar weapons in the arsenal. Gameplay-wise Desert Eagle and Colt Python are similar indeed, yet the damage difference can be significant in some situations. We considered Python an overpowered weapon and it can be found only in a few secret areas, so it's more like a bonus for exploration, not every player obtains it. Still adding the Colt Python may be not justified enough.
Displacer
Displacer surely was an interesting concept in Opposing Force. However, having it in the game comes with a price of building additional areas for teleportation on each level where Displacer is available. Not only do level-designers have more work to do, but also their efforts might go unnoticed by most players, as not all players use Displacer on each level. Even Opposing Force just recycles a number of same Xen areas through the game.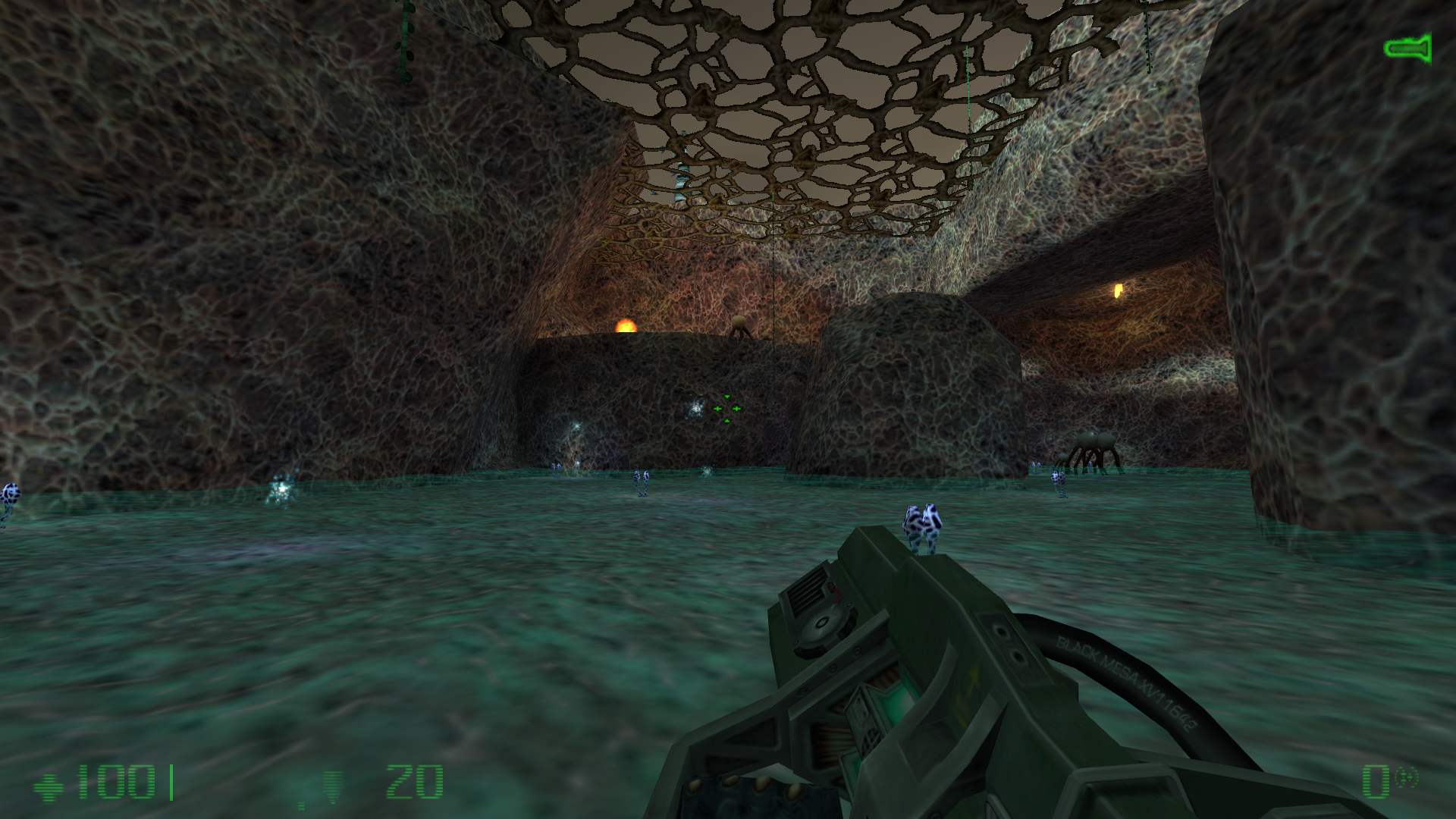 Most players did not see this beautiful cave made by Ga1alxian
Field Intensity features Displacer just because it's an Opposing Force weapon (remember that we wanted to use opfor libraries to their maximum) and I would probably abandon the idea of introducing it if I had to re-make the mod from scratch.
In some other project the idea of Displacer, however, can be extended and it can play a more important role in the game or even become a story driver to justify the amount of extra work, but such things must be planned beforehand.
Grapple
Just like Displacer, Grapple was added in Field Intensity only to be on par with Opposing Force arsenal, and just like Displacer, having Grapple makes level-designer's work more complicated, as one must ensure the player won't reach unintended locations using this weapon (e.g. by latching on monsters). The Grapple usage is very scarce in Field Intensity and the mod could definitely go without this weapon at all.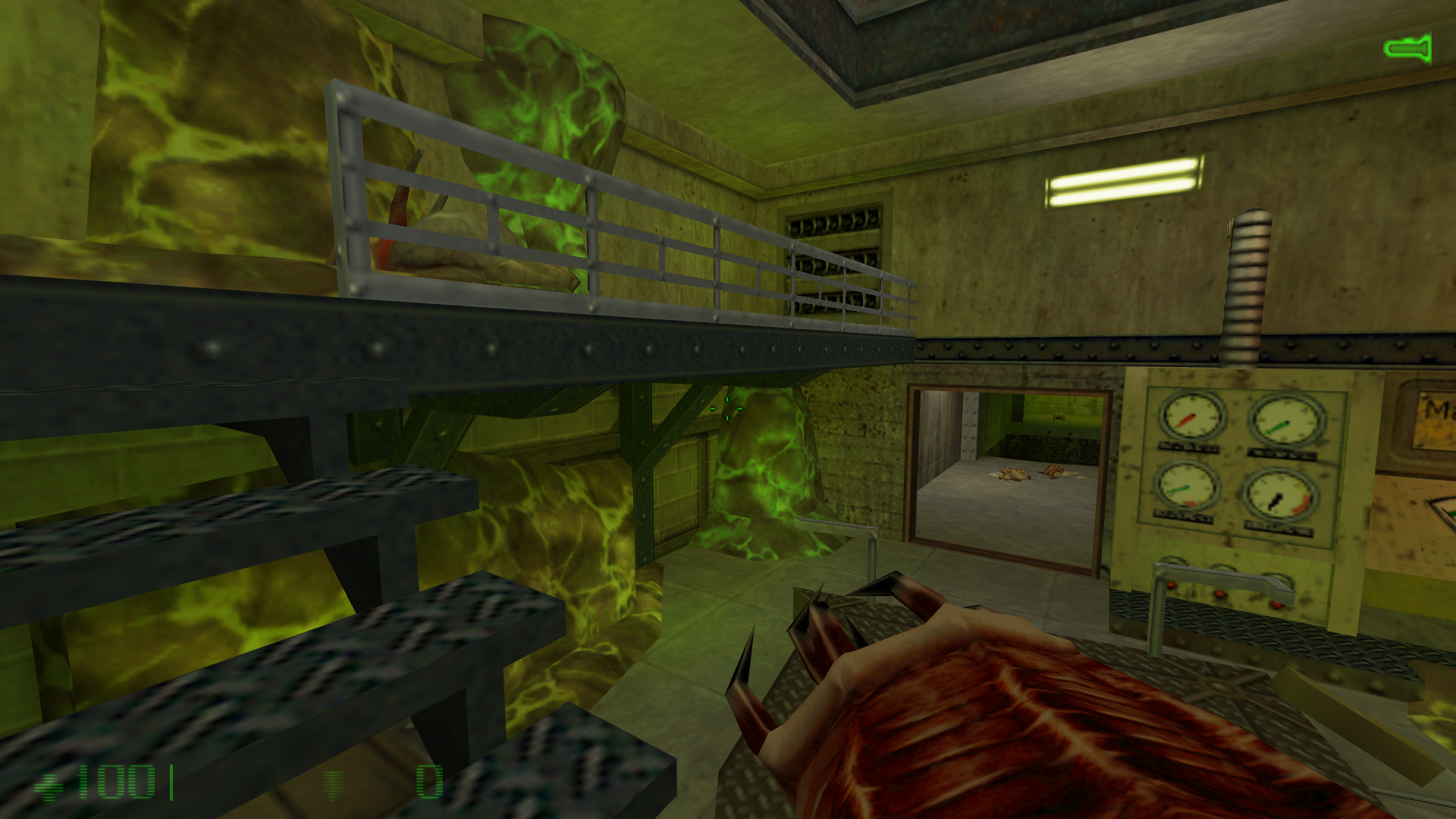 Now allow me to digress a bit and talk about the way the weapon is introduced in Field Intensity. From Opposing Force we know that scientists specifically worked on the Barnacle creature detaching, so the Grapple lying on the ground without any explanation didn't feel right. But that's what we had for the most time of the development! We couldn't let it stay like that, and at first I thought that we need to add some lab section to justify the Grapple presence. But Field Intensity had already enough lab areas and adding a whole new section was too costly at the moment. Eventually the idea of clumsy scientist who got the grapple somewhere else and unsuccessfully tried to use it to traverse the pit came to my mind. The scene is also a homage to the Displacer introduction scene from Opposing Force.
Portable Medkit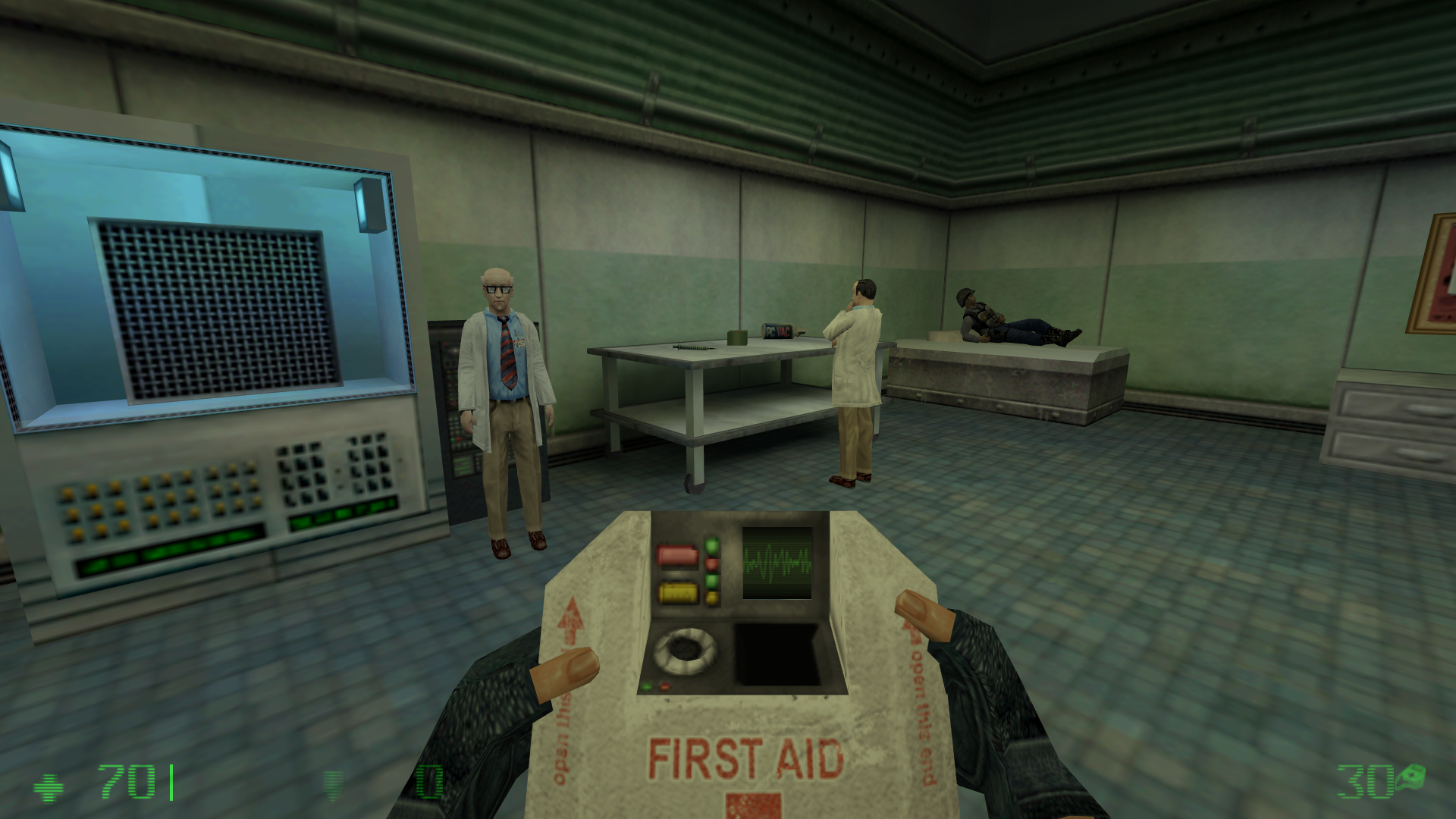 Extending a player's arsenal with a Portable Medkit became possible after we moved from using opfor game libraries to our own ones. Personally I see it as a fine and successful addition. It also nicely lies into the setting as the player finds it in the medical lab.
Some Half-Life players feel bad for friendly npcs when they're low on health. With a portable medkit and enough healing juice players finally can take care of friendly npcs and be helpful towards them.
While it did not appear in any official Half-Life game, a portable medkit itself can be considered a classic tool the Half-Life community is familiar with. First a portable medkit appeared in Team Fortress Classic as a special weapon of Medic class, and then it has been re-used in various fan-made Half-Life mods like Azure Sheep, They Hunger and, most notably, Sven Co-op.
Spore launcher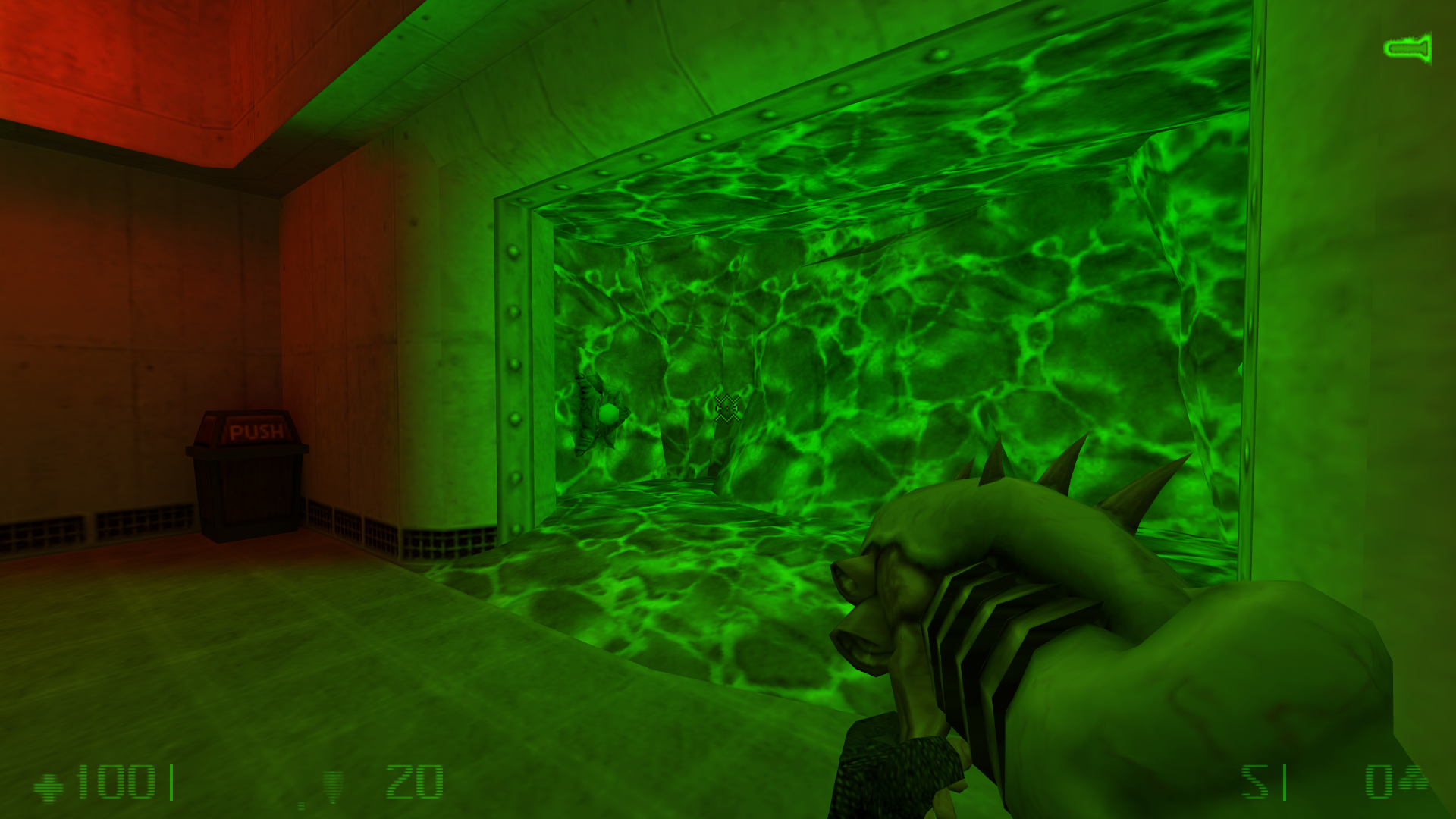 As any other Opposing Force weapon, a Spore Launcher is featured in Field Intensity too. The only problem is that it's given to a player too late (in the last chapter), so they don't get to enjoy the spore launcher action enough. Also the player's arsenal is already too broad at this point.
Lessons learned
Don't let a player carry two similar weapons at the same time to avoid the confusion and frustration that may come with it.
Before introducing a weapon that requires a special treatment from a level-designer (like Displacer or Grapple) evaluate the cost of such addition and consider the imposed limitations and complications.
When giving a weapon, let players have enough time to use it before the end of the game.