The Sin War mod is compatible with D2SE, but due to the lack of a few key files, mod-manager can't identify version in use and then display on mod lists. Here are two solutions:
Disguise as vanilla patch 1.13d/1.14
It is the easiest way and actually the same as installation instructions in readme file. After copying all files to Diablo 2 directory and overwriting, launch D2SE and click on the upper right button "Start D2" to enter mod.
Characters are not saved separately, and there is no mod information. This solution is too simple to suit a player with numerous mods.
Install customized D2SE mod-plugin
Almost perfect for D2SE users, so to speak. Before dealing with mod-plugin, you must have downloaded mod installation pack in which some files are required in new destination folder, and then follow the steps below:
1. Download and extract mod-plugin file. You will get a subfolder named "The Sin War".
2. Copy "The Sin War" subfolder to "MODS" folder in Diablo 2 directory.
3. Copy files marked in the picture below to "The Sin War" subfolder.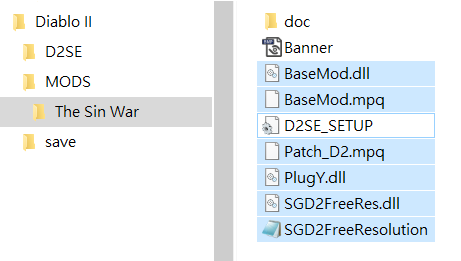 4. Copy remaining files in installation pack to Diablo 2 directory and overwrite.
5. Launch D2SE and then The Sin War mod banner appears at the bottom of lists.
Note that D2SE mod-plugin can't work with extra language files. The first solution is the only choice if you want to change language by adding custom mpq file (such as d2delta.mpq for Chinese in mod pack).