To create a full working site, we need first and second Lord.(The Battle for Middle-Earth I-II)
1) Download games.
2) Download the my SDK
3) See the filling:
a) 3dsmax7-ins for exporting Max 8
b) Asset Builder-home program to create a file in which asset.dat infa about models, skins and shaders.
c) Documentation-documentation in English, Google to help.
d) FinalBig - universal extractor BIG archives. Open all the files including the C & C 4 part
e) W3DView-program to view models of Lorde) W3dView-renegad-program to view models of genes and below.
4) Take the big final and Unpack all the files in the game to itself.
5) Delete these files, except: Textures0-4, W3D, Terrain
6) Create a folder MOD-Models folder and go throw Art. The game will now be left to read the archives.
7) Create at the former Art Art new folder and organize the same way-inside create another two folders - w3d and compiledtextures. There we'll throw our new textures and modelsjust remember that they need to distribute as well as the original, and 2 first letters of the model / texture name the new folder and throw in there. Otherwise the game will not read it.
8) Copy the file whose name ends in asset.dat of BMF2 BMF1 with replacement. The latter is likely to die.
9) Copy the folder inside Asset Builder in BMF2
10) Run, drag the folder to your Art models and textures in a program, no checkboxes and radio buttons do not touch, click Save and choose asset.dat with overwriting.(In the course may be rolled-error ignore. I Toko she was 1 and the first time)
11) Enjoy.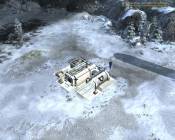 Everything is now set up and you have a fully working base for creating mods of any complexity on the BMF-2.
All your other movements will be reduced to edit ini files and moving-assetirovaniyu models.
Not much harder than a Generals.