Tutorial originally posted on weylerworks
Written by Weylerworks
Mirrored here for archival purposes
I DECIDED TO MAKE A TUTORIAL FOR YOU DEDIT NEWBIES OUT THERE BECAUSE I KNOW IT'S TOUGH WHEN FIRST STARTING OUT. I REMEMBER CLEARLY HOW LOST I WAS IN THE BEGINNING SO FOR THIS TUT I WENT INTO MORE DETAIL THAN MOST OF YOU WILL PROBABLY NEED. THIS ONE TOUCHES ON SEVERAL SUBJECTS INCLUDING:
CREATING YOUR FIRST WORLD
SINGLE-SIDED (NOSNAP) BUILDING
FLIPPING NORMALS
CREATING TRANSLUCENT BRUSHES
USING GEOMETRY EDITING MODE
DELETING INDIVIDUAL BRUSH FACES
JOINING BRUSHES
MAPPING TEXTURE COORDINATES
CREATING VOLUME BRUSHES
PROCESSING TIPS
IMAGINE A NARROW PASSAGEWAY WITH DEADLY LASER BEAMS STRETCHING ACROSS IT. WHILE THERE ARE DIFFERENT WAYS OF USING DEDIT TO ACHIEVE YOUR GOALS, THIS IS HOW I WOULD DO IT...
WE NEED TO CREATE A WORLD. CLICK ON FILE>NEW WORLD AND THEN GIVE IT A SUITABLE NAME.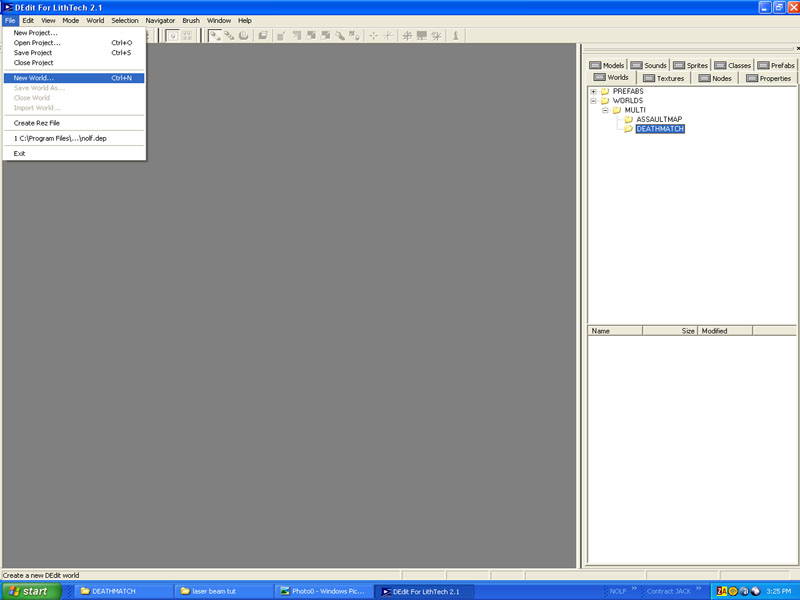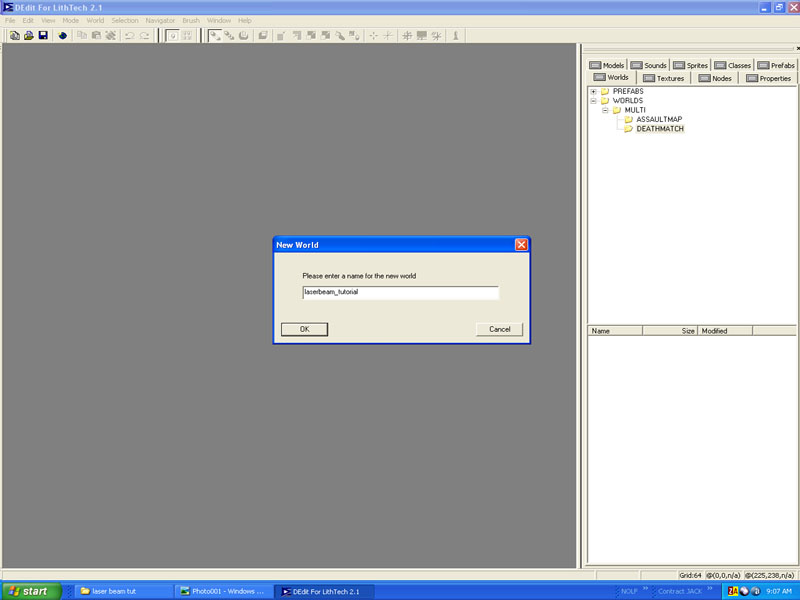 CLICK ON BRUSH>ADD PRIMITIVE>BOX. A POP UP APPEARS ASKING FOR THE DESIRED DIMENSIONS. YOU CAN START OFF WITH 256 UNITS FOR NOW. WE'LL ADJUST THE SIZE LATER.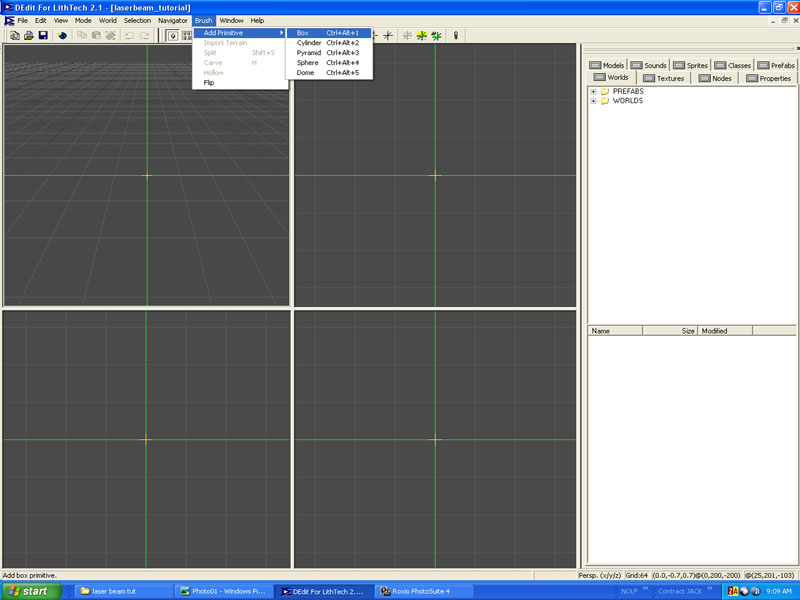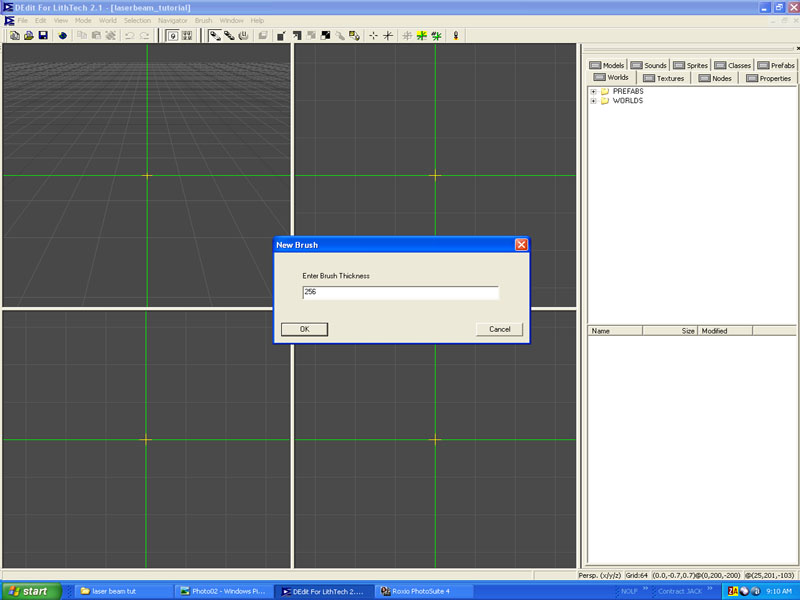 YOU HAVE A 256 X 256 TEXTURELESS BOX. CLICK ON THE "PROPERTIES" TAB AND SET EVERYTHING TO FALSE EXCEPT SOLID, LIGHTMAP AND NOSNAP. BEFORE GOING ANY FURTHER, WE SHOULD ADD THE BASIC STUFF EVERY MAP NEEDS. RIGHT-CLICK AND CHOOSE ADD OBJECT>WORLD PROPERTIES. NOW ADD ANOTHER OBJECT BUT THIS TIME MAKE IT A GAMESTARTPOINT.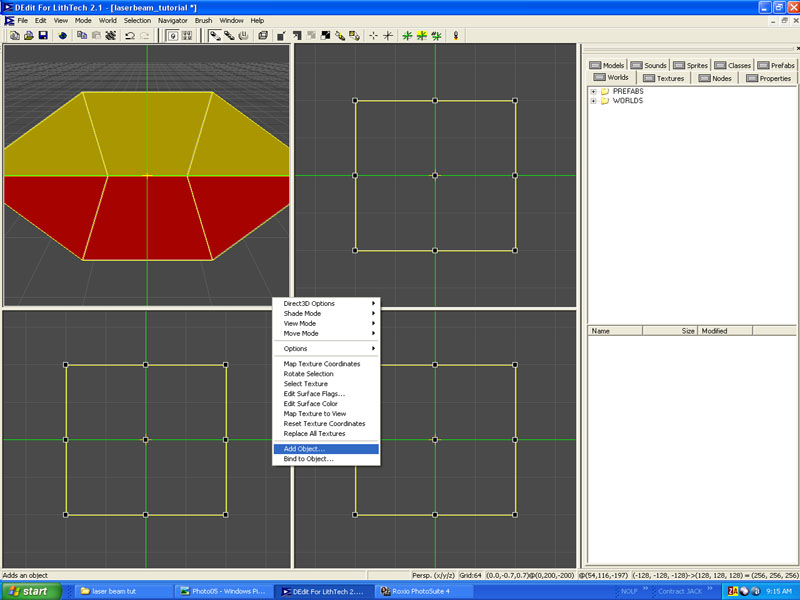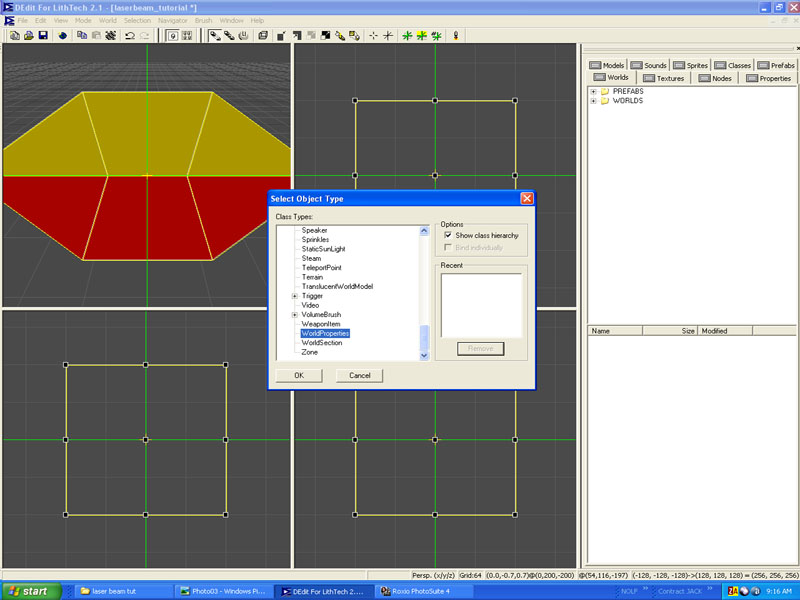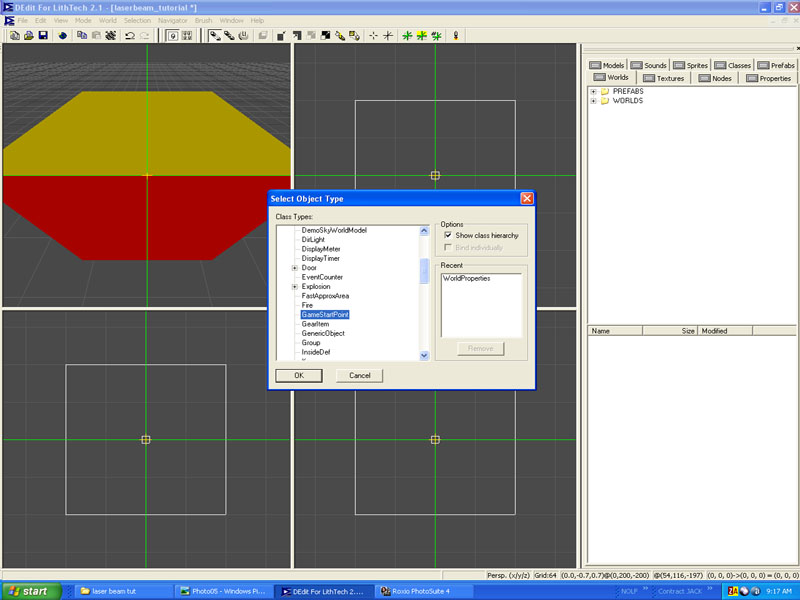 FINALLY, CLICK ON WORLD>WORLD INFO AND ADD SOME AMBIENT LIGHT. THESE NUMBERS REPRESENT THE THREE PRIMARY COLORS AND YOU CAN PLAY AROUND WITH THAT TO SUIT YOUR NEEDS. I CHOSE A RELATIVELY LOW SETTING OF 40 40 40 TO MAKE THE LASER BEAMS STAND OUT BETTER.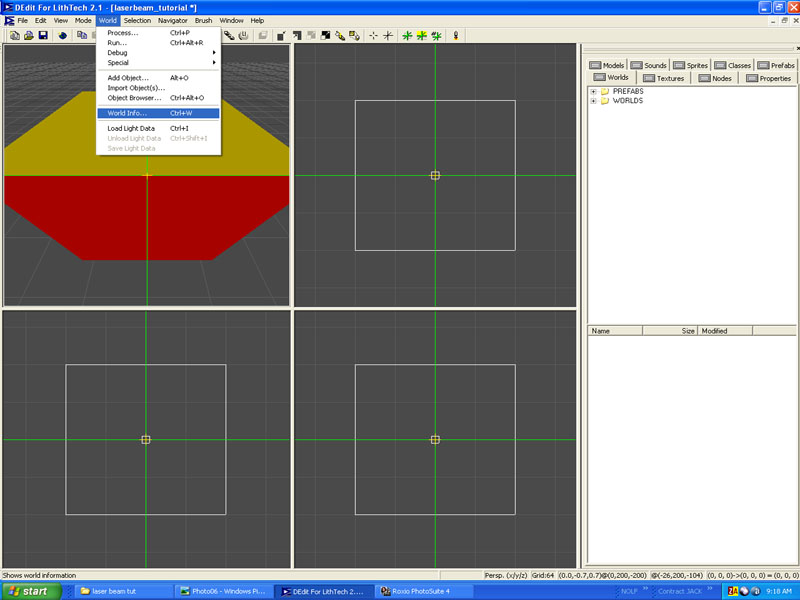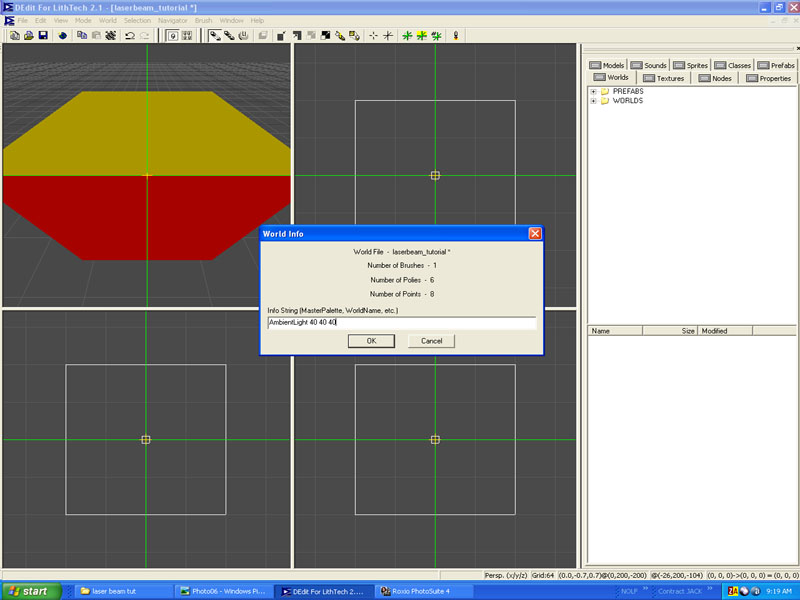 LET'S GO AHEAD AND STRETCH OUT THE BRUSH TO MAKE IT RECTANGULAR LIKE A HALLWAY WOULD BE. SELECT THE BRUSH AND, FROM THE UPPER RIGHT (OVERHEAD) VIEWPORT, PLACE YOUR CURSOR OVER THE END OF THE BRUSH. HOLD DOWN YOUR LEFT MOUSE BUTTON AND MOVE IT SIDEWAYS AWAY FROM THE CENTER OF THE BRUSH TO LENGTHEN IT.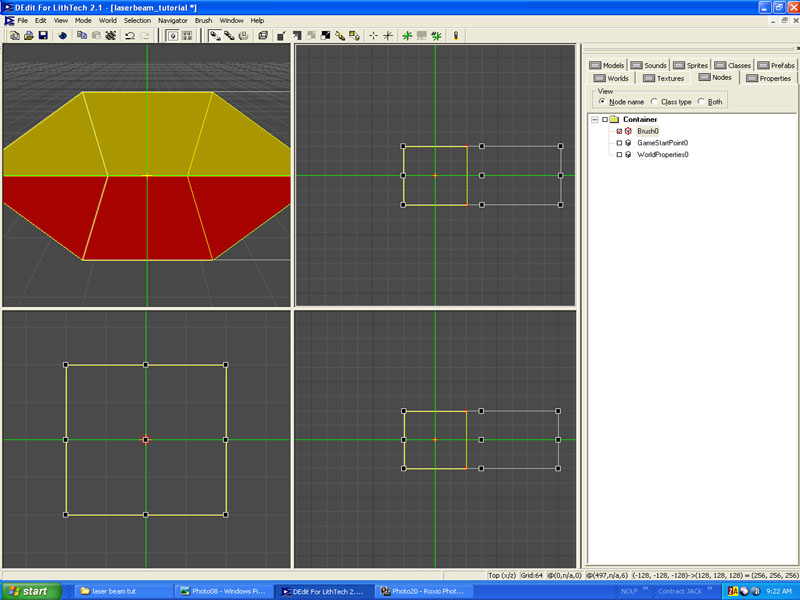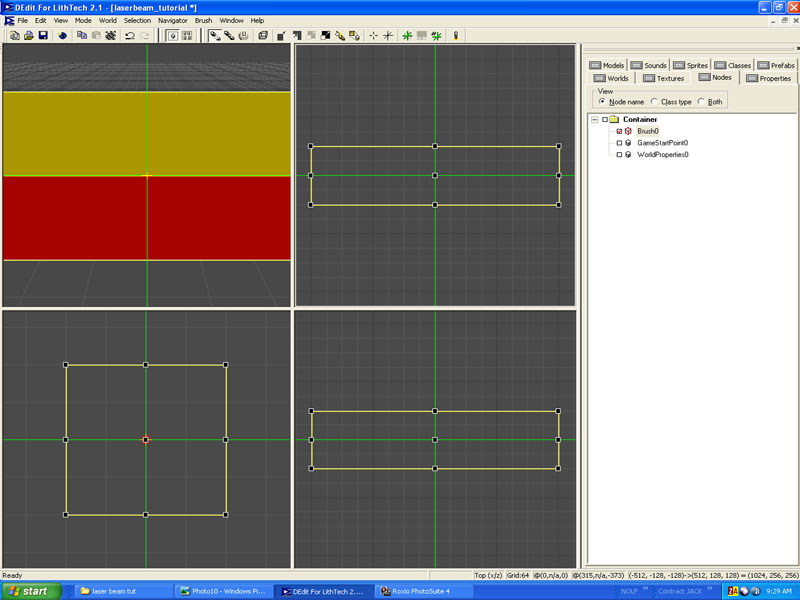 CHOOSE A TEXTURE OF YOUR LIKING AND APPLY. BELOW LEFT SHOULD BE YOUR RESULT. YOU NEED TO "FLIP" THE TEXTURE SO IT'S ON THE INTERIOR OF YOUR BOX THOUGH. THAT'S EASY! SIMPLY PRESS "F" AND WHALAH! FROM THE OUTSIDE, IT SHOULD LOOK LIKE WHAT YOU SEE ON THE RIGHT. NOTICE THAT THE TEXTURES ARE NOW WHERE YOU WANT THEM - ON THE INSIDE.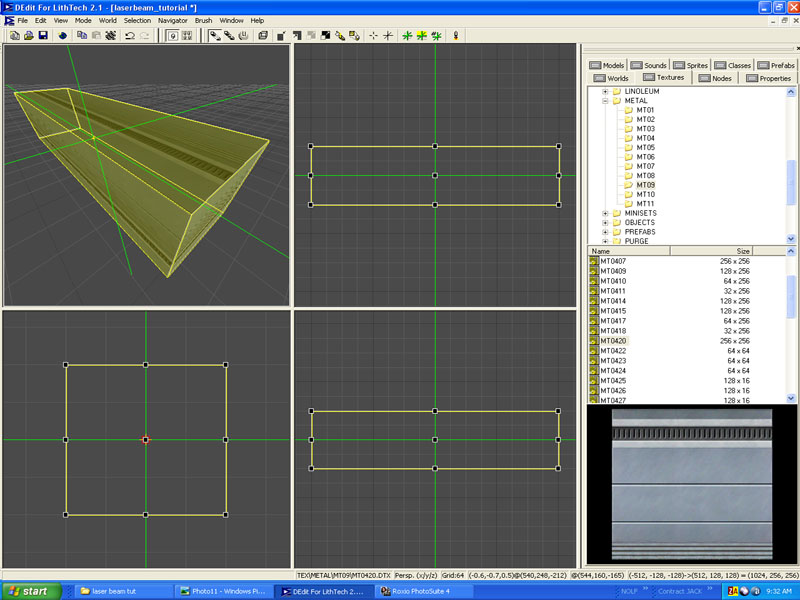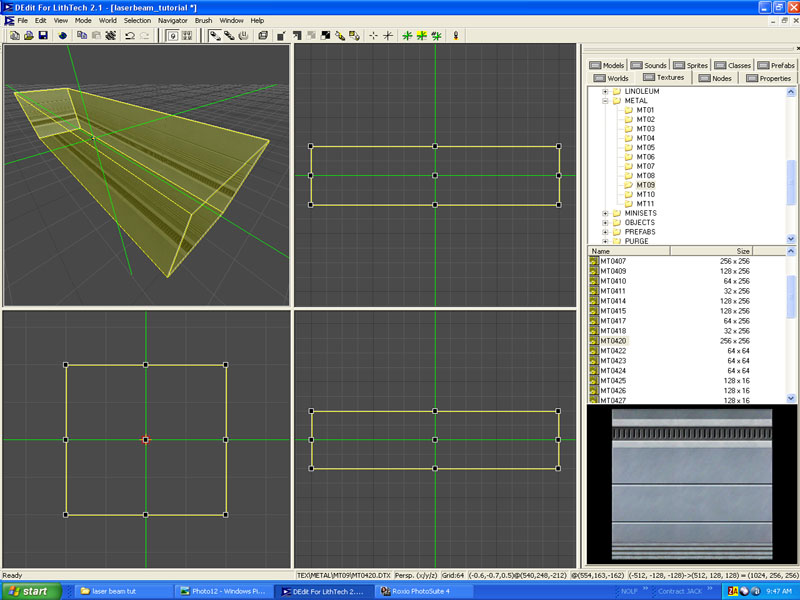 THIS MUST ALL BE ALIEN TO THOSE OF YOU WHO ARE NEW TO BUILDING WITH SINGLE-SIDED BRUSHES! THE BENEFIT IS AN OVERALL SMALLER MAP FILE SIZE THAT RESULTS IN HIGHER FPS BECAUSE THERE ARE FEW IF ANY UNSEEN POLIES. ALRIGHT - LET'S MOVE TO THE INSIDE OF THE BRUSH AND MAKE OUR FIRST LASER BEAM...
CLICK ON BRUSH>ADD PRIMITIVE>CYLINDER. IN THE POP UP BOX YOU HAVE SOME CHOICES TO MAKE. FOR THIS EXAMPLE I GAVE THE BRUSH 12 SIDES, SET THE HEIGHT TO 112 UNITS AND THE RADIUS TO 4 UNITS. GIVE THE BRUSH A TEXTURE. CLICK ON THE TEXTURES TAB. SCROLL DOWN TO SFX>PARTICLE. CHOOSE THE "HEART" TEXTURE AND APPLY IT.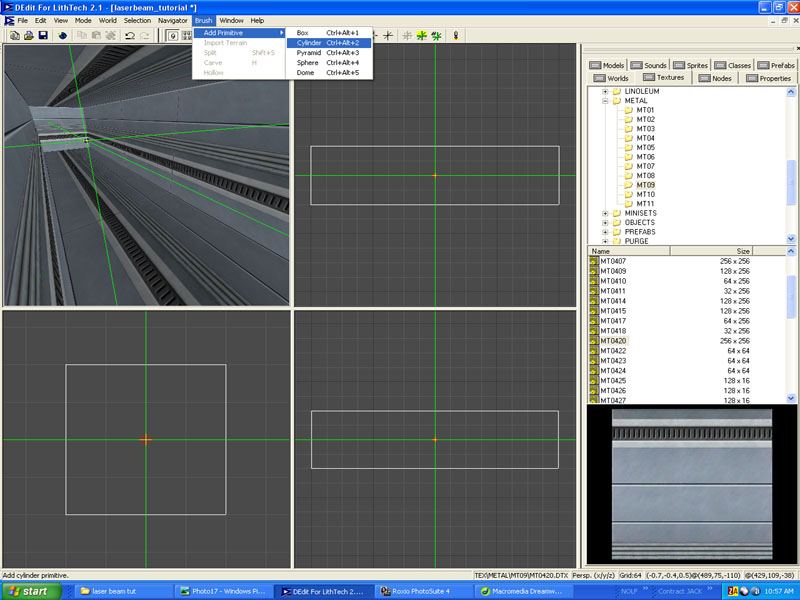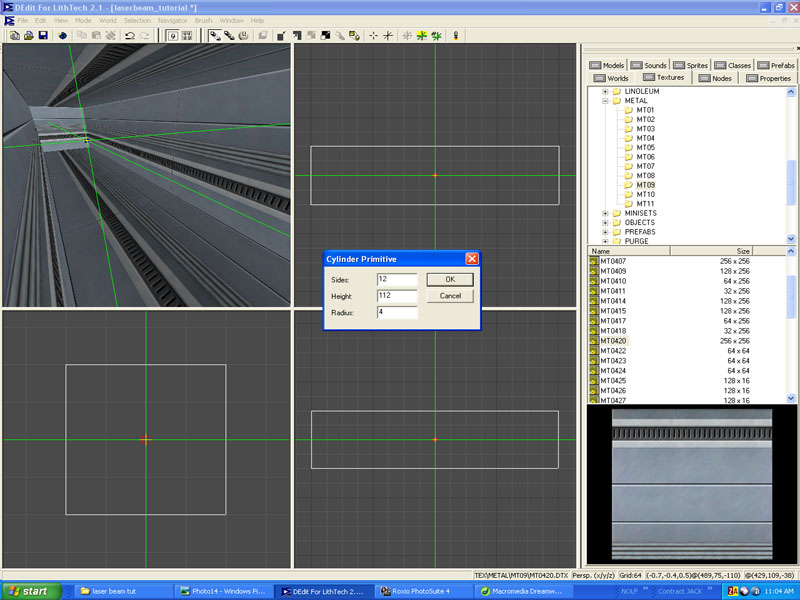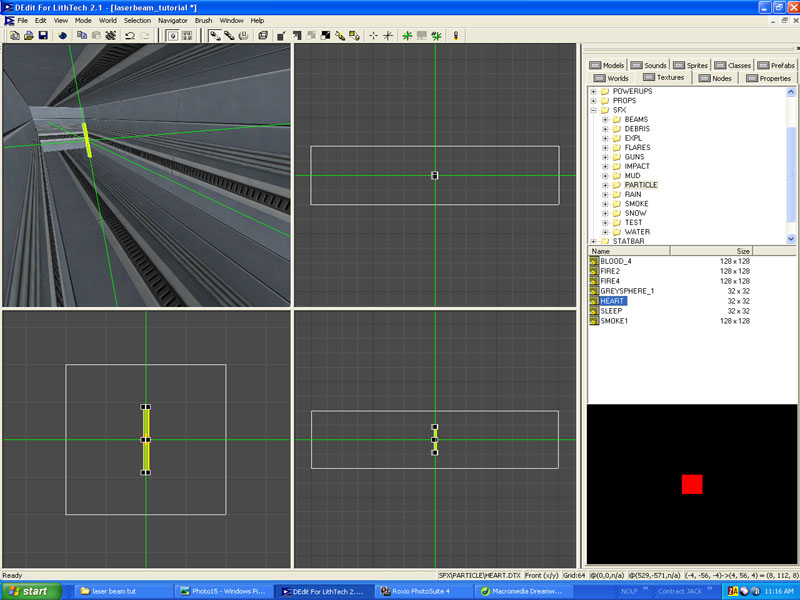 LET'S ROTATE THE BRUSH SO IT IS HORIZONTAL. WITH YOUR CURSOR IN THE LOWER LEFTHAND VIEWPORT, RIGHT-CLICK AND SELECT "ROTATE SELECTION". ENTER 90 DEGREES IN THE POP-UP BOX.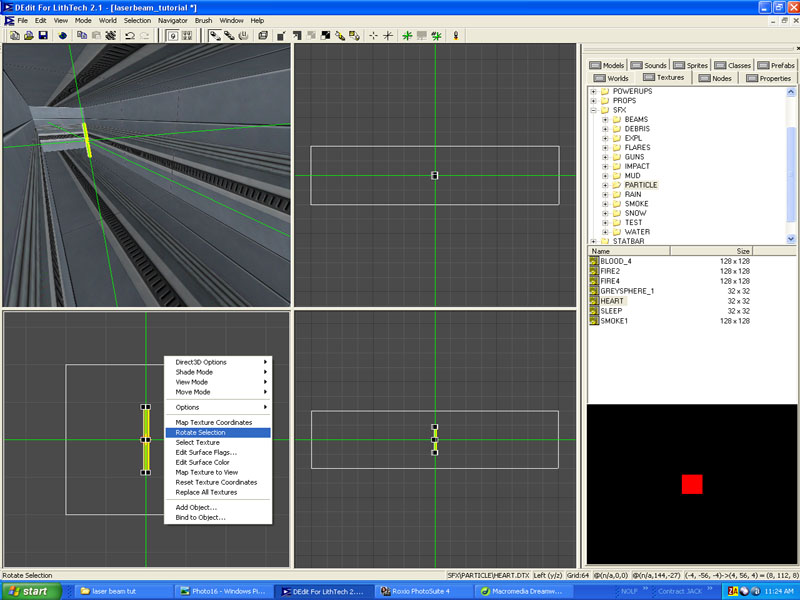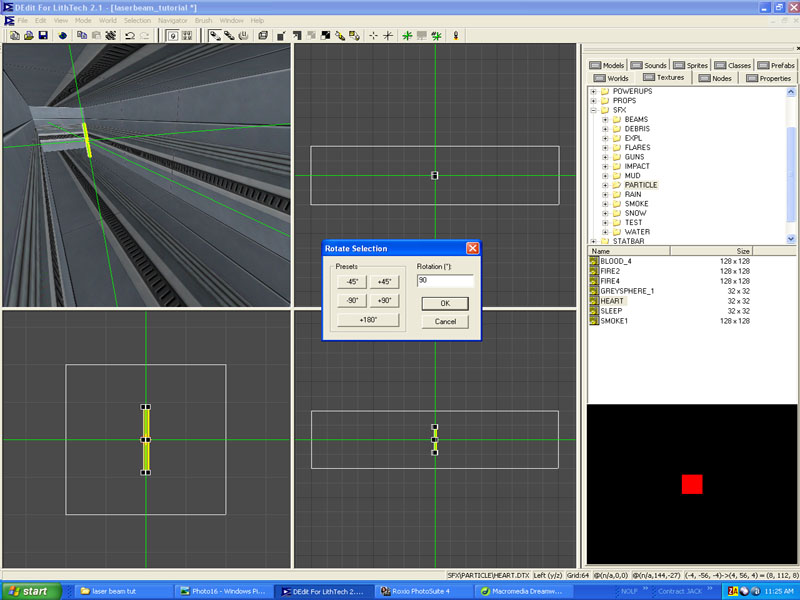 WE'RE GONNA MAKE THIS BRUSH TRANSLUCENT NOW. RIGHT-CLICK, SELECT "BIND TO OBJECT" AND THEN "TRANSLUCENTWORLDMODEL". GO INTO IT'S PROPERTIES AND ADJUST THEM AS SHOWN BELOW IN MIDDLE IMAGE. YOUR CAN MESS AROUND WITH THE ALPHA SETTING OF A "TWM" TO TWEAK THE OPACITY OF THE BRUSH BUT I'LL LEAVE MINE AT 1.000.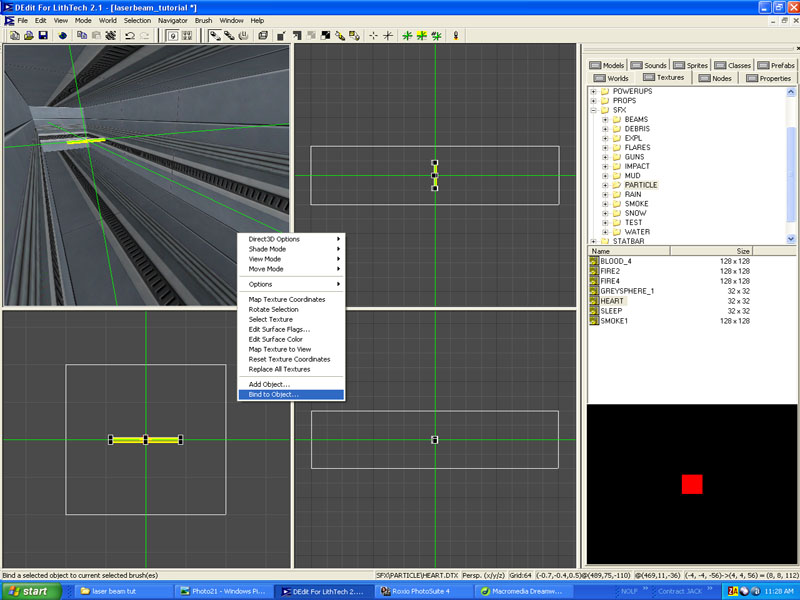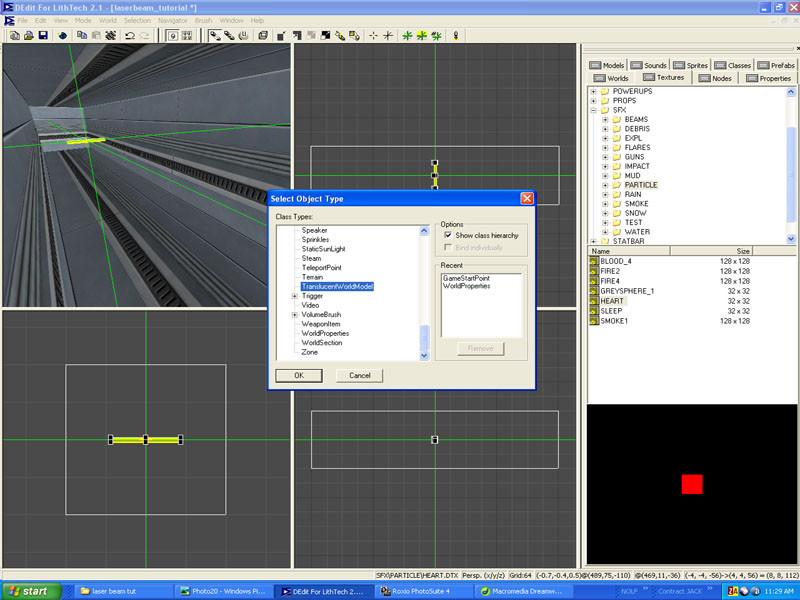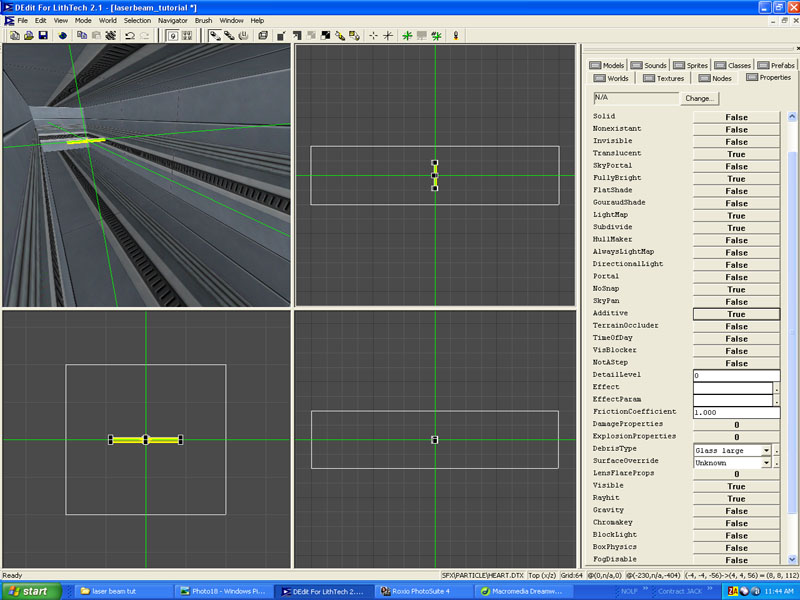 LET'S DELETE THE ENDS OF THE BRUSH THAT WON'T BE SEEN. GO INTO GEO-MODE AS SHOWN BELOW LEFT. POSITION YOUR CURSOR OVER AN END OF THE CYLINDER. IT WILL LIGHT UP IN RED. SIMPLY HIT THE "PAGE DOWN" KEY AND THAT WILL DELETE THE HIGHLIGHTED FACE (POLY). GO TO THE OPPOSITE SIDE AND DO THE SAME THING.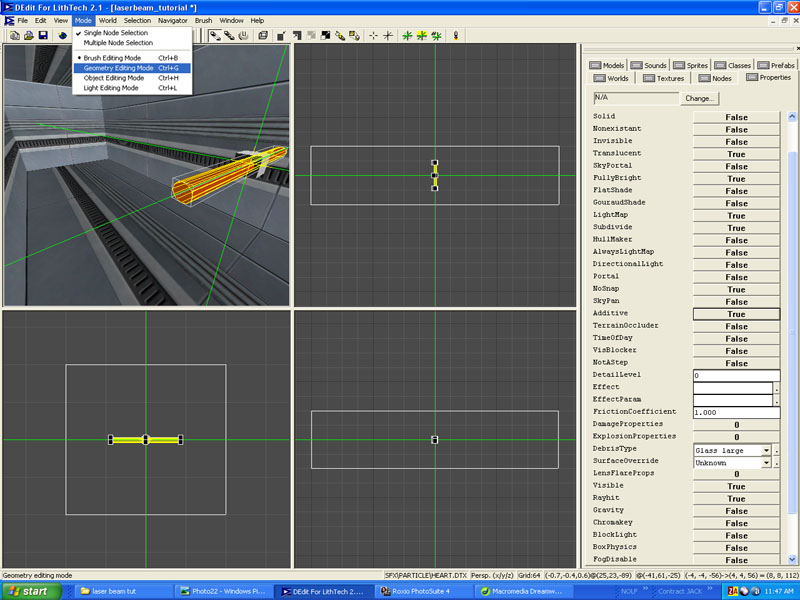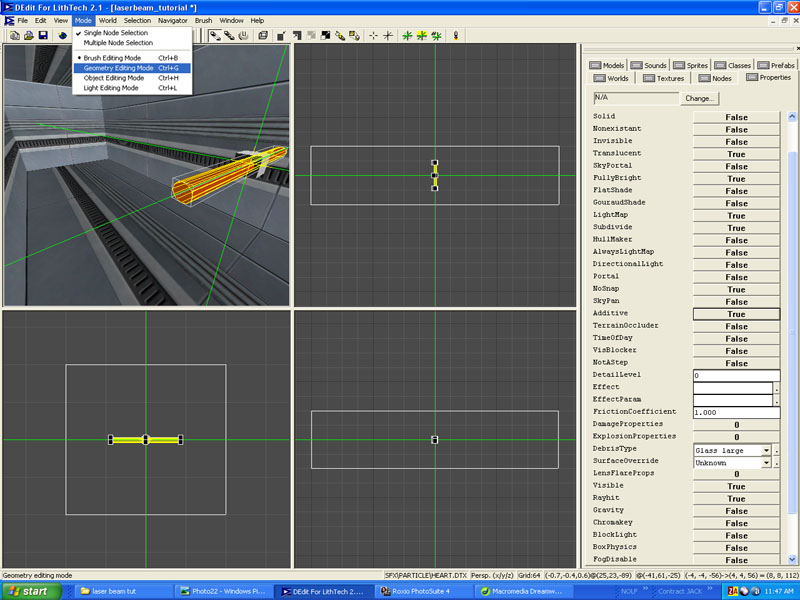 LET'S POSITION THIS BRUSH AT A GOOD HEIGHT. 32 UNITS ABOVE THE FLOOR SHOULD BE FINE BUT WE NEED TO CHANGE THE GRIDSIZE BEFORE WE CAN DO THAT. GO BACK INTO BRUSH EDITING MODE AND DESELECT EVERYTHING. WITH YOUR CURSOR POSITIONED OVER THE LOWER LEFTHAND VIEWPORT, HIT THE "MINUS" KEY ONCE AND THE GRID WILL SHRINK FROM 64 TO 32 UNITS. RESELECT THE TWM, HIT THE "DOWN" (ARROW) KEY THREE TIMES. THAT WILL PLACE IT WHERE WE WANT IT. WE WANT TWO MORE BEAMS EXACTLY LIKE THIS ONE. WHILE HOLDING DOWN THE "CONTROL" KEY, HIT THE "C" KEY. THEN HOLD DOWN BOTH THE "CONTROL" AND "ALT" KEYS AND HIT THE "V" KEY. THIS WILL COPY AND PASTE AN EXACT DUPLICATE IN THE SAME SPOT AS THE ORIGINAL. WITH YOUR CURSOR IN THE LOWER LEFTHAND VIEWPORT, PRESS THE "UP" (ARROW) KEY TWICE TO MOVE IT UP A TOTAL OF 64 UNITS. REPEAT THE PROCESS ONCE AGAIN SO YOU END UP WITH THREE LASERS SPACED 64 UNITS APART.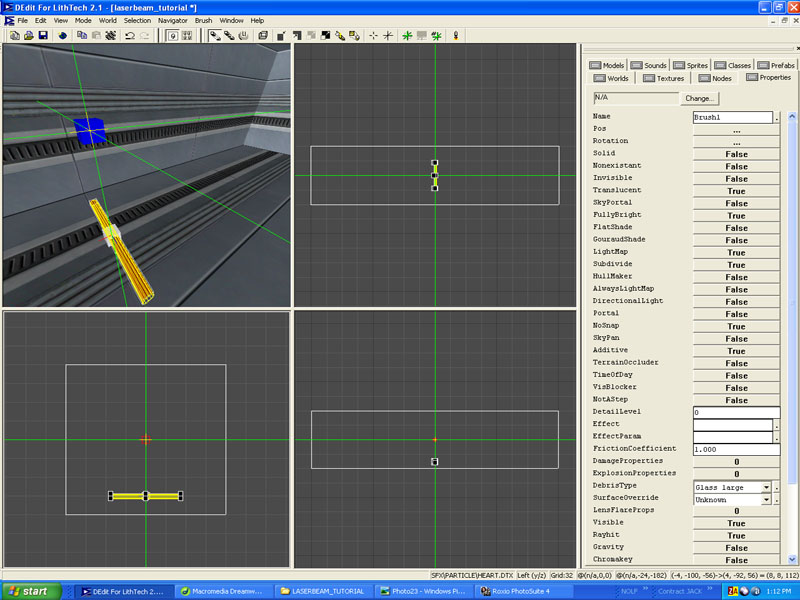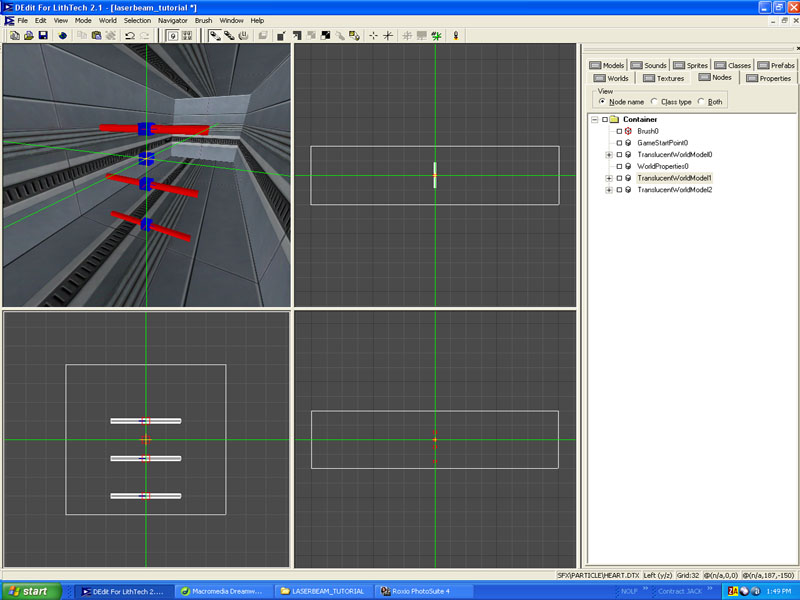 CLICK ON BRUSH>ADD PRIMITIVE>BOX. MAKE IT 64 UNITS, POSITION IT AGAINST THE WALL AND THEN STRETCH IT UP TO 64 UNITS FROM THE CEILING. CHOOSE THE SAME TEXTURE YOU USED EARLIER FOR THE WALLS AND APPLY. REMOVE THE TOP, BOTTOM AND REAR FACING POLIES OF THE BRUSH USING THE METHOD DESCRIBED EARLIER. WE NEED ANOTHER BRUSH EXACTLY LIKE THIS ONE FOR THE OPPOSITE SIDE. COPY IT AND, FROM THE UPPER RIGHTHAND (OVERHEAD) VIEWPORT, ROTATE IT 180 DEGREES.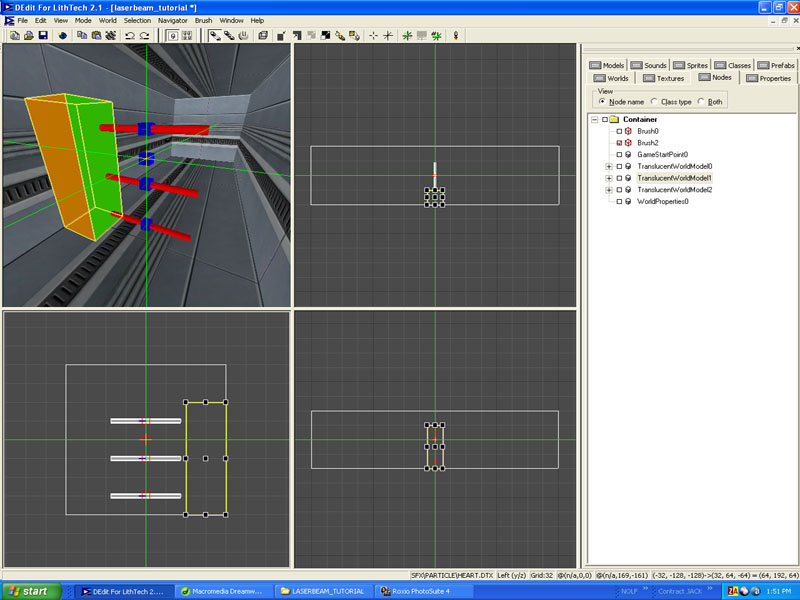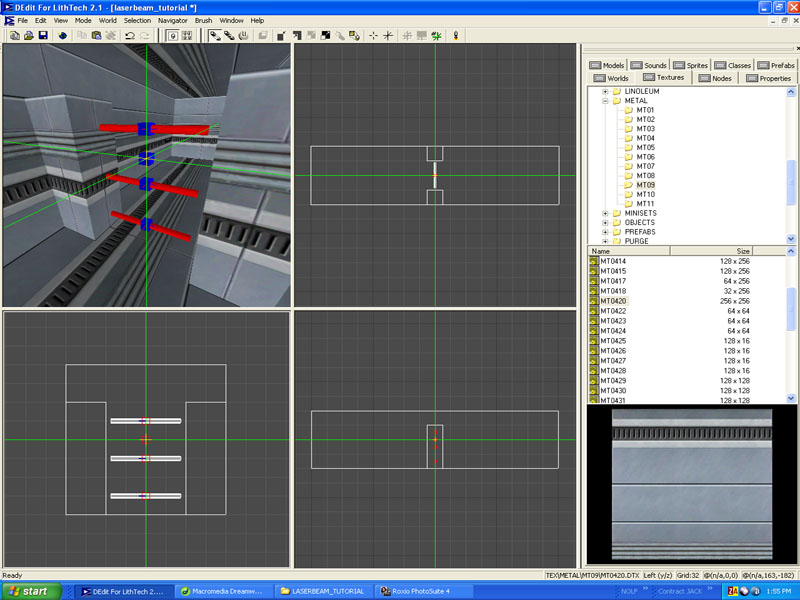 NOW CREATE ANOTHER 64 UNIT PRIMITIVE BOX. POSITION IT OVERHEAD AND STRETCH IT OUT ACROSS THE HALLWAY. SET PROPERTIES TO SAME AS THE VERTICAL BRUSHES AND REMOVE THE UNSEEN FACES. NOW WE'RE GONNA PLAY AROUND IN GEOMETRY MODE AND ULTIMATELY JOIN THESE BRUSHES INTO ONE. WITH THE TOP BRUSH SELECTED, GO INTO GEO-MODE. MOVE THE CURSOR OVER ANY OF THE VERTICES AND YOU'LL SEE IT CHANGE FROM RED TO GREEN. WHILE GREEN, IT CAN BE MOVED BY PRESSING "V". THE VERTEX WILL FOLLOW THE CURSOR WHEREVER YOU WANT IT TO GO. FROM THE LOWER LEFTHAND VIEWPORT, MOVE THE LOWER VERTEX INWARD 64 UNITS. NOW WORK THE SAME MAGIC WITH THE TWO VERTICAL BRUSHES TO MATCH THEM UP WITH YOUR OVERHEAD BRUSH. NOW GO INTO MULTI-NODE MODE AND SELECT ALL THREE BRUSHES. HOLD DOWN THE "SHIFT" KEY AND HIT THE "J" KEY. THAT JOINS ALL THE SELECTED BRUSHES INTO ONE.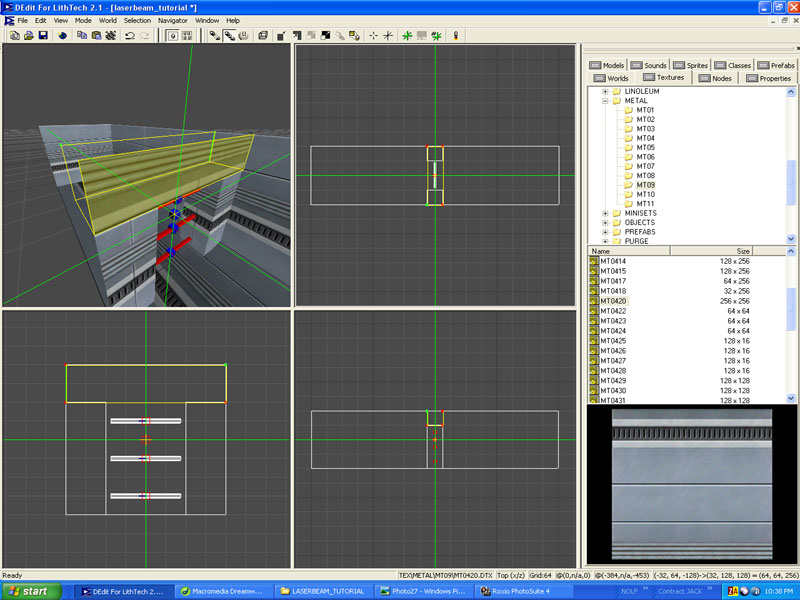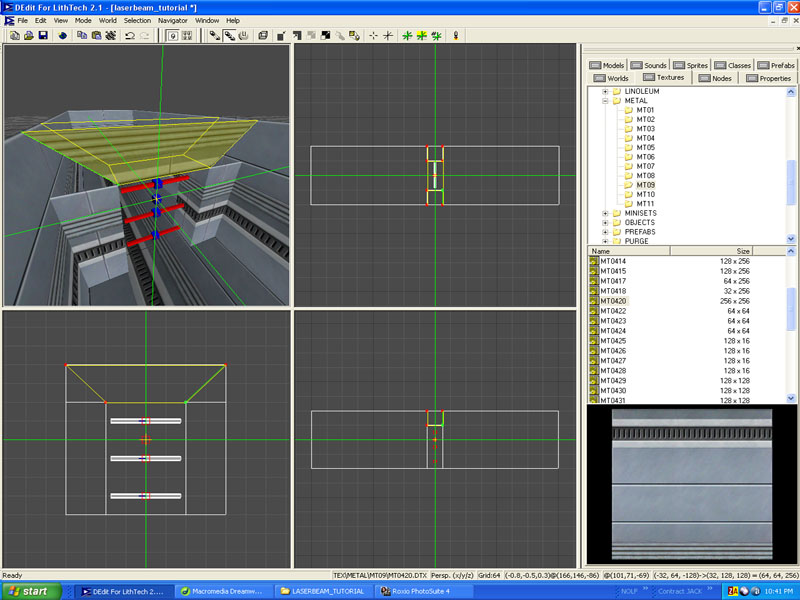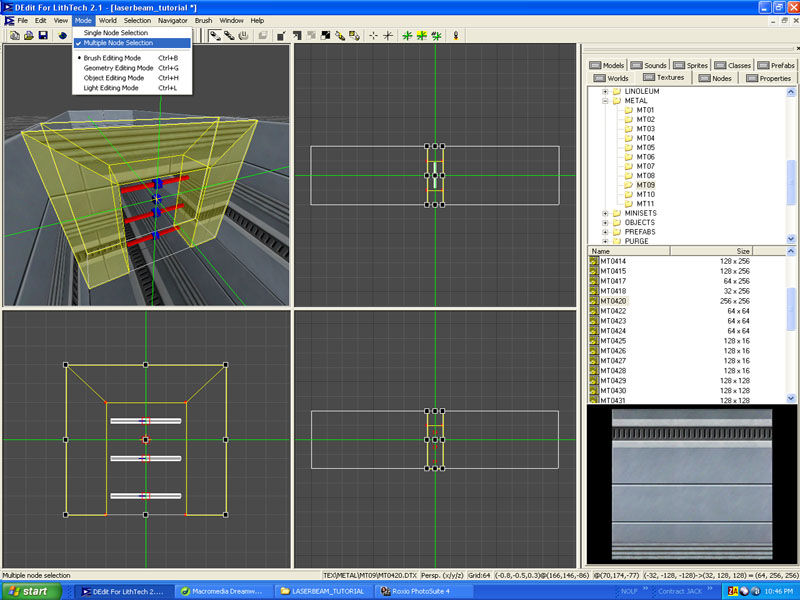 THIS COMPLETED BRUSH IS JUST A SMALL EXAMPLE OF SOMETHING BUILT "CLEANLY". REFER TO WIKY'S SITE FOR MORE IN-DEPTH DISCUSSION ON THAT TOPIC. NOW SELECT THE HALLWAY BRUSH AS WELL. RIGHT-CLICK AND SELECT "RESET TEXTURE COORDINATES" AND THEN DESELECT EVERYTHING. THINGS LINE UP BETTER NOW DON'T THEY? WELL EXCEPT FOR THE FLOOR AND CEILING! WE'RE GONNA CHANGE THE LOOK OF THEM AND THE INSIDE OF THE LASER BEAM ENCLOSURE ANYWAY FOR THE SAKE OF CONTRAST. GO INTO GEO-MODE AND APPLY A NEW TEXTURE TO THOSE INDIVIDUAL POLIES BY POSITIONING THE CURSOR OVER THE DESIRED FACE AND, WHILE HOLDING DOWN THE "CONTROL" KEY, PRESSING THE "T" KEY. NEAT, HUH? OK - WE'RE OVER HALFWAY THERE! LET'S MOVE ON...
LET'S MAKE A SOURCE FOR THE BEAMS OF LIGHT NOW. RETURN TO BRUSH MODE. CREATE A PRIMITIVE CYLINDER. SET ALL PROPERTIES TO FALSE EXCEPT SOLID, GOURAND SHADE AND NOSNAP. ROTATE IT 90 DEGREES AND POSITION IT AT THE END OF THE LASER BEAM. APPLY DESIRED TEXTURE.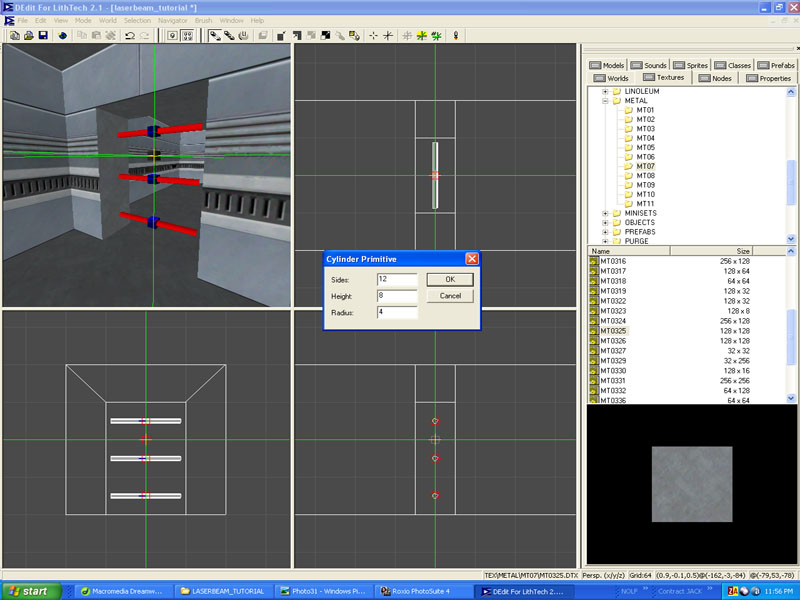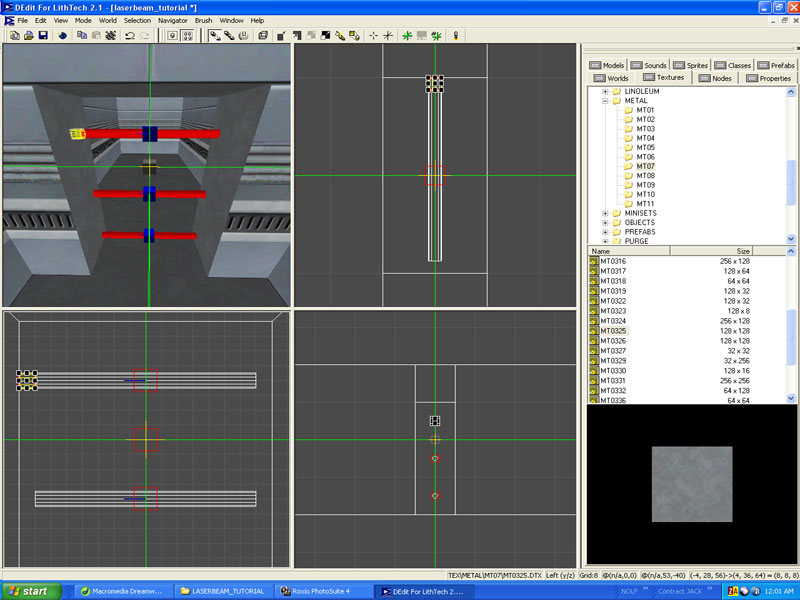 GO INTO GEO-MODE AND DELETE THE BACK-FACING POLY. WE ALSO NEED TO GIVE THE INWARD-FACING POLY A DIFFERENT COLOR. I SELECTED THE SAME RED (HEART) TEXTURE THAT WAS USED FOR THE LASER BEAMS AND APPLIED IT AS DISCUSSED ON PREVIOUS PAGE. RETURN TO BRUSH MODE, COPY AND POSITION TWO MORE FOR THAT SIDE. SELECT ALL THREE OF THEM, COPY, ROTATE 180 DEGREES (FROM OVERHEAD) TO POSITION IT ON THE OPPOSITE SIDE.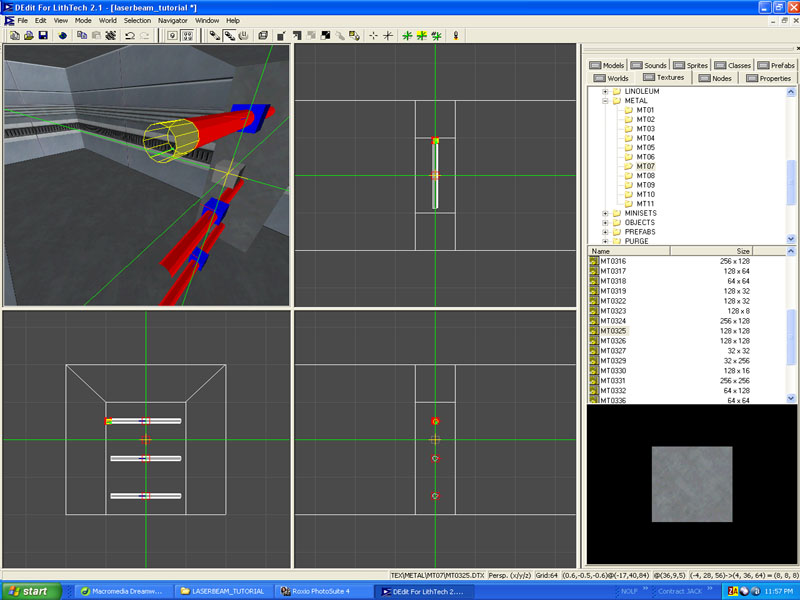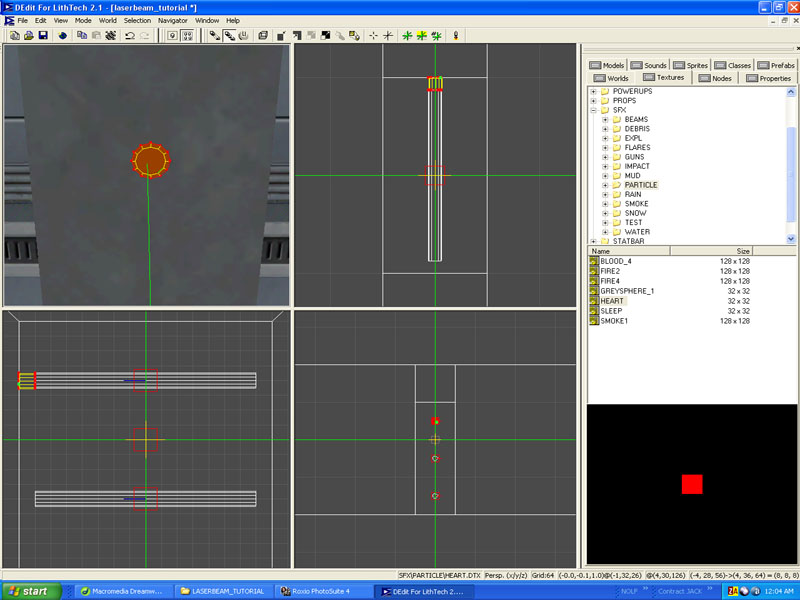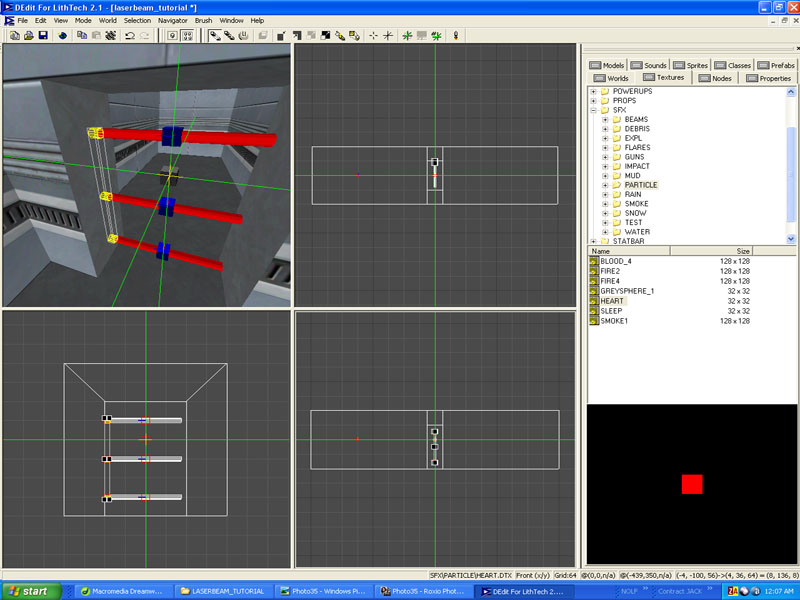 LAST THING TO DO IS TO REPOSITION THE GAMESTARTPOINT AWAY FROM THE CENTER OF THE HALLWAY SO YOU DON'T SPAWN DIRECTLY IN THE LASER BEAMS. THAT WOULDN'T BE GOOD! LET'S NOW TAKE IT A STEP FURTHER BY ADDING THE EFFECT OF INJURY TO THE LASER BEAMS...
CREATE A PRIMITIVE BOX AND ADJUST THE SIZE SO THAT IT FILLS UP THE SPACE OCCUPIED BY THE OPENING. IT SHOULD BE 128 UNITS WIDE x 192 UNITS TALL AND MAKE IT THE SAME THICKNESS AS THE LASER BEAMS. SET ALL PROPERTIES TO FALSE EXCEPT INVISIBLE AND APPLY THE INVISIBLE TEXTURE. CENTER MARKER ON BRUSH AND BIND TO OBJECT>VOLUME BRUSH>ELECTRICITY. SAVE YOUR WORK AND CLICK ON WORLD>PROCESS.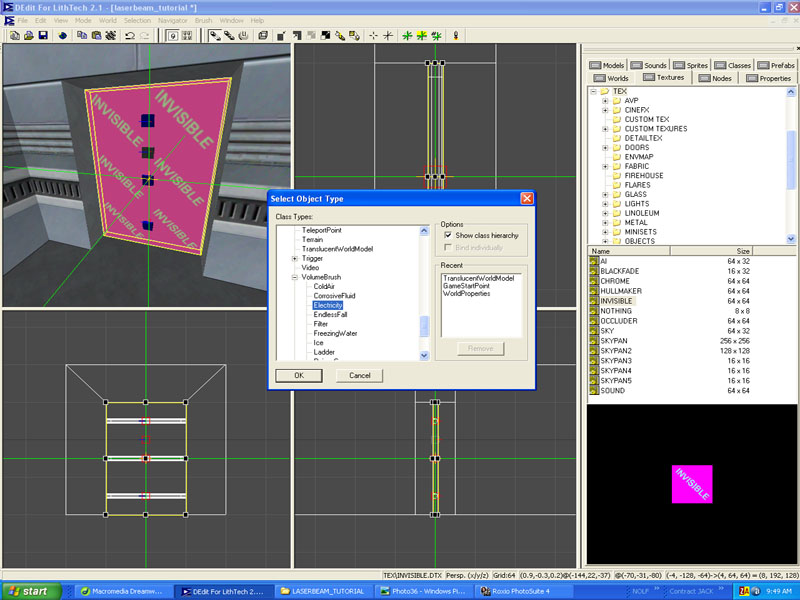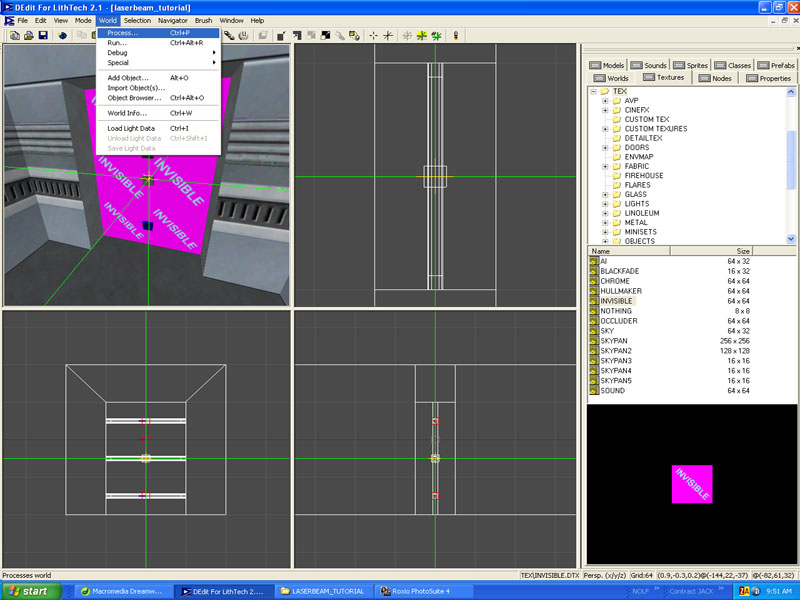 THERE ARE A COUPLE OF THINGS THAT HAVE TO BE DONE FOR YOUR MAP TO PROCESS CORRECTLY. FIRST, MAKE SURE THE "FULL OPTIMIZATION" BOX IS CHECKED IN THE PROCESSING OPTIONS WINDOW AND SECONDLY, TYPE "-NOSNAPNOCSG" IN THE EXTRA PARAMETERS BOX. CLICK OK AND THEN RUN IT.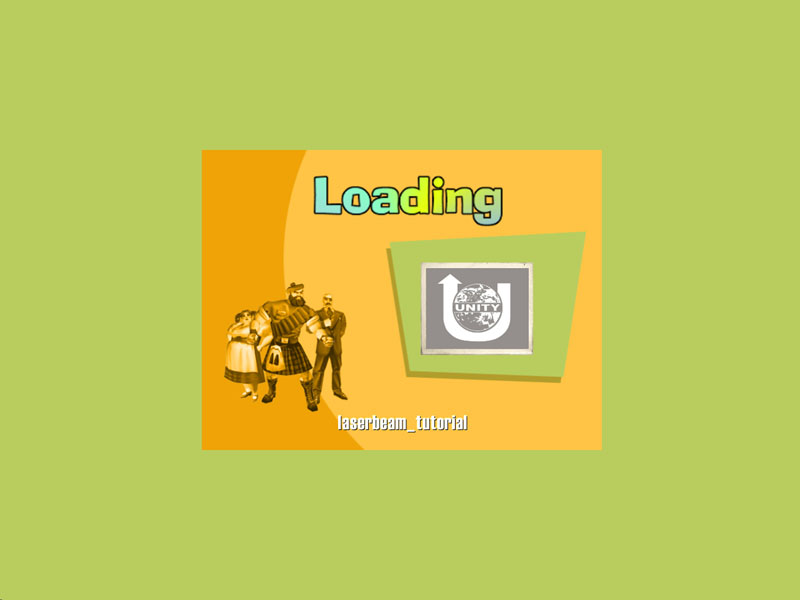 THIS IS WHAT IT SHOULD LOOK LIKE. PRETTY COOL LOOKING, HUH? GO AHEAD AND TRY OUT THOSE LASER BEAMS BUT BE FOREWARNED - IT'S GONNA HURT!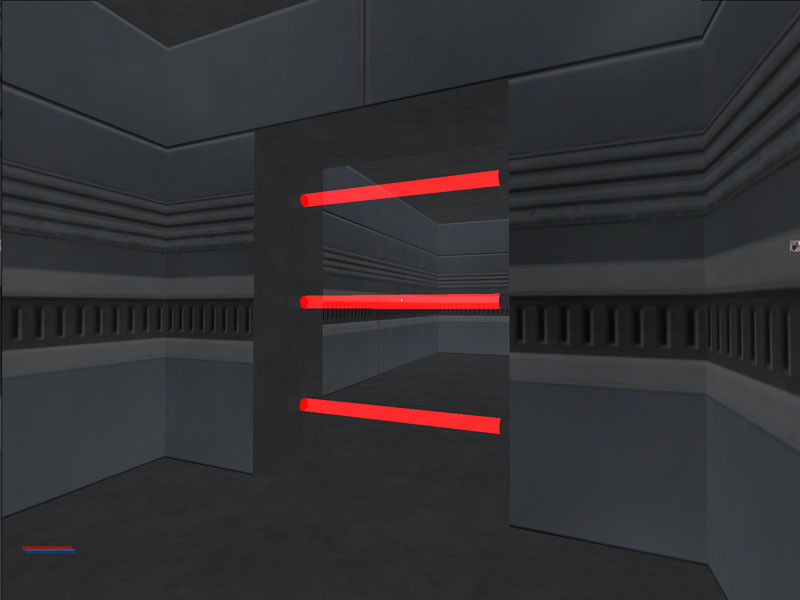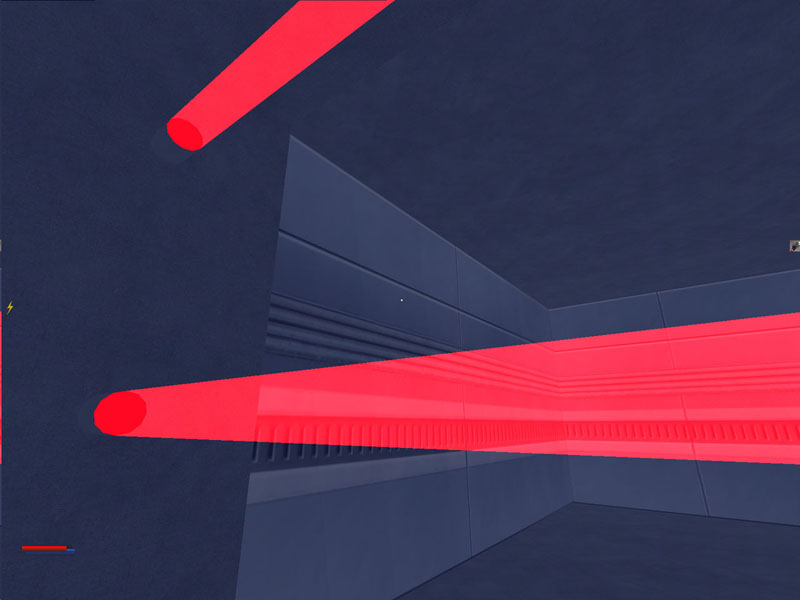 AND IF YOU AREN'T CAREFUL...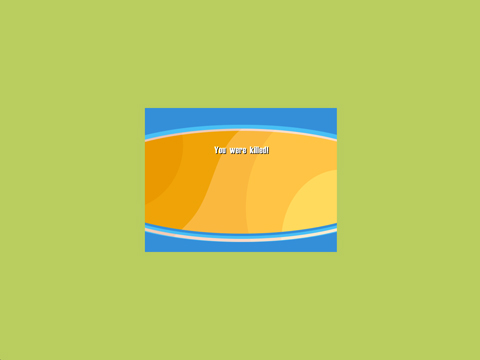 THAT'S ALL FOR NOW. I HOPE THIS HELPS OUT THOSE OF YOU THAT ARE NEW TO DEDIT. EVEN THOUGH I COVERED ALOT OF SUBJECTS, THERE'S STILL MUCH MORE YOU CAN DO WITH DEDIT. BE PATIENT AND DON'T RUSH A MAP TO COMPLETION. GET YOUR ONLINE FRIENDS TO TEST IT OUT WITH YOU FIRST. YOU'LL REGRET IT LATER IF YOU DON'T. TRUST ME ON THIS ONE!