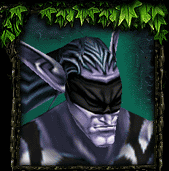 ]|[_____The Assassin_____]|[
last edit: 15-2-2010
-Assassin Class-
Weapon type: Dual-blades
The Assassin is the best of
the best when it comes to
one on one combat.
Pros:
Awesome 1v1 ability
Very High Weapon skill
Cons:
Low hit-points
Manapool dependant
Stats:
Speed: 270
Life: 75
Strength: 5 / +1.75 per Level
Intelligence: 2 / +0.5 per Level
Agility: 10 / +3.25 per level

Blade Skill: 5

Focus: 2

Discipline: 1

Constitution: 1

Guile: 3

Willpower: 1

Rapidity: 4
---
Spells

Killer Blow
The Assassin swiftly slashes the enemy, causing large amounts of damage to a single target.
Base: Blade Skill
Damage per Level: 65
Damage factor: 100%

---

Flash Combo
The Assassin slashes in a quick succession and hits 3 different targets in melee range and deals more damage with every hit.
Base: Guile
Damage per Level: 20
Damage factor: 105%

---

Dagger Throw
The Assassin throws a bouncing dagger at a group of enemys, dealing damage.
Bounces increase with level
Base: Focus
Damage per Level: 50
Damage factor: 85%

---

Blink Strike
The Assassin disappears and reappears next to his target, if its an enemy it will be dealt multiplied damage.
Damage multiplier increases per level.
Base: Rapidity
Damage per Level: 45
Damage factor: 110%

---

Concentration
The Assassin increases his focus greatly increasing his critical damage multiplier and critical chance.
Multiplier and Critical chance increase with level.
Base: Willpower