Install CIF
★ Ensure your system is WinXP or later(32 bit).
★ Ensure you have installed Battlefield 1942 (v1.6 or later) before installing CIF mod.
★ A shortcut for CIF mod will appear on desktop after installing.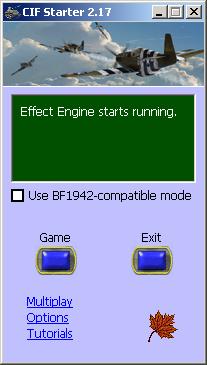 How to use CIF
★ Run CIF-Starter on your desktop,and that will active the mod for you.
★ If you start it for the first time, you will be asked to give the Activation Code( this will be bound with your current CDkey ).If you have no Activation Code, you can try it, and the dialog box will appear next time.
★ If you want to play other mod of BF1942,please close CIF-Starter.

Warning
★ If the CIF-Starter was closed unnormally( power cut,computer is down,system error...),it won't be unloaded correctly.You must start it again and close it normally.
★ You must set the "effects quality" and "sound details" options in game to HIGH,otherwise some effects or sound will be lost.
★ Some firewall maybe prevent CIF-Starter to activate itself.If you can't activate CIF mod ,close the firewall and try it again.
★ If you still can't activate CIF mod after closing firewall,try it later.This is due to network congestion.
Options For CIF
★ Use professional aircraft cockpit mode。If you have professional game device(for example,joystick ,trackIR...) to control pilot's head ,you can try this mode.
★ Use BF1942-compatible mode .This option will affect which mode will be adopted when you start game manually.Compatible mode will keep the same weapon setting with original BF1942. Unless you want to practise your skill under original BF1942,this mode is not be recommended. .This option is enable only in single game,CIF will auto select mode when you join in online games.
★ Don't use aim sight for tanks. If you like the trail of shells, you can select this option.
★ Low details for distant objects。if your computer has poor performance,you can select this option. The distant objects will not be displayed and this can decrease the load of your computer.
---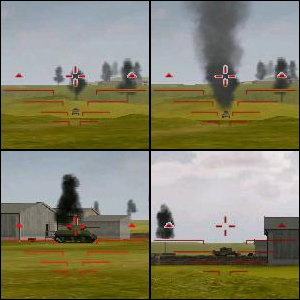 Aim Sight For Tanks
for real effect, we designed a range-ruler for artillery,and a aim-sight for tanks. It replace the trail of shells,but you have a free choice to use it.
As seen right, the side of sherman tank is the standard reference object, the space between lines is a measurer for your target. The just elevation of the main gun is that the side of the tank fill the entire space between the lines.But your targets has deffirent size, for example,the front of panzerIV is about half lenth of the side,so must fill the half of the space.
So you should has some experience if you want to became a marksman .Sherman is narrower than panzerIV,the tiger is bigger than other tanks,the front of M10 is narrow,chi-ha of Jap is the smallest tanks in game...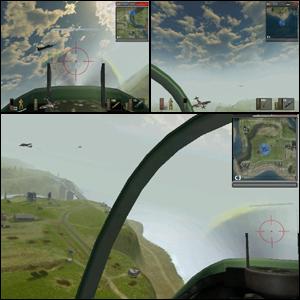 Professional Aircraft Cockpit Mode
To create a real experience as IL2, we designed Professional Aircraft Cockpit mode for you. You have a free choice to use it, and this mode will make flying more difficult .
Under this mode,you can control head of pilot all the time (need not press Shift key ). The shift key is redefine to put the eyes closer to the aim sight. if you use joystick ,you can control pilot's head by thumb by configing your joystick. If you have TrackIR( head track system) ,you will get perfect experience.
If you join in original BF1942 server,the Shif key also hinder you to control the plane.
---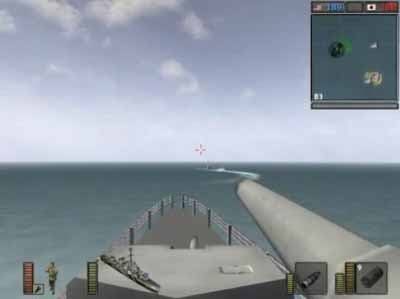 Anti-Submarine
People who has see the movie U-571 should be impressed for the wonderful combat between German and American.CIF will take you to the exciting navy battlefield.
Submarine of CIF has more real properties, it's most diving depth is 120m.If diving depth is over 80m,you can hear the pressure sound of water. If over 120m,the shell of submarine will damage.
Depth charge is the primary weapon to anti submarine. The depth charge of CIF use magnetic proximity fuse ,the detonating distance is 20m, the diving speed is 8m/s , so 15s will be needed for depth charge to diving to 120m.
When submine is under attack of depth charge, the more deep,the more safe.Depth charge need more time to diving into deep water, and you have more time to avoid them. Of course, the best choice is keeping undetected by destroyer .
The depth charge of CIF has more real damage radius.Anti-submarine is no longger a simple thing.If the target is in the depth of 120m,the distroyer need to predict the moving path and the new postion of the submarine 15 sec later,and launch a column of depth charge to attack it . Because the diving speed of submarine is slow, the best time to attack it is when the submarine have not dived into deep water.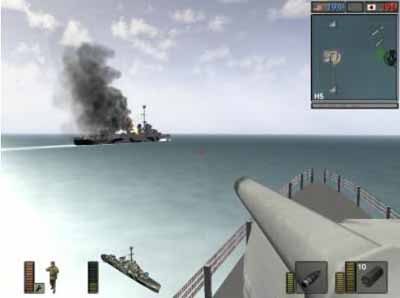 Large-Calibe AA Guns For Warships
Some large-calibe AA guns appear on warships.US Navy use the proximity fuse ammos for the large-calibe AA guns.To be fair,some 127mm AA guns are added on the battleship of Jap Navy .This changes improve the anti-aircraft ability for warships.

New Individual Equipments
Depend on the history of the Second World War, new individual equipment was added to the game . The British solders were armed with bren machine gun and sten submachine gun ,and Russia solders were armed with PPSH submachine gun ,type97 grenade was supplied to Japanese,and shovel appeared in German's hand.

Use Conveyable Equipments
Conveyable equipments appear in CIF,such as the heave machine gun and the mortar . These equipments bring in new combat patterns for game.
If you want to use this kind of equipment that lay in the corner, press G key to throw current equipment away and pick new equipment up. You will have a spanner,the 6 weapon,to dismantle this kind of equipment,but this spanner can't be used to repair vehicles.

Smart AI System
CIF has the smarter bots than original BF1942. Single game of CIF is also wonderful. If you want to play single game,you'd better not use the BF1942-compatible mode .