Heya!

A few days ago, while we were posting new pics to Instagram, we've came up with an idea. Why won't we write a few articles about the creation of Star Story characters? So here we go! We hope it will be useful for fellow indie gamedevs&beginning artists.

We've noticed that the most liked character is this redhead.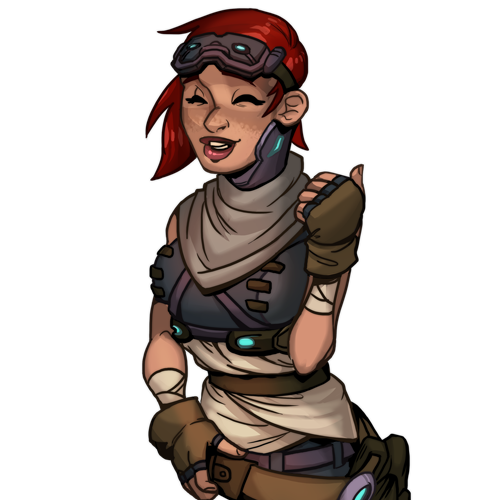 Here's our artist's experience!

"There were only a few words about this char in the earliest version of design specification. "Friendly civilian, occupant of sandy village". No gender, no approximate age… Nothing else. Just some random desert dweller. I've developed the image in my mind: cheerful mechanic girl, the one repairing all sorts of things in the sands.

It started with the sketch. Light, comfortable and functional clothing. And don't forget that she is a mechanic! She has various bags, satchels and pockets, protective eyewear and gloves. Shaggy hair and muddy face underline her affiliation to working class.


We've later decided that she would look great in Rey-style clothes. That's why we added some loose-fitting pieces. They protect her skin from sand and other desert hardships.


The color scheme was picked to fit girl's place of living. Sandy, swampy, blue-gray color shades, dusty colors – they are reflection of the desert. And, by the way, they will help the girl to hide if something goes wrong.


The girl is joyful and bright despite the colors of her clothing. We didn't want to transfer the "clothes mood" to her looks.


The hardest part? I had to create a distinctive character who could be easily remembered... But this character should still be a common NPC. I hope I succeeded. ;)