Zpocalypse: Survival is back on Kickstarter and we are already 50% of the way to our funding goal. We hope to see you come and support us so we can make this a great game together!
We also have a Thunderclap campaign going where you can show your support for free. Use your Twitter, Facebook, and/or Tumblr account to have Thunderclap post one message as you on our specified date. We need at least 100 people to get the campaign to post and we are already almost 20% of the way there, which currently has us with an overall social media reach of 8000 people! Just think of the reach if we can get all 100 or more people to support us! *NOTE* While you allow access for Thunderclap to post on your behalf, they specifically say they only use this to post the one message and nothing else. Read more in their FAQ.
Character Creation
This is the first place you will really touch the game so we thought we would go into some more details. Initially in the pre-alpha we had a three class structure that really defined your character and that was all there was to it. When we moved to full Alpha we built and continue to build a more robust character creation system. We have made it much more robust and a lot closer to an RPG feel of creating your character without going too deep into the process. The goal is to make it meaningful while keep it simple. So with that said below is the alpha character creation screen. Note that the UI is going to be getting a massive overhaul once we are closer to Beta but this at least gives you an idea of where we are going.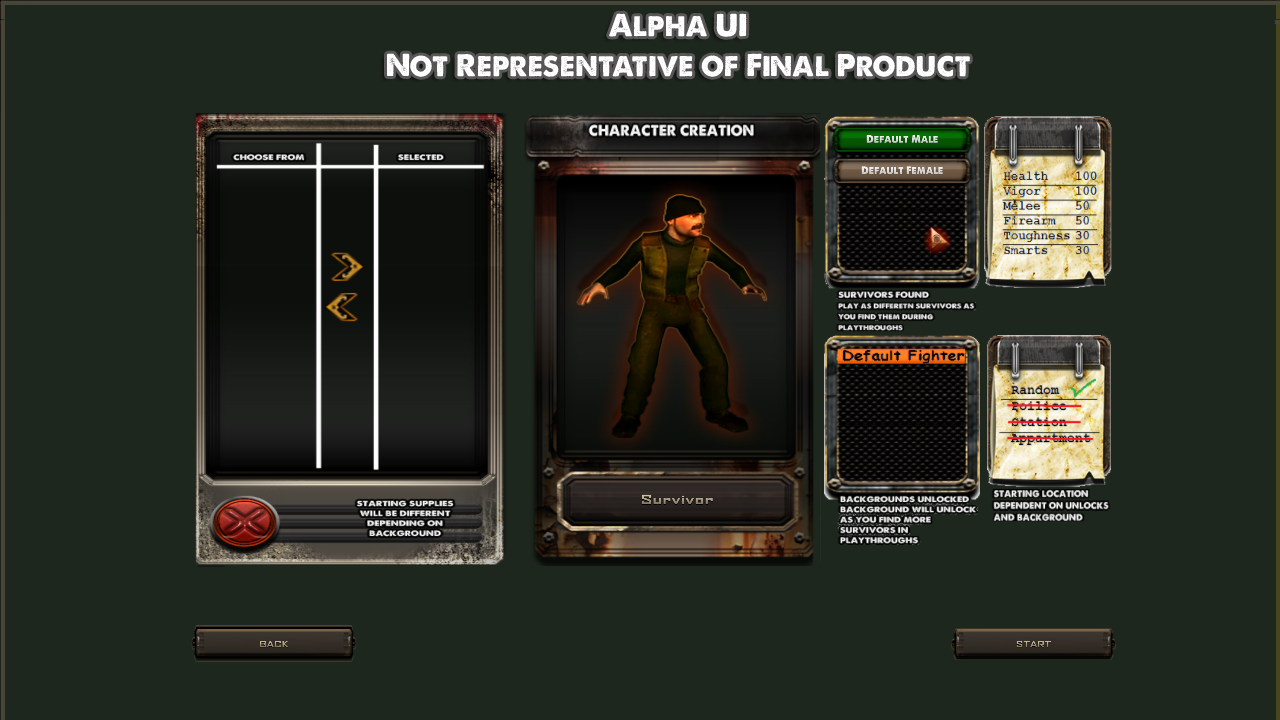 Gear
So let's break this down step by step. First off is the equipment selection screen. For the final UI this will likely be moved further to the right side of the screen. Essentially this is where you will select which supplies your survivor will start the game with. This will be based on a point buy system which we are still hammering out the details on. Each piece of gear will have a value of 0 or higher. 0 value items are mainly going to be composed of vanity/fluff items whereas weapons, bigger backpacks, other survival gear will have various point values depending on their usefulness, the more useful an item the higher the point value. You will need to balance your gear dependent on the play style you are planning to use.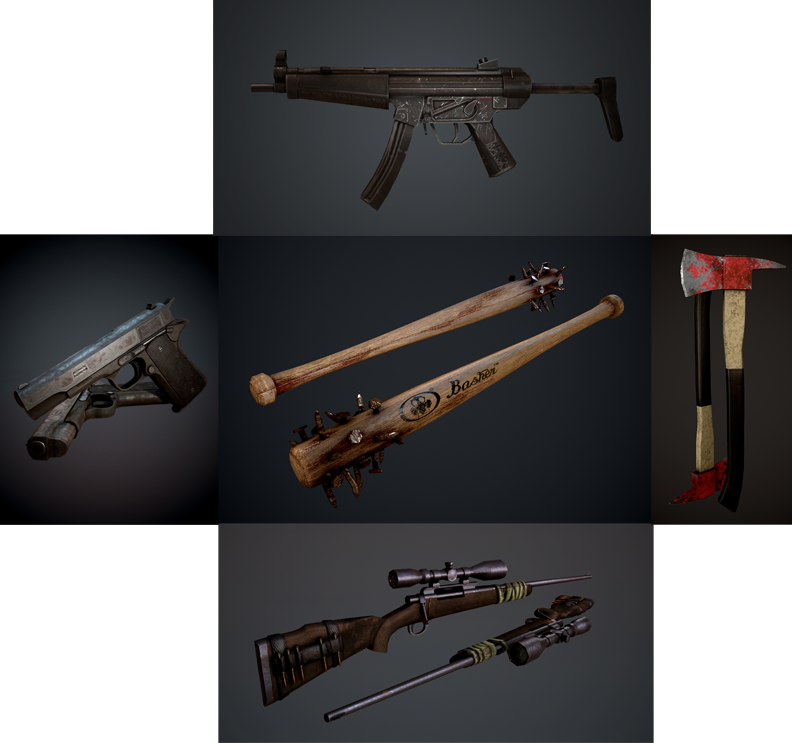 So for the gear itself where does the list of gear come from? There are currently two planned avenues to increase the gear list. First, is to use a different character background, which we will discuss a little bit later in the update. Second, is to simply play the game and *'unlock* the gear.
Unlocks
Our unlock system is going to be the drive behind a lot of the character creation process and heavily influence the re-playability factor of the game. We think the game itself is going to be an enjoyable experience but we hope with the unlock system it will keep you coming back for more as you unlock new things to try surviving a different way the next time around. The unlock system will be utilized for a number of things including but not necessarily limited to starting gear options, starting location options, starting background options, character appearance options. The basics of the system are that as you are playing the game and you discover new items, find new locations, meet new types of survivors, research new things, etc and all of these will add new entries to your metagame "codex" of what makes up the Zpocalypse world. It will also unlock those items/ locations/ backgrounds/ etc for future play-throughs allowing you to experience the game in a different way. We plan to continually add to this unlock system as we further develop the game.
Backgrounds
As we mentioned above there will also be options for your character background. These are signifiers of what you did before the Zpocalypse or what you are doing now. This includes things like doctor, cop, soldier, athlete, vet, teacher, banker, etc the list goes on. Each background will have a couple of things associated with it. First off will be starting equipment load out. Instead of manually picking all your items you will have some items pre-selected and possibly at a value discount since these were things you started the Zpocalypse with already. Then you will be able to add/modify your starting equipment from there. Second, there will be starting stat adjustments to denote the skills you had before things went to hell. These adjustments can be both positive and negative and will directly affect how the character plays. Finally, the background will have a pre-associated character appearance with it that you can build from as you further customize the character.
Once again the more survivors you find and recruit, the more backgrounds become available for your future play throughs.
Location
Where you found shelter in the world after the bombs dropped can make a difference. As you explore the world and find new locations they will become available for you to start the game in. Each area will have different features and provide various advantages and/or disadvantages. For instance if you started out in the warehouse, there is going to be a lot of stuff to scavenge, however there are also a lot of entrances that you would have to defend. If you started in a house, it is a much smaller area to defend but you aren't going to have as many initial resources. If you start at a random location, you'll just never know what you are going to get.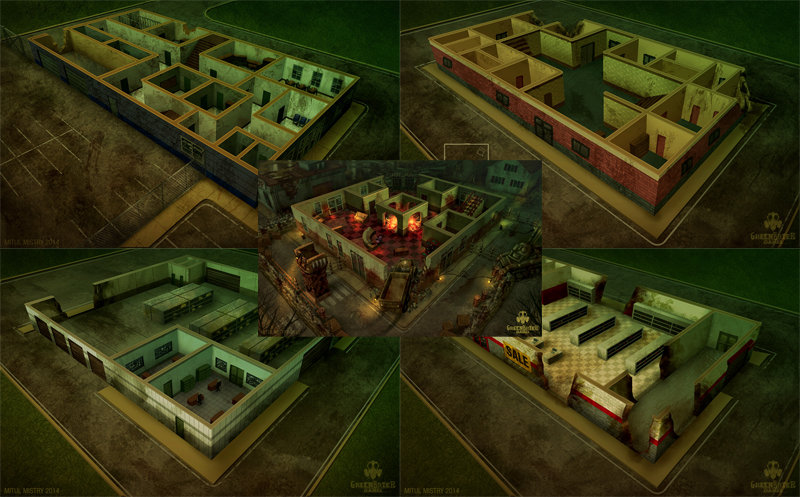 Our goal is to make the starting locations different but to try and ensure there isn't a significant benefit for one over the others, instead they are meant to provide different options for you to play from and try new ways to start surviving in the Zpocalypse.
Appearance
During character creation you will be able to select your gender either male or female. Once you select a background this will pre-generate your character with a certain style. From here you can swap out different survivor heads until you find the look that you like best. You can also swap out the different clothing styles based on the gear selections you make to further customize your character. We are also working on options for changing hair color, eye color, adding/modifying tattoos, facial hair, hairstyle and more. The one limiter is the facial structure itself. These will be preset and we don't currently plan to provide options for facial feature morphing.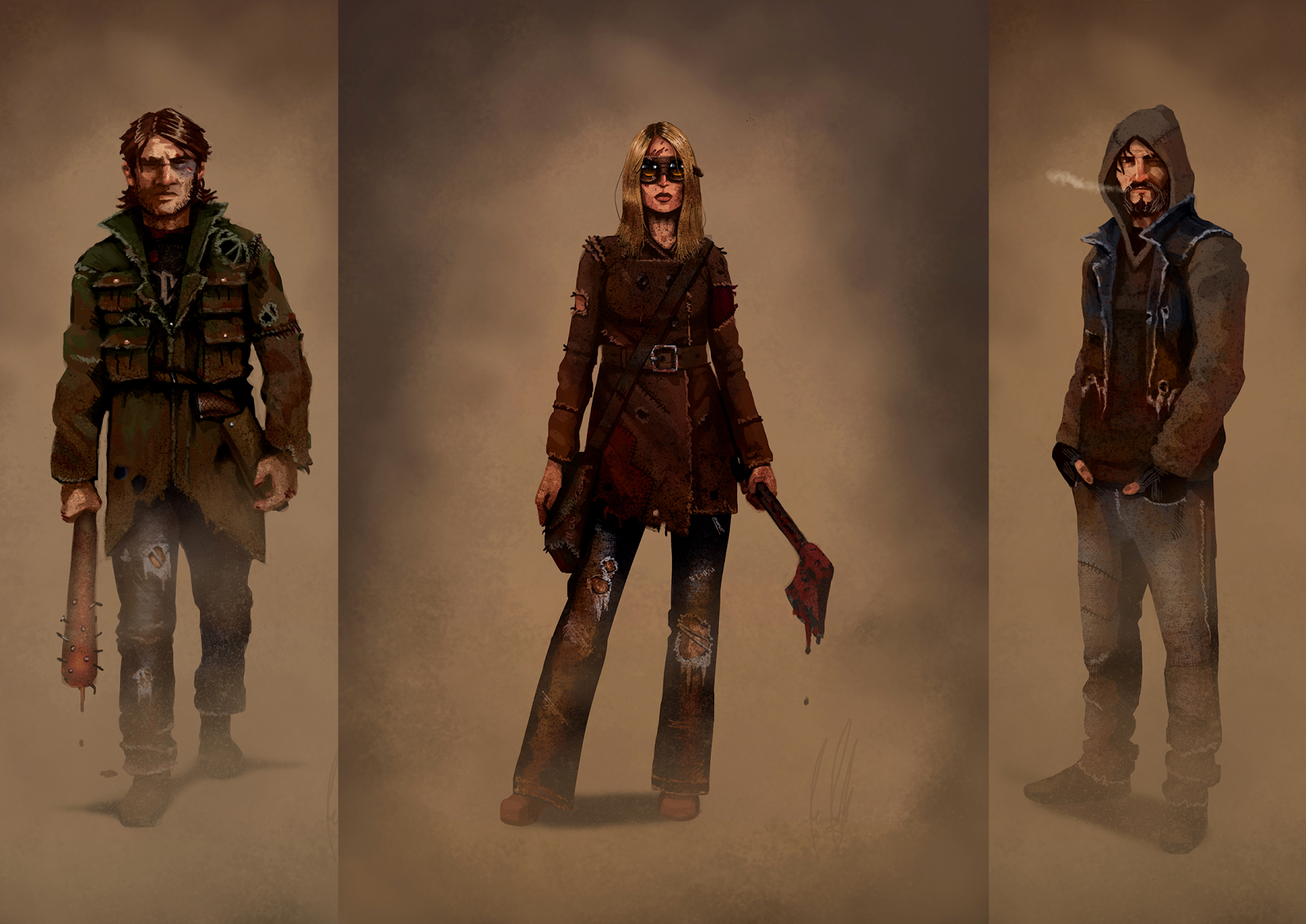 With that in mind, you may want to look at our Headless Survivor or survivor levels where you can get your head or your full character into the game. We are going to have a nice big update all about this process later in the campaign but here are the basics: We will work with you to turn a reference photo (and description if needed) into a digital game asset. We will provide an unlock code for you to always start with your own stuff but it will also be available for other players to use in the future. So this is your chance to not only support our project but be a part of it as well!