Zoran Maximianus Doicic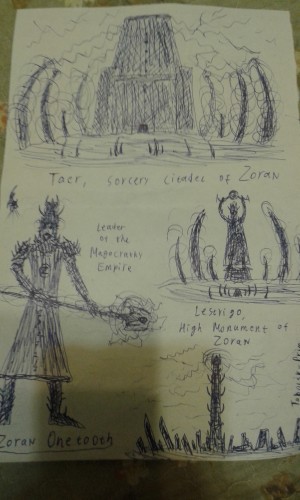 Now officialy the part of the New Canon. He appears in the period of Hyperborean Age. (18000BC)
Exarch-Governor of the Zakromah System. Was borned in the Draskov Empire. His mother was from the human race, but father was Daemon from the mysterious Dark World. He is halfblood creature with a lot of magic and necromancery power, but his main science - is cybernetics. He is the creator of mighty AI "Gabriel Mechas" and the commander of machine legions. His main idea - to create ideal empire with machine hegemony. All his servants are cyborgs and almost robots. His servants also thinks about machine improvement, and their bodies consist of almost 90% metal. Zoran Doicic is fanatic and terrorist. He is god for his servants, but he is terror for his enemies. He is dictator and he is warmaster. And he always going till the victory.
He appears in my New Canon story "Wrath of the Ancients" and his main servants are heroes in the "Primus empire" book. Don`t forget, that Zoran is villain, but not the good hero.
Thanks anyway for info, friends.